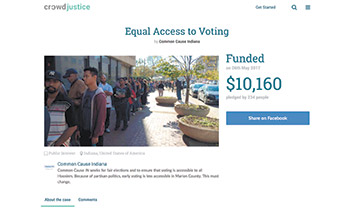 Need to raise money to defend your criminal case, seek a custody modification or fight for a community or social justice cause? There's an app for that.
Crowdfunding websites such as gofundme.com and others are rife with fundraising campaigns for various legal matters, from neighbors fighting to stop approval of a "factory" hog farm in northern Indiana to a federal case in which the NAACP and others seek to expand early voting in Marion County.
Common Cause Indiana is a partner with NAACP and other plaintiffs in the early voting case and established a public fundraiser for the suit on crowdjustice.com. The site, which originated in the United Kingdom before expanding to the U.S., specializes in fundraising campaigns for rights and public interest issues.
Julia Vaughn, policy director at the nonpartisan Common Cause Indiana, said the case marked the first time the organization has used crowdfunding. Two threshold goals were set to fund the early voting suit — $5,000 to retain experts, and $10,000 to fund all litigation in the case.
"We were very pleased to have success the first time out of the gate," she said. In less than 30 days, donations of $10,160 were pledged by 234 people — an average of about $43 per donor.
Vaughn said the case was a natural for crowdfunding because potential donors could see the basic inequity argument: Marion County provided just one early voting precinct for all of Indianapolis in 2016, while smaller neighboring counties opened multiple locations.
"We weren't trying to explain any really convoluted legal arguments," she said. "I do think we had an issue that was well-suited for crowdfunding, but again, we certainly worked it hard. … This money isn't going to raise itself."
For nonprofits thinking about the possibility of litigation, Vaughn said crowdfunding is undeniably effective. "It's as easy a fundraising effort as I ever had to participate in," she said.
Passing the digital hat
Whitham Hebenstreit & Zubek LLP partner S. Gregory Zubek had no idea clients he represented in an Indianapolis land-use lawsuit had used a GoFundMe campaign to raise thousands of dollars to fight a proposed development, though he said he wasn't necessarily surprised.
Zubek represented neighborhood groups in the Traders Point area that fought a city hall ruling and won. A Marion Superior judge revoked a zoning permit for a gas station proposed on the northwest side at 86th Street and Lafayette Road. The developer appealed, and the case is currently being briefed before the Court of Appeals in Three Mile Properties, Inc. v. Traders Point Association of Neighborhoods, 49A04-1703-PL-00554.
Zubek said in 40 years as an attorney, he's had occasion to represent neighborhood groups in various matters, and it's not uncommon they would band together to raise money for remonstrances or litigation against projects they oppose.
"Instead of going door to door, one could say they used a different methodology," he said upon learning of the online fundraiser. The group's GoFundMe page has collected just shy of $17,000 from 83 people in the past 25 months.
"We wanted to make it as easy as possible for individuals to contribute," said Greg Magnuson, who founded the GoFundMe campaign. He said it collected 300 percent more in contributions than were collected in checks. Average online donations were typically smaller, he said, but there were far more of them.
"If it wasn't for crowdfunding and partnering with a local nonprofit, we wouldn't have raised nearly as much money for our cause to cover our legal expenses," he said. "The support of our community, through crowdfunding, has been key to what we have been able to accomplish."
Kip Wainscott, head of legal and external relations for CrowdJustice, said crowdfunding marks not so much a change but an evolution in how litigation is funded. "The approach isn't totally dissimilar from the way individuals have long looked to neighbors and families as a way to fund their legal matter," he said.
Wainscott said CrowdJustice has successfully funded more than 200 public-interest campaigns in the U.K. and the U.S., raising more than $3.5 million for those causes.
"There is a democratization aspect to this approach that can be especially resonant," he said. Courts can bring great change, and individuals who haven't always had access can level the field through crowdfunding. "We think it can be really powerful," he said.
Who and how?
GoFundMe is among the largest general fundraising websites. Alongside efforts seeking cash for weddings, charities, class field trips and myriad other purposes are hundreds of pages for campaigns involving Indiana legal matters. These run the gamut from family law disputes to a fundraising page for Indiana University informatics professor L. Jean Camp, whose research explored possible internet communications during the presidential campaign between a Russian bank and the Trump Organization.
The page for Camp says that while IU is prepared to defend the professor and her research, funds raised on the site would be used to defend her after Russia's Alfa Bank sent letters threatening potential prosecution under the Computer Fraud and Abuse Act.
The page established in late March quickly surpassed its goal, collecting more than $5,200 that's being used to reimburse leading cyber attorneys who've sent reply letters to the bank on Camp's behalf. One response from her lawyers describes the bank's letter as "an attempt to intimidate critics who have voiced opinions that your client doesn't like and infringe upon Dr. Camp's academic freedom."
In addition to GoFundMe and similar domains, sites such as fundedjustice.com and crowdjustice.com are strictly limited to fundraising for legal matters. CrowdJustice goes a step further. It first requires people seeking fundraising pages to be represented by counsel. If a funding goal is met, the money is directed to the attorney's trust account, which provides more accountability, Wainscott said.
"It's a platform specifically for the purpose of raising funds and supporting communities in their pursuit of justice," he said. "As lawyers, we understand there are professional responsibilities that attach" when funds are distributed to a law firm for litigation.
Other crowdfunding sites are far less restrictive and may have little or no control over how funds are directed or when they can be withdrawn. Crowdfunding sites typically collect administrative and operational fees totaling about 8 to 10 percent of amounts donated. Magnuson said people who are considering creating a crowdfunding page for a legal matter should be aware of all these factors at the outset.
But Magnuson said there may be a more basic consideration. "I believe it helped that we are focused on a specific issue that many in the community feel very strongly about," he said.
There are no ethical constraints for parties soliciting financial support for litigation costs, but Indiana Supreme Court spokeswoman Kathryn Dolan said in an email that lawyers do have a consideration when crowdfunding is involved. "Lawyers cannot surrender their obligation to their client by following the money. Their independence to their client cannot be compromised by the interest of a donor or donors," she said, noting attorneys cannot allow donors, rather than clients, to dictate representation or strategy.•
Please enable JavaScript to view this content.