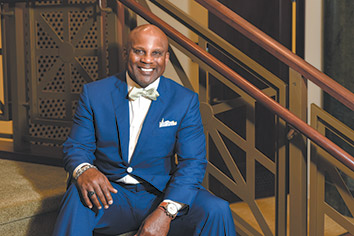 As Barnes & Thornburg LLP partner Alan Mills marks his 35th year at the city's largest firm, he looks back with mild wonder. He remembers starting out, one of a tiny community of African-American attorneys in Indianapolis' major law firms.
"It's not just a matter of numbers that changed," Mills said. "There has been a cultural change at these places. … There has been a material change in the landscape, and sometimes people don't see that, because they don't recognize the history."
African-American partners with decades in practice said their experiences helped open opportunities for younger lawyers and increase discussions about diversity in general, but they acknowledge challenges persist. Studies show the percentage of partners at large law firms nationwide who are black languishes below 2 percent. American Bar Association statistics show that at the beginning of 2017, just 4.1 percent of all attorneys are African-American — the lowest percentage in almost a decade — due in part to the legal economy slump that's made a career in law less appealing for young students.
Nevertheless, firms say diversity is more important than ever because their clients are demanding it. And even as fewer African-Americans pursue legal careers, firms say they are redoubling their recruitment and retention efforts.
"The key is inclusion, and that's what we're doing," said Cleveland attorney Adrian Thompson, chief diversity officer for Taft Stettinius & Hollister LLP. That means providing a seat at the table on firm management issues, as well as developing strategies to help associates make partner.
Norris Cunningham (front center) was the first African-American attorney at Hall Render. He now leads the newly formed health litigation team at Katz Korin Cunningham in Indianapolis.  (IL Photo/Eric Learned)
Making a name
Norris Cunningham entered the legal profession a bit more than a decade after Mills did, following a stint in Air Force. He was offered a position at Hall Render Killian Heath & Lyman P.C. in 1995 pending his graduation in 1996, and until late June, it was the only firm where he'd worked.
As the first African-American attorney at Hall Render, Cunningham said the firm was intent on helping him succeed, and he credits his time in the service with providing him a level of maturity he believes helped his prospects. But by being first, he also shouldered an unspoken burden.
"I don't think there are any African-Americans in any position who haven't felt the pressure of doing well because of the pressure of how it might look if you don't succeed," he said. "There's constant pressure you deal with as a minority attorney, or a minority in any profession where you're the only one, or the first one."
Now, Cunningham is a name partner at Katz Korin Cunningham, after the health litigation practice he leads migrated from Hall Render last month.
As Hall Render's business focus tended more toward transactional and health care compliance work, Cunningham said, members of his litigation team and attorneys at Katz Korin began talking. They found that merging the practice there would be a better strategic fit. Cunningham said the separation was amicable, and his team will continue to work with their former Hall Render colleagues on matters involving mutual clients.
It's special, and gratifying, the trust his team placed in him by making a bold move to a new firm. Cunningham sees opportunities for continued growth, coupled with a greater sense of responsibility, and he's humbled his team — some who mentored him and some he mentored — joined him. "I remain eternally grateful for their willingness to do this," he said.
Patrick Chavis III
Not for everyone
After Patrick E. Chavis III entered the bar in 1969, he was hired as a clerk at a predecessor firm of Bose McKinney & Evans LLP. "It was a world I didn't know," he said. There was little common ground between him and the lawyers and partners in the firm. He felt a sense of isolation and couldn't see a future for himself there. "I'm a neighborhood lawyer, a street lawyer. I don't knock it," he said of his firm experience, but "I didn't want to go into that world. … For me, it was not really about the money," he said. "It's about where I felt comfortable."
Natalie Chavis
Chavis comes from a family steeped in legal tradition in Indianapolis, and he came of age in the heart of the Civil Rights movement. His father, Patrick Chavis Jr., was a lawyer who practiced beginning in the late 1940s. "That was back in the time when black lawyers couldn't have offices downtown," the younger Chavis said. His father practiced in those days in an office in the Madam Walker Building. He later practiced in one of the city's first integrated firms, and he was elected a Marion County judge just a month before he died in 1974.
The younger Chavis' late sister, Geraldine, also practiced, and so does his son, Patrick Chavis IV, and his daughter, Natalie. Other relatives in his extended family also are attorneys, including his cousin, Marion Superior Civil Division 5 Judge John M.T. Chavis II.
From his practice, Chavis said he saw pioneering black attorneys fighting for civil rights in multiple ways — whether they were involved in politics, did criminal defense work or represented people in personal injury suits. He sees pioneering big-firm attorneys also as part of that movement. "Some of their clients are national corporations, and as blacks were moving up in these national corporations, they're saying to firms, 'When I sit at your table, I want to see someone who looks like me.'"
But Chavis said even today, African-American attorneys who strive for a career at a larger law firm must make "a cultural decision." At a firm, "You've got to carry a bank, you've got to carry a book (of business)," he said. "But it's a lot of progress. … It's changed for the young black lawyer. There's a lot more opportunity."
Connections and mentors
Smith
Faegre Baker Daniels LLP partner Joseph L. Smith was recruited to the predecessor Baker & Daniels firm in 2003, and he became the firm's second African-American partner in 2006. But coming to a big firm likely wasn't an option when he joined the bar in 1997.
"I was a solid student, but I wouldn't say I was one that was setting the world on fire," he said, and firms tend to have their pick from the top 10 percent. So, Smith went to work for the U.S. Department of Labor before following his father, Joseph Smith Sr., into politics. Smith acknowledges those connections benefitted his career path. Nevertheless, coming to the firm wasn't without challenges.
"Firms are businesses, and no matter what your race, your gender … you've got to still perform," he said. That means learning systems quickly, making connections and building business. "You can get very siloed, and very lonely, and very ostracized … if you don't have someone there to mentor, advocate and teach you."
Thompson, the Taft partner, said when he got out of law school in 1986, he applied to big firms in Michigan and Ohio, but he got no offers. Opportunity presented itself later, after he went to work in legal aid, then joined a small firm for a few years, and eventually became general counsel for the Cleveland Metropolitan School District. He counts among his mentors Fred Nance, who's now business counsel to NBA superstar LeBron James and comedian Dave Chappelle, among other celebrities.
Thompson said young African-American associates may face a "shock to the system" in joining a firm where they may be the only person, or one of just a few, who looks like them. Firms must realize this and make sure their hires are comfortable, treated fairly and are given opportunities to thrive.
Diversity expected
Smith said diversity wasn't much of a consideration when he came out of law school. "For young folks today, it's a natural topic of conversation," he said.
Richard Moore is active in Frost Brown Todd LLC's Diversity and Inclusion Committee and works in the Cincinnati office. When he entered the profession in 1993, he said, "there were no African-American partners in any of the major law firms here in Cincinnati and very few associates."
The climate at Frost and at other firms has changed in the years since. "You're going to be given a fair shot, you're going to be given opportunities, same as everyone else," Moore said. "There's an assumption (race) should not be an issue, and I think maybe that is different than when I started out." Back then, "You kind of anticipated there might be challenges because of people maybe not being as accepting of you."
Mills said when he began practicing, minority attorneys who were hired in firms tended to be assigned to litigation and labor practice areas, but now, that's no longer the case. "Now, in some regard, there are better opportunities in the sense that people are actively looking to recruit minority lawyers," he said.
What firms are doing
Taft has launched a "mentor/mentee champion program," in which diverse first- and second-year associates are placed with a "power partner" in an attempt to increase opportunities and retention. "Aside from being the right thing to do, from a business perspective, we're meeting our clients' demands," Thompson said.
As chairman of the Indiana State Bar Association's Diversity Committee, and in working on diversity issues at Hall Render, Cunningham said one of the things he's tried to do is increase the pool of available minority applicants. His former firm instituted a diversity internship program that so far has given about a dozen undergraduate students a taste of law firm life.
He said at least one former intern is now in law school. "I guarantee, her first application for a clerkship is going to be Hall Render," Cunningham said. "They already know her, they respect her; she probably has a leg up. … That's how we fix this, from my vantage point, at least. … We build relationships in as many different ways as we can."
At Faegre, Smith is now one of 13 attorneys on the firm's management board. He's also active in the firm's Diversity and Inclusion Committee. He, Moore and Thompson said their firms are training attorneys to address unconscious or innate biases.
Mills said people who have a passion for law should not be dissuaded by the soft legal market. "It's going to bounce back, and you have to be ready to take advantage of it when it does," he said.
Cunningham, too, said that while progress has been slower than he'd like, he's optimistic.
"People respect hard work, they respect a high level of skill, and if you can bring those things to bear, you're going to have some real opportunity to succeed," he said. "If your dream job is being a lawyer, and mine was, that is achievable."•
Please enable JavaScript to view this content.