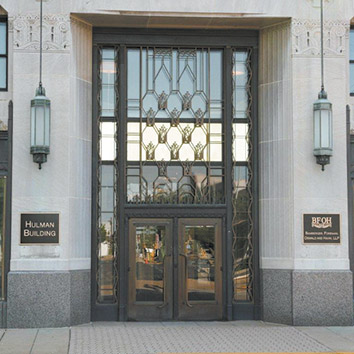 In the first merger involving an Indiana firm in 2017, Evansville-based Bamberger Foreman Oswald & Hahn LLP will provide a stronger foothold in the Hoosier state to a Kentucky regional law practice and, in return, will gain a deeper bench of expertise to serve its clients.
Bamberger's merger with Stoll Keenon Ogden PLLC, which is headquartered in Kentucky, was announced June 27, just before the end of the second quarter. The Bamberger name will disappear when the merger is completed — expected be in place by Sept. 1 — and the office will move from the Hulman Building in downtown Evansville where it has resided since the four founding partners opened the firm in 1959.
Operating as Stoll Keenon Ogden, the merged firm will have 144 attorneys with offices in Evansville and Indianapolis; Louisville, Lexington and Frankfort, Kentucky; and Pittsburgh, Pennsylvania. The 10 Bamberger attorneys in Evansville will relocate to the SKO office in the Old National Bank headquarters to create an office of 17 lawyers.
Along with all the Bamberger attorneys, most of the office staff will be transitioning to the new firm. For the handful of support staff that will be losing their jobs, Christopher Wischer, partner at Bamberger, said his firm is working to help them find other employment.
The merger with SKO, Wischer said, will bring a competitive advantage as Bamberger's present clients are growing and increasingly needing a broader scope of legal services. With more attorneys and practice areas, the merged firm will have greater resources and be able to offer assistance with legal issues in areas that Bamberger does not now have the expertise to provide.
Wischer said Bamberger has a solid practice and, with a projected revenue of $6.5 million in 2017, did not need to merge with a bigger firm. It was not actively looking to combine with another firm but it was considering how to position itself in a changing market. Conversations with SKO led to merger negotiations starting in March.
"We could continue and we'd be fine," Wischer said of the Bamberger firm, "but this makes us better."
Barr
SKO managing director P. Douglas Barr declined to discuss his firm's financials but did note he expects the merger to bolster revenue. Echoing Wischer, Barr said the addition of Bamberger will enable his firm to offer a more diversified range of services to its Evansville clients, particularly those in the coal, oil and gas sector who operate in the Illinois basin.
Tracing its roots to the small practice Richard Stoll started in Lexington, Kentucky, in 1897, SKO is well-established in the Bluegrass State. Its clients include Lexmark, Kentucky American Water Co. and Kentucky Utilities Co., along with Brown-Forman Corp.
The Kentucky firm already had a presence in Indiana before it shook hands with Bamberger. In 2013, SKO moved its Henderson, Kentucky, office across the Ohio River to Evansville and 35 of its attorneys are licensed to practice in the Hoosier state. It has clients in Indianapolis and Bamberger's office in the Circle City gives SKO a brick-and-mortar presence in the state's capital.
Barr especially pointed to the compatibility between SKO and Bamberger. He described Bamberger as being a perfect fit with his firm's culture of hard-working attorneys who love to practice law.
"We feel like we're lucky to find the group of lawyers at Bamberger," Barr said. "They are really good people and good lawyers."
Big splash
The merger between Bamberger and SKO is the first in Indiana since another Evansville firm, Rhine Ernest LLP was acquired by Bingham Greenebaum Doll LLP in August 2016.
Altman Weil, a provider of management consulting services to law firms, has charted a dramatic upward swing in law firm combinations since the end of the Great Recession. Mergers swelled from 60 in both 2011 and 2012 to a high of 91 in 2015 before a slight drop to 85 in 2016. The pace appears to be hastening with 52 firms merging in the opening two quarters of 2017.
Small-firm acquisitions have been driving the trend. In an analysis of mergers from 2007 through 2016, Altman Weil found more than 75 percent of all combinations have involved firms with two to 20 attorneys. Data from the second quarter of 2017 shows that 71 percent of the combinations involved small firms with 20 or fewer lawyers that were primarily located in the Midwest and Southern states.
According to Altman Weil, the gobbling up of small practices is a quick, low-risk way to gain market share as demand continues to contract. The consulting company anticipates small firms will remain targets for the foreseeable future.
Legal consultant Robert Henderson of RJH Consulting, based in Wyoming, expects SKO to keep expanding its Indiana footprint. An attorney with 10 years of firm management experience, Henderson has been a law firm consultant for more than two decades, concentrating on helping small and mid-size firms.
The "big prize" in the Bamberger merger was the Indianapolis office, he said. Coming into the Circle City, the Kentucky firm will make a big splash, spending the money on events like dinners and open houses to lure both clients and lateral hires, he said. It's possible SKO may swallow another small firm whole.
Both Wischer and Barr confirmed that expansion through hiring more attorneys and acquiring other practices is part of their plan. Wischer said the Indianapolis office will likely be integral to the merged firm's growth strategy. He anticipates the new firm will be in a better position to attract talent and clients.
Mutual benefits
Henderson is surprised the Bamberger name was not incorporated into the new firm, particularly since that moniker is known in Indiana and could have made the introduction of SKO to a wider Hoosier audience easier. He speculated the name was discussed as part of the merger negotiations along with hourly rates, governance of the merged firm and partner compensation.
Wischer
Small firms, Henderson said, can have difficulty competing in today's legal market. In particular, they have to provide a range of services to clients who are less loyal and more willing to take their business to another firm.
Mergers can help retain clients by reducing the opportunities for other firms to poach them. Firms that cover many practice areas could become a one-stop-shop so their clients would not need to seek advice from attorneys at other law offices and risk being lured away.
Wischer said merging with another Indiana-based firm would not have brought the mutual benefits the combination with SKO is bringing. For Bamberger clients, the merger gives them more legal resources inside as well as outside the state.
"It's been an exciting time," Wischer said. "I'm looking forward to getting over there (in the new office) and getting settled and getting to work."•
Please enable JavaScript to view this content.