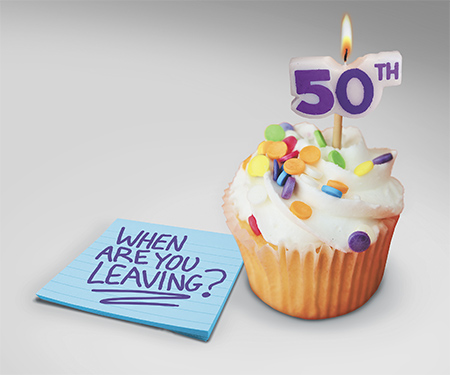 At 50, the federal Age Discrimination in Employment Act just isn't its old self.
Time was, the law enacted in 1967 gave older workers the same protections as laws designed to blunt workplace discrimination on the basis of race, gender and classes protected under Title VII of the Civil Rights Act. But those days are over, gone the way of the rotary telephone.
Cleveland
"It's a more stringent burden of proof" for age bias claims, said Jason Cleveland, a plaintiffs' attorney at Cleveland Lehner Cassidy in Indianapolis. A 5-4 U.S. Supreme Court decision in 2009, Gross v. FBL Financial Services, 557 U.S. 167, held that age discrimination claimants must prove "but for" their age, they would not have experienced an adverse employment action. By contrast, Title VII protections shift the burden to an employer to prove that discrimination on the basis of race, gender or other protected classes was not a factor.
Jeffrey Wrage, a partner at Blachly Tabor Bozik & Hartman LLC in Valparaiso, represents both plaintiffs and defendants in employment cases, and he said the higher burden for age discrimination cases seems odd. "Most attorneys will tell you, that doesn't make a lot of sense," he said. Still, he added, "If you truly do have a case of discrimination, the standard doesn't matter."
Complaints spike, decline
Wilson
Heather Wilson, member-in-charge of the Indianapolis office of Frost Brown Todd LLC, represents employers and said plaintiffs' attorneys have told her they're reluctant to take an age bias case on contingency unless it seems certain. "They want to make sure they're making a good investment in the case," Wilson said.
Statistics since 2009 appear to bear that out and suggest the Supreme Court decision that year may have reduced complaints. Claims under the ADEA spiked with the Great Recession in 2008, when the Equal Employment Opportunity Commission received 24,582 complaints. Since then, the number declined, and annual claims hovered above 20,000 in recent years.
"Age claims really haven't increased much in the last 20 years," said Ice Miller LLP partner Paul Sinclair, "whereas, if you look at disability discrimination and retaliation claims, there's been a pretty dramatic increase."
Sinclair
Sinclair said employers still seek and value mature and loyal workers, but as many millennials embrace the "gig economy" and seek to create their own work environments, the workplace and regulations are likely to adjust. "It's a very different generational approach to work than what we've ever had," he said. At the same time, "We're coming into a time period where we've got five generations in the work force."
Not your father's law
Passed in the 1960s era of landmark civil rights legislation, the ADEA was enacted when many companies employed mandatory retirement ages, among other things. Wilson said in most employment situations, that would be impermissible today.
Wrage
The act also emerged when World War II veterans dominated the work force and were raising the baby boom generation. "This was protecting the Greatest Generation in many ways," said Laurie Goetz Kemp, a partner at Kightlinger & Gray LLP in New Albany who represents employers. Since then, changes in case law have changed the way cases progress.
Kemp said when she's defending an ADEA claim, the cases tend to follow a pattern. The first thing she does is ask for an employer's demographics — "I want to see the age of your work force," she said. That often proves vindicating. "More and more, I see the ages of my clients' work force are dramatically increasing."
Given changes in the culture and workplace, Kemp, Wilson and other defense attorneys question the need for ADEA protections to continue kicking in at age 40. Now, with workers often staying active into their 70s or later, they say it's time the law reflects those changes by moving the protection threshold to 50 or older.
Wrage and Cleveland disagree. Wrage noted many people in the Great Recession were laid off at 40 or older and had a difficult time finding work. The ADEA applies to discrimination in hiring and compensation as well as firing or demotions.
Cleveland said that while it feels odd to him that he'll soon be in a protected class based on his age, many people in their 40s, particularly in tech industries, may face age discrimination based on a biased perception that they aren't as capable as younger employees. Among older workers, he notes a disturbing trend he's seen of longtime employees being terminated within five to 10 years of retirement.
Distinct protections
While it may be tougher to prove an age bias case, federal law does give older workers who are laid off a layer of protection other protected classes don't get.
Pryzbylski
Barnes & Thornburg LLP partner David Pryzbylski said those protections come from the Older Workers Benefit Protection Act. For instance, he explained that when workers over 40 are offered severance as a reduction of force or layoff, employers can only get a waiver of an employee's right to sue under the ADEA by giving the worker 45 days to consider the package, followed by a seven-day rescission period. Employers subject to ADEA with 20 or more workers who lay off more than two employees also must disclose by job title and age all employees who were considered for layoffs.
"I think it's good on both sides of the ball, personally," Pryzbylski said. "It provides everybody a picture of how this is shaking out."
But Kemp said these standards beyond those for Title VII-protected classes are a "somewhat demeaning and belittling" burden on employers. "I don't think there's a need for that," she said. "There are clear obligations for what a severance agreement can and cannot include."
Subtle discrimination
Kline
Faegre Baker Daniels LLP partner Susan Kline said when she's counseling and training employers, she cautions about the work environment. An ad seeking "fresh talent," for instance, or a worker's 50th birthday party celebrated with black crepe paper and "over the hill" themes could be trouble. "I hope and trust we're seeing less of that," she said.
Asking a gray-haired applicant about when they may retire, for instance, also may be ageist. While the employer may ask in an effort to determine whether hiring the person will be a good investment, she said, the question wouldn't be asked of a 25-year-old applicant, even though that person may not stay long if hired. She suggested instead that employers ask where the applicant sees herself in five to 10 years.
Despite the difficulty in proving cases, Wrage notes AARP surveys show a majority of older people say they've witnessed or experienced age discrimination at work — 64 percent said so in a 2014 survey.
Cleveland said some employers use coded language that filters out older workers, noting for example a tech company's ad seeking workers who are "digital natives." Those born before the computer age, he said, are considered "digital immigrants." He said some hiring services also get around the age question by asking the year an applicant graduated high school. "I can't tell you how many clients have told me that story," he said.•
 
Please enable JavaScript to view this content.