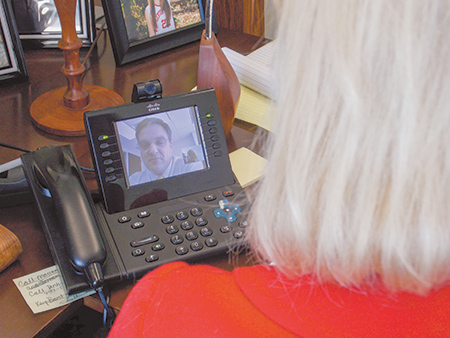 Heather Wilson, member-in-charge of the Frost Brown Todd LLC Indianapolis office, turned at her desk, dialed the videophone and on the screen appeared her colleague in Cincinnati, Ohio.
She chatted with Christopher Habel, member-in-charge of the firm's Cincinnati office. She could have sent an email or used a standard phone to call him but, she said, being able to see each other while they talked about firm business kept them more engaged and made the conversation more productive.
Almost inadvertently while they were talking, Wilson and Habel were also practicing the firm's culture. Videophones are just one of the tools FBT relies on to create connections between its more than 500 attorneys who are spread in 12 offices over eight states. The firm places an emphasis on working together and being willing to tap into the expertise of colleagues.
Culture within a law firm can be difficult to explain and maybe not easily recognized since the goal is to integrate the underlying philosophy so thoroughly it becomes a natural part of the workplace.
Linking the lawyers through technology such as videophones, gathering all of them in one place for a firm-wide meeting every year and having management practice the culture they preach helps to reinforce the firm's personality. Managing attorneys say culture must be purposefully cultivated or the entire firm could risk breaking apart.
"It's my opinion that law firms that don't figure this out are not going to be able to recruit and retain the top laterals," Wilson said. "My generation would be willing to put up with a certain level (of frustration). This generation is not going to."
Nye
Ronald Nye, managing partner of the Major Lindsey & Africa Chicago office, is seeing law firms place more emphasis on culture.
Lawyers consider culture as necessary to serving their clients, becoming more profitable and allowing them to grow, he said. In firms with a strong culture, attorneys will be likelier to work collaboratively and send their clients to a colleague in the office which, in turn, will enable them to expand the business they do with existing clients and bring in new ones.
"I think firms definitely view culture as important," Nye said. "If people buy into the culture, they're going to be happier, they're going to stay, and they're going to work harder."
'Collegial glue'
Ogletree Deakins Nash Smoak & Stewart P.C. has grown to 850 lawyers as it's opened offices across the United States and in Mexico, Germany, France, Canada and the United Kingdom. It creates cohesion along its vast geographical footprint by focusing on core values that include having the attorneys collaborate and respect each other so they can provide premiere service to clients.
Ebert
Kim Ebert, who is a shareholder in the Indianapolis office and was in firm management for 15 years, summed up the culture as being anti-silo. Lawyers are expected to collaborate, share clients' work and make referrals to other colleagues. Those who hoard their work and behave badly, even if they are highly productive, will likely get shown the door.
A key to making all those attorneys feel like they are part of Ogletree Deakins has been the firm-wide meeting held every year where everyone comes together for a mix of business and socializing.
Even during the depths of the Great Recession when some partners suggested the firm should not expend the money, Ebert took the stance the event was too important to skip. He maintains the annual meeting is "building the collegial glue" that binds the attorneys together although they work in different locations.
Without a common culture, firms risk their very existence, Ebert said. The practice of law has become increasingly competitive and clients are not as loyal as they were in the past. If a firm does not put value on collaborating, the attorneys will start looking out only for themselves and the entire organization could break apart.
That is the lesson Major Lindsey & Africa teaches when it works with law firms entering into merger talks. The economics will likely make sense, Nye said, but to get the deal to stick, the firms have to be compatible culturally. At the beginning, firms must discuss their respective philosophies toward compensation and management along with the goals they are trying to achieve through the merger.
Echoing Ebert, Nye said not paying attention to the cultural fit can result in an us-versus-them mentality. Rather than creating a bigger team that can attract more business, the merged firm will be divided and probably see more lawyers depart.
Client service will most benefit from firms with a culture of teamwork, Wilson said. The attorneys who have networked, collaborated and socialized with their colleagues will be better able to match their clients with the partner or associate who will not only best handle the work but also be compatible personally.
Wilson learned the importance of culture from her great-grandfather and grandfather, who were both attorneys.
"I was taught at a very early time that cases are very interesting, and being a lawyer is intellectually challenging and very rewarding in that respect," she said. "But my grandfather always used to say, 'For me, it was always about my colleagues and my clients.' The relationship piece of it was instilled in me at a very early age."
'Pardon the interruption'
The collaborative culture of Plunkett Cooney helped entice Stephen Peters to join the firm. A civil litigator who usually does appellate work, he was familiar with other attorneys from the firm and felt they shared his values, not only in their approach to the practice of law but also in the importance they place on family.
Peters
Peters, now managing partner of the Indianapolis office, said being a lawyer is both challenging and lonely. He is grateful to be able to talk about legal issues with others in his firm, which also has offices in Michigan, Ohio and Illinois.
As an example of Plunkett Cooney's collegiality, Peters pointed to the firm-wide emails. When lawyers need some help, they will send an email under the subject line of "pardon the interruption" and usually within an hour, many will have offered assistance.
"It's just like bees coming out of a hive," Peters said, describing the reaction to the email requests.
Often the focus on culture starts at the interview process. At FBT, candidates have one-on-one meetings with partners and answer questions from a panel. The firm has identified 11 competencies, including some that reflect its culture, such as ability to work in teams and willingness to be involved in community activities, that will make a lawyer successful at the firm.
Top-of-the-class graduates from a top law school will not necessarily find a place at FBT, Habel said. All the lawyers who make it to the interview process are skilled and knowledgeable about the law, but to fit at the firm, they need to have a strong work ethic as well as be creative and innovative.
Once they are hired, the attorneys are expected to be mobile because several FBT offices are within driving distance of one another. The lawyers are encouraged — and associates are required — to pack up their laptops, make a trip and spend a day working from another location.
As with the videophones, travel and firm-wide meetings allow the FBT lawyers to see their colleagues, get to know them and build professional relationships. Habel noted, "If you actually want to solve a problem, be it internally or externally, go face to face."•
Please enable JavaScript to view this content.