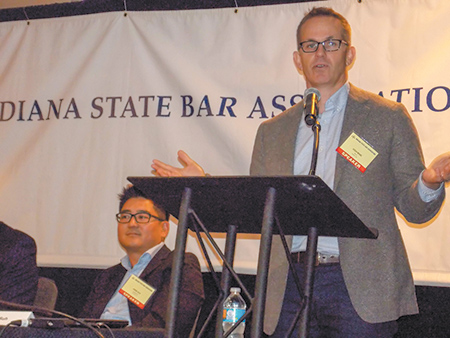 Web-based legal service providers have their sights set on expanding their offerings in Indiana, and they'll need lawyers in the state to do it. Trouble is, no one has yet determined whether some of the companies' business models may violate rules of professional conduct.
It's a question other states have dealt with and reached vastly different conclusions. Regardless of the ethical uncertainty, legal service provider Avvo aims to expand its portfolio soon in the Hoosier State with fee-based services that some state bars have flagged as impermissible.
These include services such as Avvo Advisor and Avvo Legal Services. Avvo Advisor connects online consumers with an attorney for a 15-minute consultation for $39. Avvo forwards the fee to the attorney who takes the consumer's call, then collects a $10 marketing fee from the attorney. Based on the consultation, a consumer may engage the attorney.
Avvo Legal Services provides fixed-fee document review and legal services such as business formation or family law matters. Avvo says it typically bills $149 to $595 for services which is paid to the lawyer doing the work, then collects a marketing fee from the lawyer ranging from $40-$150.
"I think Indiana will be in the next group of states we launch in," Avvo Chief Legal Officer Josh King said in an interview. Though he said there was no precise timetable, he said that should happen "within the next year."
King said Avvo has made these services available in about half the states, even though some state bars have warned that lawyers who participate in them are violating professional rules of conduct. Notably, the New York and New Jersey state bars have issued such ethics opinions. The North Carolina Bar, meanwhile, is the lone state to issue an opinion in Avvo's favor, King said.
The New York State Bar's Ethics Opinion 1132 concludes, "A lawyer paying Avvo's current marketing fee for Avvo Legal Services is making an improper payment for a recommendation in violation of Rule 7.2(a)." That rule is similar to Indiana's Rule 7.2(b) regarding attorney advertising, though the New York rule appears to be somewhat more restrictive.
St. Joseph Probate Court Magistrate Judge Graham Polando chairs the Indiana State Bar Association Ethics Committee. He said that group has been considering the issue, but he declined to comment beyond an emailed statement: "The ISBA Ethics Committee did meet on Saturday, Aug. 12, and discussed this issue at great length but does not have an advisory opinion to issue at this time."
Indiana Supreme Court spokeswoman Kathryn Dolan said the court's Rules Committee also is working with the ISBA to formulate guidance for attorneys, but no conclusion has been reached. "They are reviewing the New York advisory opinion and discussing the best course of action for our state," she said.
King last September addressed a meeting of the Indiana State Bar Association along with LegalZoom CEO John Suh, sharing their vision of the delivery of legal services in the future. They said concerns about rule violations were overblown. But panelists at that meeting from the Michigan and New York bar associations, including NYSBA Past President David Miranda, painted the online services as a threat to lawyers' livelihoods, if not the profession.
Miranda said no matter how companies such as LegalZoom and Avvo frame their business models, they represent an intrusion into a noble profession whose requirements of attorney education, fitness and licensing to practice are in place to protect the public. Because these companies are not law firms, they are free to advertise and market themselves without concern for the Rules of Professional Conduct.
Even after New Jersey and New York's opinions were issued this summer, officials from both companies downplayed them.
"There's a lot of problems with them," King said, including that they are advisory in nature and don't carry the weight of being issued by a state disciplinary authority. He argued rules should not be interpreted to prevent competition, and that's what some state bars have done.
"That's by and large what we have seen with the ethics opinions so far. They simply don't pay attention to the … constitutional and antitrust problems with their interpretations."
Avvo and LegalZoom have long operated in the legal market, while slowly expanding their reach into the provision of services. Avvo is most notable for its attorney profile listings and consumer ratings, while LegalZoom began as a source for forms and resources for pro se litigants and people who choose to handle their own legal filings.
Chas Rampenthal, general counsel at LegalZoom, said even though the company doesn't plan to offer services that a bar association would consider an impermissible fee, "I am on the side of Avvo." He worries that state bars are using rules formulated to prevent undue influence in a way that restricts competition.
"It's damaging to the legal consumer," Rampenthal said, and he blamed such protections of the "noble profession" for lawyers' declining economic prospects.
"We can't close our eyes and put our heads in the sand when our profession isn't serving 80 percent of Americans," he said. "That's not noble."
Rampenthal said LegalZoom is providing legal services in several states through a prepaid legal plan model he said has passed muster with the American Bar Association. Rocket Lawyer is another web-based company that provides documents and legal consultations on a similar subscription basis.
Rampenthal said in the prepaid model, consumers directly pay LegalZoom a monthly membership fee, and the rate the company pays attorneys is based on the volume of consultations. The service to date has facilitated more than 300,000 consultations.
King said lawyers, usually risk averse due to training and a duty to act within ethical rules, have been harmed by what he sees as a misinterpretation of advertising and fee-splitting rules that are meant to protect the public. "The end result is that a lot of good attorneys hold back from providing the public information about their legal service, or innovating," he said.
"I hope that lawyers could feel confident enough that ultimately, if they're doing the right thing for consumers, they're going to be on the right side of the rules," King said. "Unfortunately, with a few of these bar associations … they're coming up with the wrong answer."•
Please enable JavaScript to view this content.