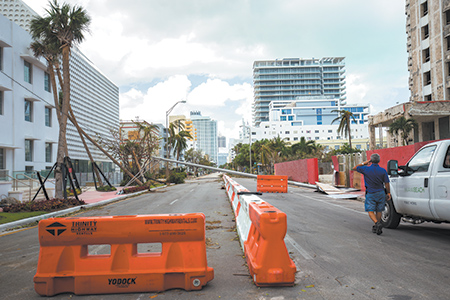 The March 2017 mediation had been scheduled for months with the clients, opposing counsel, the Office of the Indiana Attorney General and the 7th Circuit mediator.
Solo practitioner Kevin Tankersley did not want to add another delay to a complex case that already had been litigated for 10 years. So, he unfolded a card table, set up a couple of chairs for the clients, and hit the speaker button on his cellphone.
The weekend before, his Winamac law office had been destroyed by fire. He and attorneys Daniel Tankersley and John Kocher, who shared that space, had left work Friday and on Saturday were watching 40-foot flames shoot from the roof of their building. Desks, chairs, computers, and all the supplies needed to run a legal office had been turned to ashes.
Tankersley and his colleagues moved into a new office within a few days and quickly got phone and internet service installed. With that, he was still able to handle the mediation but the offices were not fully operational until a couple of weeks later. Even today, the attorneys and their staff are continuing to find little things, like coat racks, that need to be replaced.
"The overall effect of the fire and trying to get up and running, I'll tell you what, that was very tough," Tankersley said.
Whether by a fire, power outage, computer virus or large-scale natural disaster such as a tornado, hurricane or blizzard, law offices are at risk of having their practices disrupted by the unexpected. In 2011, Stephen Zack, then-president of the American Bar Association, organized the ABA Special Committee on Disaster Response and Preparedness to help lawyers plan for the worst.
As Zack explained in the introduction of the committee's disaster planning guide, lawyers have special obligations, such as confidentiality and competent representation of their clients, which are not excused after a natural or man-made disaster. Lawyers without a plan could run afoul of professional conduct rules or expose themselves to civil liabilities.
Faegre Baker Daniels LLP has a business continuity plan that outlines a roadmap for keeping client information safe and offices operating if a disaster strikes. The firm, which has offices around the world, has two data centers in undisclosed locations that house its servers.
This enables attorneys to open their laptops just about anywhere and access the files and documents they need. Also with multiple offices, the work can be shifted to the firm's other lawyers who are not directly impacted by the emergency.
Clark
"We want to have pretty much unbroken continuity in terms of serving clients and securing their information," said Murray Clark, partner in Faegre's Indianapolis office, noting clients have an expectation that "a firm like ours can withstand these types of problems."
Just as importantly, Clark continued, Faegre's plan contains procedures for keeping the attorneys and staff safe. There are strategies for providing real-time updates and making sure they are in a secure location. In addition, the firm has methods for giving extra support to individual employees who may have suffered particular hardships and need help rebuilding their home or financial assistance.
"We rally around our people when they have tough circumstances," Clark said.
What could happen
In general, law firms create one plan that can be adapted to any kind of natural or man-made disaster. But the key is thinking of every potential event that can upend a legal operation.
Tankersley always backed up his computer files on an external hard drive he kept in his office. The device was part of his plan to reduce his risk from technological hiccups, but he did not expect a fire. Since the disaster, he locks the external hard drive in a fireproof file cabinet every night.
Insurance helped things get back to normal, especially the coverage he had for document recovery, but a lot of time was spent calling the insurer, filing claims and ordering office equipment. Even once the office was operating, Tankersley faced a revenue crunch in the early summer because the fire limited his billable hours in the prior months.
"It's just hard to even explain how much time is lost and how much disruption it is for people to start from scratch," Tankersley said.
Schechtman
Larry Schechtman, managing partner at SmithAmundsen LLC, pointed to the Sept. 11 terrorist attacks as prompting many law firms to think more seriously about their disaster plans. Prior to 2001, most operational strategies were very basic but since have become more robust as firm leadership gave more thought to keeping their offices running when the unexpected happens.
On Sept. 11, not knowing if more attacks were planned, the SmithAmundsen office in Chicago, like many others, choose to evacuate the building and send the employees home. Schechtman, who was the last to leave, worked to keep attorneys and staff calm as they departed the upper floors of the Crain Communications Building.
Today, the SmithAmundsen disaster plan includes floor captains and periodic evacuation drills that tell the employees which stairwells to use and where to meet once outside.
Technology also is an integral part of the overall plan. The firm, which has an office in Indianapolis, has the ability to message and communicate with all its employees. Plus, it keeps client files electronically stored at an out-of-state location so the attorneys can still access files and documents remotely.
Planning and testing
As the emergency preparedness coordinator for the U.S. District Court for the Southern District of Indiana, Doria Lynch noted a plan has to be functional when a crisis happens.
Previously, the district court had a 300-page disaster manual that was filled with legalese. Lynch surmised if a flood, explosion or some other unforeseen event engulfed the district or one of its courthouses, the adrenaline levels would rise and chaos might break out but nobody was likely to pull out the emergency tome and start reading.
So, the Continuity of Operations Plan has been slimmed down to 38 pages. It contains the process for such things as relocating, obtaining other space for long-term use if needed, communicating with the employees, keeping the 7th Circuit Court of Appeals and the Supreme Court of the United States apprised of the situation, and getting the IT infrastructure powered up quickly.
"Planning is never complete," Lynch said. "Your plan really is only good to a certain extent because each situation is different, and people and technology are constantly changing. So, the plan is never finished, which is frustrating."
Each year, the Southern District of Indiana's courts, bankruptcy courts and federal probation offices meet to review the COOP and test it in various scenarios. Typically others join, such as the offices of the U.S. attorney and federal defenders, along with the U.S. Marshal Service and General Services Administration.
The agency officials are given a large-scale disaster scenarios such as an earthquake, cyberattack or pandemic flu outbreak, and then work through the COOP's processes step-by-step. Through this exercise, the plan is tweaked as the participants discover something that does not work or can be done better.
For example, the plan now includes draft orders. A judge will only have to fill in a few blanks during a crisis instead of having to stop and write from scratch.
The consequences of not having a plan can translate into taking significantly longer to get back to normal operations. In the meantime, people and property could be at risk, clients might walk, and, with the courts, justice could be delayed.
"Ninety percent of the response (to a disaster) happens in the planning phase," Lynch said.•
Please enable JavaScript to view this content.