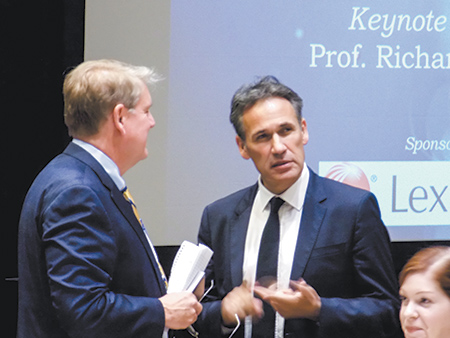 Even while he outlines the profound changes that will rock the legal industry in the next 15 years, Richard Susskind maintains there will still be room for those who became lawyers because they want to make a difference.
Historically, he said, lawyers have gone about changing the world, or their part of it, by using the law. Now with the upheaval caused by technology and client demands, there is an opportunity to revamp the entire legal infrastructure — the courts, the way legal advice is given and the profession itself.
"Go into law not because you want to replicate the way your next-door neighbor or your aunt delivers legal services but because you're interested in access to justice," Susskind said. "So, if you're interested in access to justice, there's never been a better time because you can greatly change the way in which we deliver access to justice."
Susskind — legal futurist, author, attorney and professor — was the keynote speaker during the Indiana State Bar Association's 2017 annual meeting in Indianapolis. He spoke for little more than an hour at the Luncheon Plenary held Sept. 28 and received a standing ovation afterward.
Indiana University Maurer School of Law professor William Henderson, who has written and spoken extensively about ongoing changes in the legal profession, introduced Susskind, who lives in England. Henderson complimented the ISBA for being a leader in learning about and embracing the technological advances that are impacting how lawyers do their jobs.
Those advances are not going to be ending anytime soon. As Susskind explained, every day brings new breakthroughs and the pace is so increasing that the technology that will be with us in 2025 is not even in development today.
Much of the disruption in the legal industry will come during the decade of 2020 as the three drivers of change in the legal world get churning. Clients demanding more for less, competition from old friends as well as new upstarts, and technology will transform not only how lawyers do their work but also what kind of work they do.
"We are going through the revolution so many other industries have endured," Susskind told the audience. "We have to compete or we'll be killed and eaten."
To respond to the pressure, in particular from general counsel, to keep costs down, law firms should be looking for ways to do the clients' work more efficiently and collaboratively. In-house legal departments are in a difficult position as they must both hold the line on spending while having to tackle more compliance work than ever before.
Lawyers should look to decompose the legal work, Susskind said. The projects should be divided into sections and the routine, repetitive tasks should be parceled out to cheaper service providers.
Along with finding new ways to do business, attorneys also have to watch out for new competitors trying to lure clients. Companies that have traditionally serviced other sectors in the economy are now branching out to offer legal products and services. Susskind pointed to accounting giant Deloitte and media corporation Thomson Reuters, which are stepping into or increasing their presence in the legal arena.
Advances in technology and specifically artificial intelligence will continue to grow exponentially. Lawyers can no longer comfort themselves with the thought their ability to think through a problem and find a solution is unique. The brute force of processing that computers are gaining is enabling these machines to crunch large amounts of data and return a result or diagnosis or solution that matches, if not trumps, what a human could do.
"We are always underestimating the impact of technology on us," Susskind said.
Speaking after his remarks, Susskind emphasized the changes targeting the legal profession will be happening over the next several years and not the next 18 months.
Still, he advised lawyers to adopt a research and development mentality, looking to new technology and finding new ways of providing legal services. Also, lawyers have to be open to collaborating with clients, experimenting and using their legal knowledge to undertake new jobs such as project manager or legal technologist.
"My position is for the 2020s, there's great opportunity to be involved in reshaping and developing the system that will be undertaking the legal work," Susskind said. "People want online advice. They want online documents. They want these new solutions and lawyers have got to say, 'That's a new opportunity for us. That's a new business for us. That's where we can add value.'"•
Please enable JavaScript to view this content.