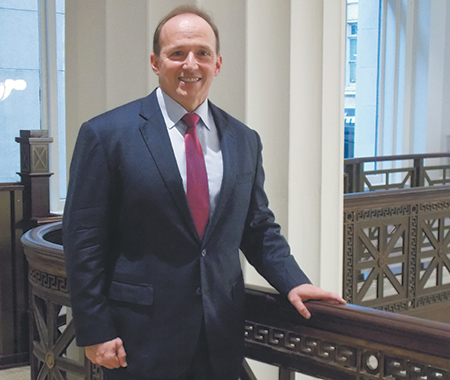 At least twice in his life, Steve Merkel did not think where he started would be where he ended.
The first time was as a high school student when a friend bamboozled him into applying to U.S. Military Academy at West Point (he was accepted and served 30 years in the U.S. Army). The second time was as a newly retired Army colonel, when he applied for a management position at Barnes & Thornburg LLP (he interviewed just to get some needed job-hunting experience but did not expect to "fall in love with the firm").
Merkel, 53, is the new chief operating officer for Barnes. He is in charge of leading the administrative operations including human resources, finance, information technology, marketing and facilities management for the national law firm that has more than 600 legal professionals in 13 offices across the country.
"Here in this firm," Merkel said, "I am surrounded with incredibly talented leaders who remind me so much of the leaders I have served with over time during the last 30 years who are as courageous, if not more courageous, in their willingness to make very tough decisions and, quite frankly, in sometimes less than ideal situations."
He comes to his new job with no law degree and no legal experience. However, Barnes has had a COO position since the mid-1980s and has usually tapped non-lawyers for the position. As managing partner Robert Grand explained, the firm decided non-lawyers with a business degree are better than lawyers at running a law firm. It requires a very different set of skills, he continued, that attorneys have little experience using.
Merkel came with a background in managing and leading troops as well as handling responsibilities related to training and ensuring soldiers were prepared for duty.
"He's a quick study and a really bright guy," Grand said of the new COO.
When Merkel was first alerted to the position as Barnes, his initial reaction was "heck no." At the time, he was retired from the Army and serving as chief of operations at the U.S. Military Academy. He and his family wanted to return to the Midwest, but he was unsure about working for a law firm.
His wife convinced him to at least talk to Barnes, so he made the trip to the 44th floor of the firm's Chicago offices. There he found the management team shared many of his values and understanding that people are the most important asset. He called that interview a "game changer."
Merkel sees many correlations between his service in the military and the demands of helping to run one of the largest 100 law firms in the United States. As chief of staff for the First United States Army, he assisted in overseeing 11,000 troops stationed in 16 locations around the country. He gained experience in communicating vision and direction across a geographically dispersed team, much like Barnes is.
Since he was hired, Merkel has devoted late nights to reading about the industry and has been spending his days meeting face-to-face with office leaders and attorneys throughout the firm. Understanding business development and profitability have posed steep learning curves for him and, having talked to fellow COOs at other law firms, he is well aware the legal profession is in transition.
However, reflecting his optimistic nature, Merkel is bullish on Barnes' future. The key to success, he said, is for the firm to continue emphasizing transition planning, mentoring new lawyers and regularly reviewing and adjusting the strategic plan.
Certainly working in a law firm is a long way from his childhood spent tending to the cattle on his family's farm in Princeton, Indiana.
None of his relatives had any military experience and he was not thinking about enlisting, but a high school friend played a joke and mailed a postcard to the Army seeking more information about West Point. When the impressive envelope embossed with the military crest arrived at his home, his mother made him fill out the application.
To his own surprise, Merkel got the appointment but did not think he was suited for life as a soldier. So in the airport as he was preparing to leave for the academy, he skipped telling his mom he loved her and instead instructed her not to change his room because he would soon return.
Turned out he enjoyed the Army. In his three decades of service, he moved his family 18 times and saw combat in Kosovo, Iraq, Afghanistan and the Turkey-Syria border. Merkel refers to his military career as a privilege.
Working at Barnes, he has found new opportunities he was not sure would come his way again.
"To be able to be here in this firm surrounded by people that I value and that I trust is an incredible privilege that I honestly did not think that I would every enjoy again after life in the military," Merkel said. "What fuels my passion is to make the firm proud of me so that the leaders on this team will look back and say to themselves, 'You know, I honestly don't know what we were thinking when we hired Steve, but I'm sure glad we did.'"•
Please enable JavaScript to view this content.