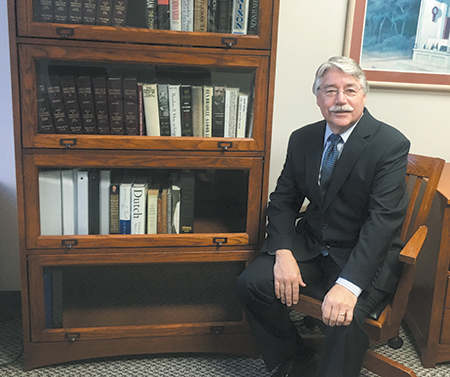 Former Indiana Attorney General Greg Zoeller has been a lifelong advocate of mediation and alternative dispute resolutions, building his career around the notion that many disputes can be resolved short of trial. So when Zoeller left the attorney general's office, it made sense for him to continue his advocacy for mediation and ADR work in the private sector.
He has accepted a position with Indianapolis firm Van Winkle Baten, where he is developing a government mediation practice, one of several projects he's been juggling since leaving the government. Through this practice — which requires Zoeller to travel frequently throughout the United States — he will build on his existing relationships with other attorneys general to mediate state-involved litigation.
Filling a void
Though law firms focusing on mediation and alternative dispute resolutions abound, practices tailored to government mediation are less common, Zoeller said. He was introduced to the idea by former Tennessee Attorney General Mike Cody, who developed a government mediation practice after leaving office. Cody is now planning to retire, Zoeller said, which means there was an opening in the government mediation world for him to fill.
Zoeller plans to use his position with Van Winkle Baten to resolve litigation in which one or more states bring a case against another party, which is often a large national company. Zoeller got extensive experience in trying to resolve such cases during the 15 years he spent working in the Office of the Indiana Attorney General, including a stint as chief deputy.
"The role I would play, even then, was to, from the very outset, look for opportunities to resolve it, because in all the 15 years I was in the office, I never saw a case that actually went to trial and judgment unless it was a constitutional issue," he said.
Bill Baten of Van Winkle Baten agreed that government mediation practices such as the one Zoeller is establishing are uncommon, but he said Zoeller's reputation for resolving state litigation will give his practice credibility. Zoeller agreed that he has established a positive reputation in the mediation world, pointing to his heavy involvement with a 2012 nationwide settlement with Ally, Bank of America, Citi, JPMorgan Chase and Wells Fargo. That settlement called for the banks to provide at least $26 billion in relief to borrowers and state and federal governments after engaging in "unacceptable nationwide mortgage servicing practices."
"That took us less than a year and involved both federal and state government," Zoeller said. "At the time, the housing marketing had the national economy at risk, so there was a lot of pressure to resolve that quickly and in a way that didn't hurt the economy by stressing the same banks that made bad choices."
Zoeller's reputation, coupled with his well-established relationships with the nation's network of attorneys general, will help parties that are less familiar with the concept of a government mediation practice to buy into the idea and trust the work that he is doing, Baten said.
Mediation program benefits
Though government mediation practices are unique, there are several benefits to utilizing their services, said Sandra Jensen, the chief administrative law judge with the Indiana Natural Resources Commission. Jensen is heavily involved in Indiana's shared neutrals program, an initiative that pulls from a pool of qualified mediators to mediate administrative cases for state agencies.
Like general government mediation, the shared neutrals program seeks to resolve disputes between state agencies and other parties short of trial. But there are some differences as well. Mediators in the shared neutrals program do not get involved with tort claims, but rather are limited to dealing with administrative proceedings pursuant to Indiana Code 4-21.5-3.5. Additionally, shared neutrals mediators operate on a pro bono basis.
Jensen said both the shared neutrals program and private government mediation practices offer benefits to the parties involved. For example, going through a mediation process can help narrow the most important issues presented during a case. This increases efficiency by enabling the parties to focus their efforts on the most relevant matters.
One benefit of the shared neutrals program is that parties can settle their dispute without paying extensive legal fees, Jensen said. While there were some initial concerns about the shared neutrals program taking work away from mediators, Patricia McCrory, of counsel and a mediator with Harrison & Moberly LLP and chair of the Indianapolis Bar Association's ADR Section, said the cases that come before shared neutrals are often small enough that a private practice attorney would not be inclined to take them.
Conversely, in some shared neutrals situations, Jensen said the parties might not have the financial resources to hire a mediator. Thus, there is room for shared neutrals and private mediation in Indiana's legal market, McCrory said, which enables more Hoosiers to have access to mediation services.
Along similar lines, Baten said Indiana's legal community does more mediation than those in other larger states. And as one of the first states in the country to offer government mediation services, Indiana has an experience-based advantage that can bring validity to the unique work Zoeller is now doing, he said.
"We can bring that Indiana experience to bear to the rest of the country," Baten said. "The combination of his ADR experience in general and his experience in the AG's office … it's something that I think is novel and something that is getting the attention of other attorneys general."
Other projects
When he's not resolving a dispute under the Van Winkle Baten name, Zoeller has his hand in a number of other projects he's been working on during his one-year "cooling-off" period after leaving the attorney general's office. Several projects involve collaboration with law students.
For example, Zoeller spent the spring 2017 semester teaching a class on the authority and role of attorneys general at the Antonin Scalia Law School at George Mason University. He's taking this semester off, but plans to return to the Arlington, Virginia, campus next semester to resume his teaching duties.
Back in Indiana, Zoeller has been collaborating with Indiana University Robert H. McKinney School of Law LL.M. students on a license to develop a World Trade Center, a project that taps into his experience doing international trade work.
Because the LL.M. students are often from foreign countries, Zoeller said he tasks them with doing research on trade between cities in their home country and Indianapolis to give them an idea of what it's like to work in the realm of international trade.
Zoeller has also been doing consulting work for Eli Lilly and Co., where he is once again tapping into his relationship with attorneys general to build similar relationships for the company. Plus, as a point of personal interest, he has been working as general counsel for Golars Environmental Engineering, where he is offering environmental mediation services.
The cooling-off period for the former attorney general ends Jan. 10, so after that date, he can begin to do more work for the state of Indiana, if he chooses. However, now that he has left public office, Zoeller said he will likely focus the remainder of his career efforts on his work for private firms.•
Please enable JavaScript to view this content.