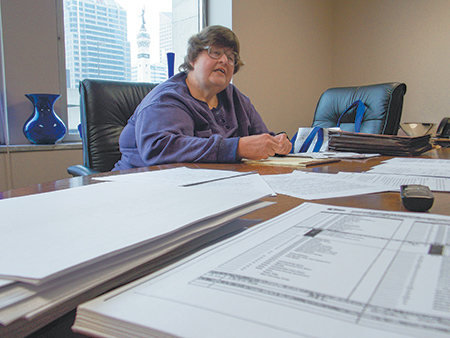 A ruling by the Indiana Supreme Court that held the state cannot be sued under the whistleblower act has left some attorneys concerned for taxpayers and inspired at least one elected official to seek to change the law. But the ruling has not discouraged the state employee who started the fight.
"You don't give up because of this," said Sue Esserman, who was fired nearly four years ago from her job at the Indiana Department of Environmental Management. "You just go on."
Esserman, claiming she was fired in retaliation for raising allegations of misuse of state funds by IDEM officials, filed a lawsuit under the Indiana False Claims and Whistleblower Protection Act. She argued that the state was included as an employer in Section 8 of the Act, but a majority of the Supreme Court disagreed, finding the state is protected by sovereign immunity because the provision does not clearly waive that immunity.
The decision was not surprising, according to employment law attorneys. Being allowed to sue the state when sovereign immunity has not been specifically waived is an especially high standard to clear, and the Supreme Court's decision to accept transfer indicated Esserman had not made a convincing argument.
Even so, the Nov. 2 ruling from the Supreme Court was not unanimous. Justice Steven David wrote a single-page dissent, asserting the plain meaning of "employer" in Section 8 includes the state of Indiana.
"While I agree with the majority that the legislature could have defined employer in this section to include the State, I do not believe that not including such a definition serves to exclude the State looking at the plain language here," David wrote.
Esserman's whistleblower case is over, but she still plans to pursue her complaint filed under the State Personnel Act, Esserman v. IDEM, 49D12-1609-PL-031303. She filed the petition in Marion Superior Court after an administrative law judge from the State Employees' Appeals Commission denied her claim and the full commission subsequently affirmed.
The former senior environmental manager for IDEM wants a jury to hear her concerns about the department's finances. Specifically, she wants to pressure the state to do a full forensic accounting of the Excess Liability Trust Fund to determine who received appropriations from the fund and what the money was used for.
No protection or incentive
Lapointe
Esserman's attorney, Mary Jane Lapointe, said she is disappointed by what she called an unfortunate decision from the Indiana Supreme Court. The whistleblower provision would not only have protected state workers but also given them an incentive to report frauds on the taxpayer. They would have had a strong recourse if they lost their job for raising objections to what they were being asked to do.
But the Supreme Court has closed that remedy to public employees.
"State employees are going to be afraid to blow the whistle," said Lapointe of Lapointe Law Firm, P.C. "I think it makes state employees hesitant to complain."
In writing for the majority, Justice Geoffrey Slaughter pointed out that state workers can use the State Personnel Act, as Esserman is, to fight retaliatory discipline for reporting an agency's violations of the law. However, he conceded, the remedy of 30-days' back pay and reinstatement is not as generous as that provided by the False Claims and Whistleblower Protection Act.
Cleveland
Employment law attorney Jason Cleveland, partner at Cleveland Lehner Cassidy in Indianapolis, agreed with Lapointe. The message to state employees, he said, is if they see something, keep their mouths shut. The risk of speaking up is that they could lose their jobs.
Esserman maintains she was terminated because she was asking too many questions and denying too many claims for payments from the Excess Liability Trust Fund. This pot of money, sustained through a 1 cent tax on each gallon of gasoline sold, is used to pay for the cleanup of leaks from underground storage tanks. She contends she struggled to get documentation from contractors concerning where the money was going.
IDEM disputed Esserman's claims. The State Employees' Appeals Commission administrative law judge sided with the state in finding that Esserman failed to meet the expectations of her employer. Although the department reduced her monthly goals, she still was not keeping up with the quality and quantity of her workload.
To Cleveland, Esserman's firing seems suspicious. He noted she worked for IDEM for 25 years then was terminated for nonperformance.
"I don't see why the state as an employer should be above the law," Cleveland said, echoing Lapointe's view that shielding government workers who spotlight misdeeds ultimately safeguards taxpayers' money. "I think the more protection employees have that typically is a good thing."
'Easy' fix
Esserman's whistleblower complaint began in Marion Superior Court, where it was dismissed. However, the Indiana Court of Appeals reversed in a unanimous decision, convinced by Esserman's argument that a plain reading of the whistleblower section of the Indiana False Claims Act, Indiana Code section 5-11-5.5-8, permits an action against any employer including the state.
DeLaney
Rep. Ed DeLaney, D-Indianapolis, wishes Indiana Attorney General Curtis Hill had let that decision stand and not appealed to the Supreme Court. He said the state should be wanting to encourage its workers to point out problems and compensating them for any retaliation with more than just a months' back pay.
In a statement, the Attorney General Hill's office defended its actions.
"As part of our statutory function, we represent state agencies in defending against claims brought against them," the Attorney General's office said. "In the course of this work, we frequently ask the Supreme Court to interpret laws or address questions left open by precedents, which is what we did in this particular case."
DeLaney plans to try to amend the state whistleblower statute. During the 2018 legislative session, he intends to introduce a bill that inserts language in Section 8 identifying the state as an employer. The Representative does not anticipate the measure will stir any controversy since, he believes, elected officials on both sides of the aisle want to clamp down on bad behavior by the state.
"This is easy," DeLaney said of the legislative fix, "if we want to do it."•
Please enable JavaScript to view this content.