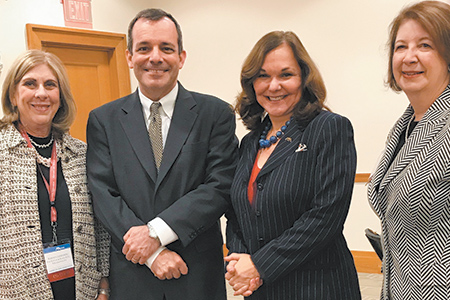 There's a trend in the practice of law that is troubling to American Bar Association President Hilarie Bass: by the time attorneys reach the age of 50, only about a quarter of them are women. While women have represented about 42 percent to 50 percent of law school students over the past quarter-century, statistics show far greater numbers of women lawyers than men leave the profession.
While traditional studies into diversity in the practice of law have examined the concept of the "leaky pipeline" into firms, Bass wanted to find out why so many women are choosing to leave the profession once they are established in their careers. To answer that question, she has launched a new data-driven initiative known as "Achieving Long-Term Careers for Women in the Law."
The initiative, which officially began during a summit at Harvard Law School earlier this month, is a research effort design to answer the question that is troubling Bass: why are women leaving the law later in their careers? Through surveys, focus groups and an analysis of existing data, the ABA president said her goal is to bring some certainty to the process of answering that question, rather than relying on anecdotal data.
"What we know is that women are continuing to leave into their 40s and 50s, and that really raises some alarm bells, because at that point they're partners in their law firms, they're experienced lawyers with significant expertise, and they're at the height of their profession and of their value to their law firms and their clients," Bass said. "If they're leaving at that level, we need to figure out why that is."
Local efforts
Wanzer
Holly Wanzer, founding attorney of Wanzer Edwards P.C. and chair of the Indiana State Bar Association's Women in Law Committee, said she is pleased a national organization such as the ABA is choosing to focus on this issue, because there are currently no concrete answers as to why women, particularly partners, might choose to leave their legal careers. Wanzer speculated there may not be one underlying cause or cultural issue within the legal profession that's contributing to the attrition, which is why it's necessary for the profession to take a closer look at any practices that might be alienating to women.
Local firms are trying to answer Bass' big question. For example, Taft Stettinius & Hollister LLP's Gender Advancement Committee recently dug through data and discovered many common perceptions about why women leave the law turned out to be fiction, said partner Tracy Betz, co-chair of the committee.
Betz
For example, male associates were found to leave the profession at the same rate as their female counterparts, debunking the notion that young female attorneys leave to start families early in their careers, Betz said. Similarly, the firm's research discredited the notion that women attorneys don't work as many hours as men, thus inhibiting their advancement, and instead found that often, women are putting in more work.
Instead, Taft attorneys were left with a set of facts that each relate to an ongoing issue, Betz said: the historical underrepresentation of women in the law. Though women are now going to law school at the same rate as men, today's oldest attorneys are still from a generation when men made up most attorneys, and those men now make up most partners.
Creating equal opportunities
One way the Taft committee identified to address that issue is to encourage attorneys to be more intentional when dealing with succession planning issues, Betz said. Rather than handing off clients to a fellow attorney who the retiring partner has the best relationship with — and who is frequently of the same gender — Betz said succession planning should follow a process that evaluates attorneys' qualifications.
Along similar lines, Bass also wants to address the issue of the "thin file," which begins when implicit or explicit bias causes an assignment to be given to a man over a woman, which means that woman will not have the experience of the assignment attached to her name.
A thin file can also be created when a male supervisor is hesitant to provide feedback that is critical of a woman's work because he doesn't want to appear to be offensive or insensitive, Bass said. Though that supervisor might be well-meaning, she said he is doing a disservice to the woman by not providing comments that could improve her work.
When such behavior is repeated over time, a female attorney may not have as much experience or as many career milestones as her male counterparts, which can negatively impact her advancement, the ABA president said.
"When people come up for partner, there's not a whole lot there," she said.
Cultural shift
Outside of the law firm setting, Wanzer said cultural changes are necessitating a closer look at how the practice of law treats women. She pointed to generational differences between millennials and older attorneys, who view the roles of women in the law differently.
The millennial generation places a greater emphasis on gender equality in the workplace, and as more millennials enter the legal workforce, their ideas about society are beginning to become the norm in law firms, Wanzer said. Beyond gender issues, millennials also expect flexibility in their schedules and the ability to strike a work-life balance, another characteristic that sets them apart from older attorneys who are aging out, she said.
If the legal professional wants to keep millennial attorneys — and millennial women in particular — then partners, supervisors and firm leaders must be willing to accommodate the younger generation's way of thinking and working, Wanzer said. Otherwise, the trend toward women attorneys leaving the profession might not improve in the future.
From a gender perspective, Betz said she is also noticing a cultural shift in how men are responding to the issues facing women in the legal workplace. Today's male attorneys understand that more diversity in law firms and leadership roles is better for clients, so they are inclined to support firm policies that promote their female counterparts into leadership positions more frequently, she said.
But the true test of support for gender advancement is in the motivation behind that support, Bass said.
"It was suggested at the summit that, 'It's great to be concerned about diversity because your clients are demanding it,'" she said, "'but it's a whole different level of adoption when you understand it would make for better decisions.'"
Bass expects the ABA's research to be completed and released next summer. After that, the efforts will likely shift toward developing and implementing changes to reduce female attorney attrition based on the findings.•
Please enable JavaScript to view this content.