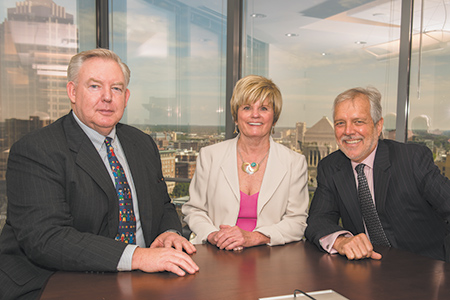 The friendship attorneys Linda Pence and David Hensel started in 1990 continues, but the high-profile criminal-defense firm they began in 2010 has closed, sending the founding partners to growing firms in Indianapolis where they will each start practice groups for white-collar crime.
Pence Hensel LLC announced Dec. 4 it had been dissolved after seven years. The firm was an extension of the white-collar criminal work Pence had started when she opened her solo practice in the Circle City in 1986. Hensel joined four years later, and the pair maintained their collaboration at the former Sommer Barnard PC, then at Taft Stettinius & Hollister LLP.
With their own firm, Pence and Hensel represented defendants in very complex criminal cases, including murder, fraud and treason, as well as civil business litigation. Their clients ranged from a former scientist for Eli Lilly who faced federal charges for stealing trade secrets to Bei Bei Shuai, the Indianapolis woman who was charged with murder and attempted feticide in the death of her newborn daughter.
"I think we were two lawyers that just liked practicing together and we worked on some very important cases," Pence said. "We showed you can be successful in a small firm if you want to be."
Pence is now a litigation partner at the Indianapolis office of SmithAmundsen LLC and will lead the firm's national white-collar crime group. Hensel has joined Hoover Hull Turner LLP where he, too, will build a white-collar defense practice area and supplement the firm's business litigation team.
Treida
Robert Hammerle, who moved to Pence Hensel in 2015 as of counsel, is now of counsel at Hackman Hulett LLP. Also, attorney Julie Treida, who worked at Pence Hensel almost since the firm opened, is following in Pence's footsteps and starting her own white-collar criminal-defense firm, Treida Law PC.
"I couldn't ask for much more support than I've had for the last seven years," Treida said. "I feel like I'm in a good position to start my own firm because of the experience I had with them. They made it possible."
Both Pence and Hensel said the decision to close their firm was difficult and one that came after several conversations about where Pence Hensel would be in two, three and four years. They enjoyed the cases and their clients but the pressure of running a small firm was requiring they spend more time on administrative work and less time lawyering.
Hensel
Once they determined they would dissolve Pence Hensel, they found their situations progressing faster than either expected. Both were courted by other law firms, quickly scooped up and settling into their new offices by the beginning of December.
Neither would discuss their compensation packages at their respective firms. However, they are excited that their new firms each offer a deeper bench of partners and associates to enlist when they need help with their cases.
"At this stage of my career, what could be better?" Pence asked, noting she will be able to continue practicing as she always has, but won't have to be in the office seven days a week. "(Joining SmithAmundsen) gives me the ability to do some really interesting cases."
Bringing experience and clients
Pence and Hensel are lateral hires to two law firms that have been growing in recent years largely by hiring experienced attorneys. SmithAmundsen and Hoover Hull Turner can boast of strong reputations, but neither had a practice group representing white-collar defendants. They each wanted to expand into that area because they saw to remain competitive they needed to offer their clients a full array of services.
In addition to experience, Pence and Hensel are boosting their new firms' white-collar practices by bringing clients with them.
Hull
Andrew Hull and John Hoover established their firm in 2001 when the law office they had been working for, Johnson Smith, came apart. Their firm, which focuses on business litigation, has been on a growth spurt since Wayne Turner joined as a name partner in 2015. Turner brought three attorneys with him from Bingham Greenebaum Doll, and former Indiana Justice Ted Boehm joined from Van Winkler Baten.
Hull met Hensel when the two were students at Indiana University Maurer School of Law and then both worked with Hoover at Johnson Smith. For years, Hull said he had been dropping hints, trying to get his law school classmate to work with him again. Those hints turned into a conversation then an offer when Hensel announced he was looking.
"David is a fine lawyer and even better person and colleague," Hull said. "He's exactly the kind of lawyer you'd like to have in your law firm."
Hoover
Since SmithAmundsen arrived in 2013, its Indianapolis office has grown to just under 30 lawyers with another three or four more coming soon, according to Steve Stitle, managing partner of the Indianapolis office. He said when Pence connected with him, he immediately set up a lunch meeting with her the next day.
"My initial reaction was, 'Wow!'" Stitle said, explaining the firm wanted Pence because of her reputation and substantial legal credentials in white-collar defense work.
Within days, Pence was meeting with partners and then with the firm's founder, Glen Amundsen. The Chicago-based firm plans to build a national white-collar practice under Pence's leadership, giving her the resources and attorneys she needs as well as funneling referrals from partners and associates to her desk.
Noting her outgoing personality and her penchant for working hard, sometimes even through the night, Stitle said Pence was a good fit for the firm. "She's a bulldog," he said.
Linda Pence, seated right, joins Steve Stitle, and, standing, Debra Mastrian, John Tanselle, Melinda Shapiro and Phillip Fowler.
(Photo courtesy of SmithAmundsen)
Going solo
Treida did not enter into any formal discussions with law firms, opting instead to go solo. She will be sharing office space with Kammen & Moudy while she builds her own practice with a focus on white-collar defense, professional licensing and expungements.
"I started my own practice just so I could be able to take the cases I wanted," Treida said.
Hammerle was unavailable for comment. A press release from Hackman Hulett said he will continue his practice of criminal defense and professional licensing.
"We are very honored to have Bob join the firm," said Tony Ridolfo, managing partner at Hackman Hulett. "Bob's experience and expertise brings further depth to the firm's securities and civil litigation practice areas, and expands the firm's work into white-collar criminal defense. Perhaps most importantly, Bob brings enormous enthusiasm to his work."•
Please enable JavaScript to view this content.