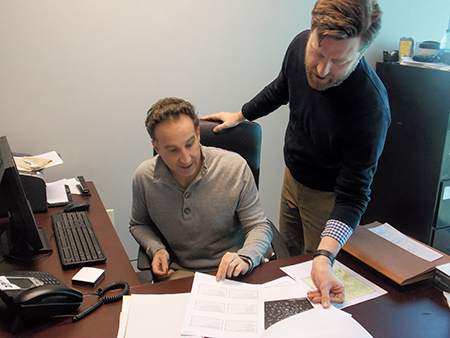 Julie Randall remembered the situation as a "big fiasco."
She is part of a small group that started Family Promise in Hendricks County, a nonprofit that provides educational programs and support to help homeless families find and retain stable housing.
When the local library offered the use of a house it owned in Avon, the nonprofit finally had a place to open a resource center where families could go for services and to take care of such basic needs as showering, doing laundry and accessing computers. However, Family Promise first had to get a zoning variance, and that caused the neighbors to push back.
Although the families sleep at host churches overnight and are only at the resource center during the day, the neighborhood had concerns about having the homeless nearby. The nonprofit was able to secure a temporary variance and, with pro bono assistance from a local attorney, was able to get a permanent one.
Today, Family Promise has three families moving into homes and is providing services to about 12 more, but if not for the free legal help, Randall doubts the nonprofit would even be operating. The organization had no money to pay for a lawyer and no one on the staff or the board had the expertise to navigate the zoning process. Without the building, Family Promise would not have had a hub from which to assist struggling families.
A new initiative launched at Indiana Legal Services is aimed at helping nonprofits, like Family Promise, with their legal needs. The Community Development Legal Project, which officially started in September, is designed to provide services to 501(c)(3) organizations that stretch their dollars to serve the indigent population and have little or no resources to spend on hiring attorneys to draft agreements, file for tax-exempt status, or handle other legal issues.
Funded by roughly $70,000 from the Indiana Bar Foundation's Community Redevelopment Justice Grant program, the CDLP complements the assistance Indiana Legal Services has long provided and continues to provide to individual clients. The project will offer advice and tackle legal matters for those agencies that are supporting low-income people who would be eligible for legal aid themselves.
"This allows us to think about our impact beyond just the individual and think about the communities that we're serving in," Adam Mueller, ILS director of advocacy, said of the new project. "It is a way to reach clients that we haven't reached before."
No other place to live
One recent morning, staff attorneys Marcus Bickle and Jeff Heck sat in the conference room of Indiana Legal Services' Indianapolis office, talking about the new project and its potential. The ideas and examples flowed of how they could help small nonprofits with one-off business services as well as with major long-term undertakings that would improve neighborhoods.
Bickle is spearheading the CDLP. As a lawyer with a background in business and who holds a master's degree in public affairs with a concentration in nonprofit management, he is comfortable with contracts, dollars and cents, and cost-benefit analysis.
He emphasized the benefit a nonprofit receives from the project can ripple down to the individuals it serves. The organization could then be better positioned to prevent people from losing their homes or their jobs so they, in turn, will not join the line of individuals who need legal aid.
"If I can help one client that helps 30 potential clients, I'm going to spend a lot less time on that one client than I would be on these 30 clients," Bickle said. "And that's assuming those are clients I can actually help. Out of those 30, I'm probably only going to be able to help maybe five of them anyway."
The idea of helping an agency is not new and is being done by other legal aid groups around the country. ILS started thinking about broadening its reach as it looked at the number of clients coming into the office who had housing issues.
Mueller explained ILS could get the individuals out of uninhabitable housing and away from an unscrupulous landlord, but the people would often have no other place to live. Legal services began to ask what role it could play in helping ensure good housing is available.
When the bar foundation started offering the redevelopment grants, ILS got the money to answer that question. "That's really what Marcus is doing," Mueller said. "He's thinking about justice on the community level and thinking about how we can supplement redevelopment."
The funds come from the $16.65 billion settlement with Bank of America as a penalty for its role in the mortgage foreclosure crisis that ignited the Great Recession. Indiana received nearly $7 million, which the bar foundation used to form the grant program that now supports programs for community development and foreclosure prevention.
Transactional attorneys
The CDLP will be offered statewide but, as Bickle noted, because the project has limited resources, it will still have to be selective, likely working primarily with groups that have put some effort into establishing and running a nonprofit. He is the only ILS attorney dedicated to the initiative, but he does have the option of tapping into the pool of pro bono attorneys.
Heck, the pro bono project director at ILS, believes the CDLP will give transactional attorneys the opportunity to use their skills to do pro bono work. Many times, much of the pro bono offerings are in family law, and attorneys who practice in other areas do not always feel confident enough to go into a courtroom to represent these clients.
"Charitable organizations have all the business issues that any other organization has, but to the extent that we can provide pro bono services to them, it allows them to free up funds that they can use to actually help the people they're trying to help," Heck said.
Even though Family Promise has its variance, the nonprofit still has a need for legal expertise.
While jobs are plentiful in Hendricks County, affordable housing is in short supply, Randall said. Much of the employment comes with low wages, so families who work struggle to make rent and mortgage payments. Moreover, some of the local landlords are reluctant to provide housing for Family Promise families, and the waiting list for Section 8 housing is very long.Randall believes Family Promise could help solve the affordability problem by having its own stock of houses. She envisions the nonprofit buying and refurbishing homes that its families could then live in. Certainly, such an undertaking would require additional resources — including legal ones — to assist with such things as purchase agreements and title transfers.
"We'd love to have an attorney help us," Randall said. "That'd be great."•
Please enable JavaScript to view this content.