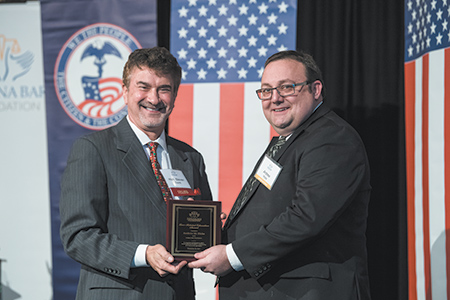 When attorney Andrew Hicks came up short in the 2014 primary for Elkhart Superior Court judge, his children were crushed, but he was not disappointed with the results.
His little ones had worn "Hicks for Judge" T-shirts and were sure their dad was going to win. He, meanwhile, had become friends with his opponents and felt he had run the best race he could. The outcome did not upset him, but he was taken aback by the astoundingly low voter turnout of about 15 percent.
Two years later, Hicks, a partner at Warrick & Boyn LLP in Elkhart, found a way he thought might improve participation at the ballot box when the Indiana State Bar Association sponsored a mock election for school-age children in kindergarten through high school. The Indiana Kids' Election had students in all 92 counties voting for governor, president and senator during 2016.
"You get the most change when you reach out and you start with children," Hicks said. "… For me, this became a chance to speak to some kids, including my own kids' school, to tell them about the process, hopefully get them involved and inspire them to do it themselves."
Hicks did more than speak to some kids. For every Elkhart County school that enrolled in the program — public and private elementary, middle and high school — he recruited an attorney to go into the classrooms and explain the voting process. He, himself, spoke to numerous classes at St. Thomas the Apostle School and regularly contacted the state bar to see if more schools needed speakers. He even found attorneys to make presentations to schoolchildren in neighboring counties.
The Indiana Kids' Election earned the ISBA the 2017 LexisNexis Community & Educational Outreach Award from the National Association of Bar Executives. State bar officials credit the hundreds of Indiana lawyers, judges and other legal professionals who volunteered.
Hicks, whose effort stood out among all the volunteers, was deemed the "IKE Superhero." He also was honored recently by the Indiana Bar Foundation with the 2017 Law-Related Education Award for his work in encouraging kids to vote.
"I never did it with the idea of an award," Hicks said. "I didn't even know there were awards for such a thing. I just thought it was a good program and a chance to get in there and help kids and give a talk on why elections matter and how the voting process works."
Others recognized by the bar foundation at its 2017 annual dinner included:
Arthur E. Johnson, volunteer attorney at the Neighborhood Christian Legal Clinic, received the Randall T. Shepard Award for Excellence in Pro Bono Service. He has provided 2,800 hours of pro bono services valued at more than $290,000.
Jessica Van Dalen, associate at Faegre Baker Daniels, and Molly Briles, associate at Ziemer Stayman Weitzel Shoulders LLP, were awarded the Pro Bono Publico Award. Van Dalen has donated as much as 100 hours of legal work to solo inventors, small businesses and startups through the Indiana University Maurer School of Law IP Clinic. Briles created and administers a pro bono protective order project in Evansville.
Drew Horvath, teacher at Lawrence Central High School, was recognized with the John Patrick Award for Civic Education. He has been teaching the We the People curriculum since 1993 and has built a strong program at his school.
The late Senior Judge Larry McKinney of the U.S. District Court for the Southern District of Indiana, was honored with the William Baker Award for Civic Education. He was a longtime champion of civic education, regularly interacting with students and finding ways to enhance their understanding of democracy.
In an especially divisive election, Hicks kept his focus on the importance of voting and why every candidate on the ballot mattered. He highlighted the sometimes overlooked local positions and explained the office holders' duties, such as the county assessor, who determines property valuations for taxes and how that impacts the amount of revenue Elkhart County receives.
"Do you think it's important that you elect the right person?" he would query the classes. His goal was to teach the students why they should pay attention to all the offices.
The former judicial candidate went into each classroom with a bag of candy and would toss a sweet treat to the students who gave the right answer. At the end of every presentation, he told them about the power at the ballot box.
"If you want to make a difference then you need to get involved and that might mean being a candidate yourself," Hicks told the students. "Because otherwise, how is it ever going to change, how are things going to get better if people aren't willing to put themselves out there?"•
Please enable JavaScript to view this content.