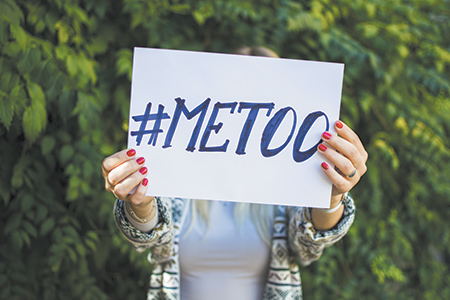 Reports of high-profile men in media, entertainment and politics making lewd comments, groping women and worse have dominated headlines for months. The "#MeToo" social media movement brought forth a flood of sexual harassment accusations — some by men, but most by women — in nearly every industry.
The judiciary also has been caught in the deluge. From nationally known federal judges like Alex Kozinski, formerly of the Ninth Circuit Court of Appeals, to former Huntington Circuit Judge Thomas Hakes, judicial officers at all levels have been accused of inappropriate conduct within courthouses.
Though the "#MeToo" movement has shed light on an apparently pervasive sexual harassment issue, the numerous accusations have raised more questions than answers — what exactly is "sexual harassment?" If a harassment incident occurred years ago, can the victim still file a lawsuit today? Is there a difference between conduct that's legally actionable and conduct that's just inappropriate?
Employment law and sexual harassment attorneys say the law provides answers to each of these questions, though sometimes those answers can be hard to prove. That's why they say it's important from both an employer and employee perspective to take steps to protect yourself from ending up in a compromising situation.
What the law says
Drobac
Sexual harassment is a form of sex discrimination, which means it's governed by Title VII of the Civil Rights Act, said Jennifer Drobac, an expert in sexual harassment law and professor at the Indiana University Robert H. McKinney School of Law. Federal harassment claims are initially reviewed by the Equal Employment Opportunity Commission, which classifies the claims into two categories: quid pro quo and hostile work environment.
Quid pro quo harassment occurs when a promotion, raise, etc. can only be achieved in exchange for sexual favors. Without those favors, an employer will choose to withhold a positive employment action, or will punish the victim with a negative action.
While instances of quid pro quo harassment do occur, hostile work environment claims are more common, said Kim Jeselskis, an employment law attorney with Katz Korin Cunningham. Hostile work environment situations don't necessarily end in a tangible employment action, but instead negatively impact an employee's ability to work due to inappropriate comments or conduct, Jeselskis said.
Jeselskis
All Title VII harassment claims must be brought by a member of a protected class, which can include gender, Drobac said. Additionally, there are four other elements that must be proven to successfully bring a hostile work environment claim, Jeselskis said:
Plaintiffs are subject to unwelcome harassment;
The harassment is based on gender;
The harassment is severe or pervasive, and;
There is a basis for employer liability.
Disagreements often arise over the third and fourth elements, Jeselskis said, because it can be difficult to determine what is "severe" or "pervasive," which in turn can affect whether there is a basis for employer liability.
Gruber
Actionable v. objectionable
The law has a built-in mechanism to address difficulties in proving whether conduct meets the Title VII criteria, said Andy Gruber, chair of Bingham Greenebaum Doll LLP's Labor & Employment Practice Group. Courts will take both a subjective and objective look at the alleged harassment to determine if it's legally actionable, or merely objectionable, he said.
The subjective viewpoint addresses the situation from the plaintiff's perspective, while the objective review looks to how a reasonable person would feel in the situation. An objective view of alleged harassment allows a court to consider social mores, which can account for cultural or generational differences that might lead to a difference in perception of the questionable conduct, Gruber said.
"What was objectively hostile 20 years ago may not be seen the same way today," he said. "It changes with what society's norms are and with who's making these objective decisions."
Lehner
Often, the calls Meghan Lehner gets from employees alleging harassment are related to conduct that, while certainly objectionable, may not be legally actionable. An unwanted hug at a holiday party or a lewd comment may make an employee feel uncomfortable, but if the conduct doesn't affect their ability to work, then legal redress likely isn't available, the Cleveland Lehner Cassidy employment law attorney said.
Even a comment as inappropriate as, "Your butt looks nice in those pants" might not rise to the level of harassment if it's not pervasive enough to meet the hostile work environment standard, Lehner said. Similarly, a co-worker who displays nude pictures on their desk might create an uncomfortable work environment, but if the pictures aren't affecting others' ability to do their jobs, then a hostile work environment claim likely wouldn't succeed, Jeselskis said. Generally, physical harassment will be actionable more frequently than verbal harassment, she said.
Protection and response
Adolay
As the number of harassment allegations increases, employers are taking a closer look at their company policies to ensure there is adequate protection both for their employees and for themselves. Amy Adolay, a partner at Krieg DeVault LLP, has seen a similar response from her clients, so she advises them to include certain provisions in their harassment reporting and response policies.
First, it's important for company policies to provide examples of the type of conduct that would be considered harassment, as well as legal definitions, Adolay said. Second, the policies should outline a "robust and clear" reporting procedure that ensures employees' claims are thoroughly investigated.
Third, and perhaps most importantly, anti-harassment policies should include language that clearly protects employees from retaliation if they choose to report an alleged harassment incident, Adolay said. Gruber agreed that employers should take steps not only to protect themselves, but to assure their workers that their safety and security is also valued.
From a plaintiff's perspective, Drobac said the best thing an employee can do — aside from removing themselves from an unsafe situation — is to document all evidence of alleged harassment as it happens. Without that evidence, it becomes more difficult for a plaintiff to prove their claim in either arbitration proceedings or before a court, she said.
"It's your word against his, so it's going to be a credibility battle," she said.
Barriers to redress
Other hurdles aside from lack of evidence can also block an employee's path toward successfully bringing a harassment claim. Indiana's law, for example, only allows a state harassment claim to proceed if the employer provides a written agreement, Drobac said.
Additionally, federal claims can only be brought against companies with at least 15 employees, while state claims are limited to employers with at least six employees, Jeselskis said. That means if harassment occurs at a small mom-and-pop shop in Indiana, legal recourse may only be available through tort actions, she said.
Statutes of limitations also can pose a barrier to legal action if a harassment victim does not come forward immediately. Federal claims must be brought to the EEOC within 300 days of an adverse action, while state claims must be filed with the Indiana Civil Rights Commission with 180 days.
Though the plaintiffs' attorneys said these limitations can make it difficult for an employee to successfully seek legal relief for alleged harassment, all the employment law attorneys agreed that national conversations such as the #MeToo movement are important in informing both employers and employees of their rights in harassment cases, and in encouraging them to take the necessary steps to protect themselves. •
Please enable JavaScript to view this content.