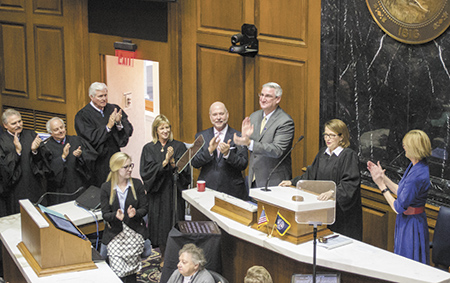 It's no secret the ongoing opioid epidemic has ravaged nearly every corner of the Hoosier state, sending thousands to court on drug charges, ballooning the number of children in need of services and more. But even as the drug crisis strains Indiana's judicial resources, Chief Justice Loretta Rush said new court programs and technology have positioned the judiciary to meet the crisis head-on and lead the state into a "hope-filled future."
During her 2018 State of the Judiciary address, Rush touched on three areas of the judicial branch's work in 2017: an administrative restructuring, continued technology expansion and enhanced training programs. Underlying each of these initiatives was the opioid crisis, which continues to be a major focus of legislation for this year's lawmakers.
"In preparing these remarks, I asked your leadership what you would like included in this address," Rush told Indiana senators and representatives gathered in the House of Representatives on Jan. 10. "…There was a common theme to your responses: How is the judiciary addressing the opioid crisis?"
Indiana has become involved in the national effort to combat the opioid crisis with Rush's recent appointment as co-chair of the National Judicial Opioid Task Force. Closer to home, Indiana's judiciary is continuing to expand access to problem-solving courts to provide treatment options to drug offenders who can't break the addiction, Rush said.
Developing problem-solving courts
The Supreme Court's administrative restructuring has hepled expand Indiana's problem-solving courts, the chief justice said. In addition to creating the centralized Office of Judicial Administration, the restructuring process included a study of judicial resources that led to the adoption of a new rule of efficiency and partnership.
That rule has enabled courts in neighboring counties to share judicial resources when caseloads become too heavy, Rush said. Additionally, the cross-county collaboration has allowed development of regional drug courts to address users' legal and treatment issues.
"In Warren and Fountain counties, for example, the judges refuse to let the dividing line of the Wabash River determine whether an addict gets the treatment her or she needs," she said.
So far, 87 problem-solving courts are operational across the state, and 15 more are in the works. The chief justice specifically highlighted a drug court program in Grant County, where Judge Dana Kenworthy has created a Family Recovery Court to assist addicts and their children, "the hidden victims of this drug crisis."
About 75 percent of the people who come into Kenworthy's court are addicted to opioids, while one-third are mothers with newborns, Rush said. The goal of the Family Recovery Court is to help those participants completely redirect their lives, she said, pointing to the example of Donald, a 41-year-old father who graduated from Kenworthy's program after a hard-fought battle against addiction.
"Your judicial branch must have this same level of persistence with all of our initiatives," she said. "So much is at stake."
On the Supreme Court level, Justice Christopher Goff recently began leading the court's Problem-Solving Courts Committee. While serving as Wabash Superior judge, Rush said Goff was instrumental in establishing three problem-solving courts in the county — Adult Drug Court, Family Dependency Court and Adult Reentry Court. Rush said that perspective now informs his work for the entire judiciary.
Leveraging technology
Aside from the continued development of Indiana's problem-solving courts, the judicial branch also continues to expand technology. The advent of electronic filing across the state has allowed for roughly 100,000 court documents to be e-filed each week, Rush said, and 71 percent of all new cases are housed in one case management system.
The Supreme Court has set a goal of rolling out e-filing in each of Indiana's 92 counties by the end of 2018. Aside from saving lawyers' time, the rise of e-filing in Indiana has benefited litigants, who no longer have to travel to their local courthouses to get updates on their cases, the chief judge said.
The judiciary is also leveraging technology to deal with the drug crisis. At the request of the legislature, the court has begun sharing with law enforcement officials the names of offenders convicted of drug crimes. Authorities in turn enter those names into a national tracking system.
Pharmacies can then consult the national data, made available through programs such as the National Precursor Log Exchange, or NPLEx, to ensure drugs containing methamphetamine precursors are not sold to offenders. So far, 42,709 people have been named in the national tracking system, Rush said.
"You would think people who know they're not allowed to buy drug precursors wouldn't try," she told lawmakers. "But they do — we have blocked thousands of precursors from ever getting to the street."
Expanded training options
Additional training programs also are being utilized to equip the judicial branch to respond to the opioid epidemic, the chief justice said. Throughout 2017, more than 9,000 people attended 250 days of training on topics ranging from criminal justice reform to technology to racial bias and more.
The development of problem-solving courts was also a training topic last year, allowing judges and court officers to learn about the most effective methods for implementing and executing judicial services for drug offenders.
Chief Justice Loretta Rush told lawmakers during the 2018 State of the Judiciary address that Indiana's courts are poised for a hope-filled future. (Photo courtesy of Indiana Supreme Court)
"As for problem-solving courts, they have tremendous return on investment in terms of defendant success and keeping nonviolent offenders out of jail," the chief justice said. "These courts require pioneering judges, supportive communities and tremendous training resources."
But the judiciary's training isn't limited to attorneys and judicial officers, Rush said. Volunteers for the Court Appointed Special Advocates program received instruction on how to assist children who aren't receiving the care they need because parents are in the throes of addiction.
CASA volunteers served 26,000 Hoosier children in 2017, Rush said. That's the second-highest number of children served across the nation.
Meeting the justices
Rush concluded her address — her fourth as chief justice — by highlighting the strengths of the Supreme Court bench. The five justices who make up the court constitute a complete turnover of the bench, which began when Justice Steven David was robed in 2010 and ended when Goff joined the court in July.
Individually, each justice's background informs his work on the high court bench, Rush said. David, for example, served an extensive military career that now enables him to lead the Supreme Court's veterans court expansion.
Justice Mark Massa's previous work with the other branches of government, including the Fourth Estate, influence his writings on issues such as public records laws, Rush said, while Justice Geoffrey Slaughter's background as a practicing attorney offers the court a perspective "from the other side of the bench." Goff also brings a unique perspective to the court, she said — one from small-town Indiana.
"With this new court, our appellate and trial court colleagues and unified staff, I stand before you with confidence that your courts are ready to meet the challenges ahead," Rush told the legislators. "The state of your judiciary is strong, and we are filled with hope for the future."•
Please enable JavaScript to view this content.