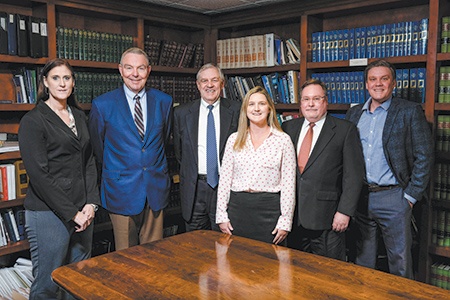 Plaintiffs attorney Mike Miller has had some unsettling times in his career.
He was overwhelmed when he was stuck in criminal court as a young prosecutor, and he was scared when he and three of his colleagues started their own firm. Of course, there has also been the emotional crush that comes whenever a jury finds for the defendant
But navigating what's happening now will be a new kind of difficult.
After almost 38 years in business, the firm of Montross Miller Muller Mendelson & Kennedy has undergone a significant reorganization. Two founding partners, John Muller and Tilden Mendelson, retired in 2017, and all four associates — Nathan Miller, Belinda Kunczt, Brad Kallmyer and Kerri Farmer — have been made partners.
The personal injury and medical malpractice law firm is remaining in its current location on the north side of Indianapolis and will keeps its name. Miller stressed the remaining lawyers want to settle into their new roles before making any major changes.
"It's hard," Miller said of allowing the younger partners to get into the driver's seat. "These guys remind me every day, especially (my son) Nathan, who rolls his eyes when I say something, that there is a different way of doing things other than the way I was taught, and I need to accept that fact."
Miller is staying with the firm as is attorney Scott Montross, who joined in 2007. In fact, Miller said he and Montross are ready to practice law for another 38 years.
Montross Miller Muller Mendelson & Kennedy opened March 1, 1980, in downtown Indianapolis. The late Tim Kennedy and Miller, both in the prosecutor's office at that time, joined Muller, who was then a public defender, and brought in Mendelson to start the practice.
Initially, they took whatever disputes walked in the door — divorces, workers' compensation and the like. Gradually, the firm started getting referrals on medical cases and now, Miller estimated, it gets 1,500 to 1,600 calls a year from attorneys across the state, referring medical malpractice plaintiffs. In addition, he said, the lawyers also focus on product liability and "bigger personal injury" cases.
Daniel Chamberlain, president of the Indiana Trial Lawyers Association, described the Miller firm as very unique in having developed a reputation as being "really, really good" at medical malpractice cases. The attorneys have taken a new perspective to claims against physicians and healthcare providers and worked within Indiana's system of medical review panels and damage caps to expedite the cases and advance the law.
"They are the nicest, most honest people I've dealt with," said Chamberlain, partner at Cohen & Malad LLP. "It's really refreshing."
Same core beliefs
That a new day has arrived at Montross Miller Muller Mendelson & Kennedy was apparent as a couple of the attorneys gathered in the firm's conference room recently to discuss the reorganization. Miller and Montross were both attired in suits and ties while Nathan Miller relaxed in a plaid shirt and dress pants.
The library down the hall, lined with books, is another sign of changing times. As the new partners look up laws and court opinions from their desktop computers, the library only gets visited by Miller and Montross, who insist that legal research requires ink and paper.
However, Miller said the core of the firm remains the same. While the attorneys may have different styles in the courtroom, the new partners are motivated by the same desire to help people, just like the founding partners were.
To underscore the commitment plaintiffs lawyers need to have to their clients, Miller pointed to Montross' continued work on behalf of a former utility employee. Richmond Power & Light apprentice lineman Anthony Wade was rendered a quadriplegic after falling 12 feet from a bucket truck in 1997.
Montross has presented the case, Anthony Wade v. Terex-Teletect, Inc., to two separate juries and taken the arguments up to the Indiana Court of Appeals as well as the Indiana Supreme Court. He is now preparing for a third jury trial. Seeing the resiliency of Wade and other clients as they overcome their tragedies always impresses Montross.
"It makes you desperately want to work harder because however these cases turn out, they always change people's lives," Montross said.
When the trial ends in a loss, Miller said, it's still horrible.
Miller remembered trying a case in Sullivan County, representing the family of a woman who died after being given the wrong drug. He thought the case was strong but after a five-day trial, the jury came back for the defendant. Making the situation worse for Miller was that his son, Nathan, was sitting second chair.
As part of a contingent law firm, the partners invest tens of thousands of dollars in preparing the cases. Any loss not only leaves their clients without a remedy but also causes their colleagues to suffer a financial setback. However, Miller said, the other partners never second-guessed how a losing case was handled.
"The desire to help people, the desire to do good work, and the willingness on everybody's part to roll the dice and live with it if it didn't work out, kept us together," Miller said.
"We never had an argument about money in 38 years."•
Please enable JavaScript to view this content.