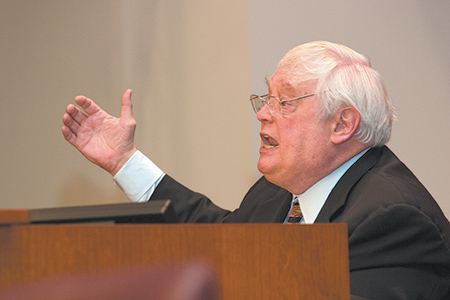 A celebration of life service for Lawrence Jegen III, professor at the Indiana University Robert H. McKinney School of Law, will begin at 3 p.m. June 3 in the north atrium of the Indiana Statehouse.
The Statehouse, 200 W Washington St., Indianapolis, has a public entrance at Capitol and Market Streets and an ADA accessible entrance on the opposite side of the building, off Senate Street. The parking lot at the Statehouse will also be available.
In lieu of flowers, contributions may be made to The Christine Marie Jegen Scholarship for Undergraduate Women Fund held with the IU Foundation (#038G030083) at the Showalter House, 1500 N. State Road 46 Bypass, Bloomington, IN 47408.
Jegen, 83, died May 17 following a brief battle with cancer. He had taught taxation, estate planning and philanthropy at IU McKinney for 56 years before his retirement in 2018. Former students and colleagues remember him as a demanding and gifted teacher who often formed lifelong friendships with his students.
Jegen was born Nov. 16, 1934, in Chicago. He graduated with a Bachelor of Arts degree in philosophy and literature from Beloit College in Wisconsin in 1956. He went on to study at the University of Michigan, receiving his law degree in 1959 and an M.B.A. in accounting in 1960. He then completed an LL.M. in taxation from New York University in 1963.
Jegen joined the IU McKinney faculty in 1962 and became a full professor in 1966.
Please enable JavaScript to view this content.