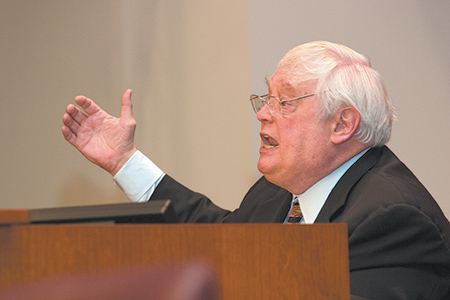 Lawrence Jegen III, longtime professor at Indiana University Robert H. McKinney School of Law, built a national reputation as one of the foremost experts in tax law, offering his insight to lawyers, accountants, elected officials and the Internal Revenue Service, but he spent much of his professional life in the place he most loved — the classroom.
Jegen, 83, died at his Indianapolis home May 17 after an illness.
He had recently retired from IU McKinney, where he had taught for 56 years. Much of his teaching and scholarly work focused on federal and state taxation, business and estate planning and philanthropy. In the classroom, he was known to be demanding but, alumni say, he cared about his students, often becoming their friend and willingly offering advice as they established their careers.
Jegen regularly taught more classes during a semester than was required and had his students read and learn from the tax code rather than a textbook. He also provided opportunities for students outside the classroom. Some he would hire as research assistants, paying them a modest stipend out of his own pocket, and others he would recognize with a tax award which also came with a small monetary gift.
Solo practitioner Curtis Shirley credits Jegen with securing for him the "wonderful opportunity" of clerking in the federal courts. When he completed his work for the judges, Shirley met his former professor for lunch to figure out what to do next.
IU McKinney tax law professor Lawrence Jegen taught generations of law students how to think and act like lawyers. (Photos courtesy of IU McKinney School of Law)
"I don't think I made any major decision without sitting down to talk to him," Shirley said. "Larry and I were very close. He was always smiling and had a wonderful sense of humor."
Law students walked into Jegen's tax classes terrified, having heard the stories of him, his demands and of tax law. He expected his students to not just have read the material but to have studied it since one word could mean the difference between something being deductible or taxable.
Former students speculated Jegen was drawn to tax law because it is logical. Where attorneys often work in the gray areas, tax is black and white. It is straightforward subject matter and the answers are written in the code.
"He loved tax," said Indiana Court of Appeals Judge Margret Robb. "He wanted his students to understand tax because he believed if they understood it, they would love tax too."
Jegen received his J.D. degree from the University of Michigan in 1959 and began his tenure at IU McKinney in 1962.
As a professor, Jegen received numerous awards and honors. He received the Thomas Hart Benton Mural Medallion, which is the highest award granted by Indiana University, in 1993 and in 2005. He was also honored with the IU President's Distinguished Teaching Award in 1989, IU's Teaching Excellence Recognition Award in 1997 and IU McKinney's Black Cane Award for Most Outstanding Law Professor six times.
He was honored by the law school's alumni association on five occasions. In 2018, an endowed chair, the Lawrence A. Jegen III Chair of Tax Law, was created in his honor.
IU McKinney dean Andrew Klein called Jegen a legend. "This is a sad day for our law school family," Klein said, "but also a moment to remember the incredible difference that a teacher can make. We will miss Professor Jegen but never forget him."
Certainly, alumni have no trouble recalling their times in Jegen's classroom. When the income tax course was a requirement, the 100-plus students would be seated in alphabetical order and Jegen would be the focus. Walking back and forth, lecturing, without notes, he would call upon the students, quizzing them with a series of questions that would underscore the point he was making.
The questions were challenging and students definitely felt they were on the hot seat but, alumni recalled, Jegen was never humiliating or demeaning. In fact, they point to his method as teaching them to think critically and logically. It also prepared them for the times when they would be arguing before a judge or breaking bad news to a client.
"He was the finest professor I ever had," Jim Voyles of Voyles Viana Lukemeyer Baldwin & Webb said, explaining Jegen expected much from his students but also endeared himself to them. "He made it challenging but he also made it fun if you can believe income tax could be fun."
Ronald Katz, co-founding partner of Katz Korin Cunningham, enrolled in IU McKinney after completing a bachelor's degree in accounting. Katz said Jegen not only taught him about the creativity and work ethic required to practice law, but also made him better than what he thought he could be.
Katz also came to believe that teaching for Jegen was more than personally fulfilling. It was a kind of therapy that helped Jegen overcome the difficulties he faced, especially when his daughter died. "I think teaching was what kept him working," Katz said.
When he was not at the law school, Jegen was usually at his home where he enjoyed the company of his German Shepherd, Charlie, and tended to his beehives. Sara Cobb, vice president for education at the Lilly Endowment, remembered her former law professor harvesting some of the "most amazing, delicious honey."
She would see Jegen arrive at the law school not with a briefcase but a banker's box filled with documents. Then he would go into class more prepared and with more material than he needed.
"He cared so deeply for his students that they would have as high expectations for themselves as he had for them," Cobb said.
Jegen's impact extends beyond the IU McKinney alumni. About 40 years ago, he helped launch and teach a summer course that prepared generations of law school graduates to study and pass the Indiana bar exam. He brought in some of his former students — namely Shirley, Katz and John Maley, partner at Barnes & Thornburg LLP — to help and then turned the program over to the Indianapolis Bar Association.
"There are tens of thousands of people who are Indiana lawyers because of Larry Jegen," Maley said. "We are better lawyers and critical thinkers because of him."•
 
Please enable JavaScript to view this content.