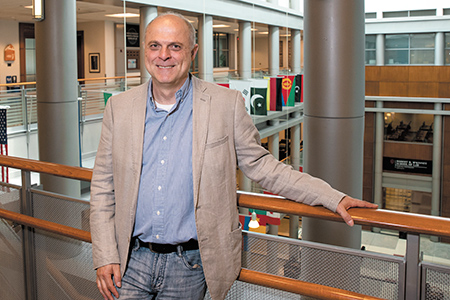 Twenty minutes and $97.
That's all it took for Indiana University Robert H. McKinney School of Law professor Frank Emmert to incorporate the International Smart Mediation and Arbitration Institute, an Indianapolis-based arbitration program designed to serve business entities from across the globe. SmartArb was formed in response to a need identified by the World Trade Center-Indianapolis, which is being developed in the Circle City as a global trade hub.
Through SmartArb, Emmert hopes to provide a cheaper, more efficient method of dispute resolution for international businesses through arbitration rather than litigation. As budgets tighten and the nature of business becomes more electronic, arbitration has become more attractive to corporations that don't want to front the costs of hiring lawyers and traveling to different jurisdictions to litigate their problems, Emmert said, especially when the disputes concern small dollar amounts.
But SmartArb isn't designed to provide boilerplate arbitration services. Instead, the institute is carving out its place in a niche market: blockchain and smart contracts. The use of those technologies is becoming more common in the business world, Emmert said, but few courts have the technological savvy to resolve the legal issues that arise when a smart contract goes awry.
By homing in on this unique and developing area of law, Emmert said he hopes SmartArb becomes a regional arbitration center for businesses in Indianapolis and other parts of the Midwest. And with collaboration from the law school and its students, SmartArb is also designed to serve as a career experience that will set Emmert's students apart from other law graduates.
A unique brand
As plans for WTC-Indianapolis developed, IU McKinney began looking for ways to get involved with the center from the beginning. One need that surfaced was for dispute settlement services for the businesses working out of the center, a service that, at the time, was only available in Chicago.
Given that Emmert has taught summer arbitration courses at the law school for the last 10 years, developing an arbitration services program for WTC-Indianapolis seemed like a natural way for him to get involved. He began thinking about how his project could offer unique services, and he found his answer at a trade fair in London.
While in London, the professor heard discussions about the increased use of blockchain-based smart contracts in real estate transactions. The problem with that technology, the speakers said, was that no one knew how to resolve disputes arising from smart contracts because the technology is foreign to people who don't work in the tech sector.
That conversation inspired Emmert to design SmartArb's services to meet the unique needs that come up when technology-based contracts don't pan out. He began discussing that idea with coders, who were very enthusiastic about the possibility of working with attorneys to make the resolution of technology-related disputes easier for international business parties.
"They were very interested in getting trained as mediators," Emmert said. "… The idea is to bring together these different groups that are existing right now in their own ivory towers and connect them."
What is the need?
Smart contracts can be drawn up for any number of business transactions, but Emmert gives the example of a basic exchange of goods between parties located in different parts of the world. In Emmert's example, a buyer would agree to purchase a product from a seller for $50,000 – a price that is too small to justify sending a legal team across the globe, but too large to pay without a formal agreement in place.
The solution is a smart contract, which Emmert describes as a smartphone app, where blockchain can be analogized to the smartphone. Using blockchain technology, the buyer will place $50,000 into an electronic escrow account that neither the parties nor a bank can access. The contract is then programmed to release the funds to the seller on a certain date, provided that the seller ships the product and uploads the appropriate documents by the dates programmed into the contract.
While the concept seems simple, Emmert said there are numerous factors that could prevent the successful fulfillment of a smart contract. For example, the seller might experience a technical glitch that delays shipping, or a thunderstorm could knock out power on the day the contract is programmed to execute. When those issues arise, the smart contract will hold on to the funds, leaving the parties to figure out what went wrong and what steps must be taken to procure the goods and pay the seller.
In that type of situation, Emmert said SmartArb's role would be to help the parties through the process of determining whether the buyer or seller failed to properly execute their role in the contract, or whether a force of nature prohibited the contract's execution. The arbitrators will also resolve issues such as whether the agreed price should be adjusted to compensate for the technical glitches.
"They're going to need us," Emmert said.
Real-world experience
The law professor already has a roster of arbitrators ready to resolve client disputes when they arise, which could begin as early as this month. SmartArb will also rely on the work of law students to reach resolutions.
Two of those students are Jennifer Thuma, who is pursuing a master of law degree, and 3L Aakshita Bansal. Both students are currently in Emmert's summer arbitration course, while Bansal also has been working with Emmert on a blockchain-based real estate transaction.
Bansal plans to work in international business and intellectual property law when she graduates next year, so working with SmartArb will give her exposure to both practice areas through WTC-Indianapolis while also allowing her to stay on top of the development of smart contracts, which she believes are the future of international business law.
Once SmartArb begins providing services, Thuma said law students will be tasked with research projects to facilitate the arbitration process. Their work will include researching how various arbitration rules apply to different circumstances and will expose students to how new technologies can impact business disputes.
Employers often ask law schools to place more of an emphasis on arbitration, Emmert said, so allowing his students to work with SmartArb will give them the experience employers are looking for. IU McKinney dean Andrew Klein praised SmartArb not only as a benefit to students, but also to the state. Providing a place where businesses can resolve their disputes in a time- and cost-efficient manner will make Indiana a more attractive economy, Klein said.
Future plans
Right now, Emmert expects SmartArb to serve Indianapolis and the surrounding region, such as St. Louis or Cincinnati, if there's a need. He's currently working on securing about $15,000 in funding to find an initial office space for the institute, which will then become self-sustaining.
The eventual goal is for SmartArb to be located in World Trade Center-Indianapolis when it opens, Emmert said. But given that many arbitrated disputes can be resolved electronically or over the phone, SmartArb will be able to offer its services even before it has a permanent location, he said.
Initially, the institute will likely only need three to four staffers on hand, though Emmert expects emerging technologies to create opportunities for growth. As that need arises, the goal is for SmartArb to become businesses' go-to resource for dispute resolution, he said.•
Please enable JavaScript to view this content.