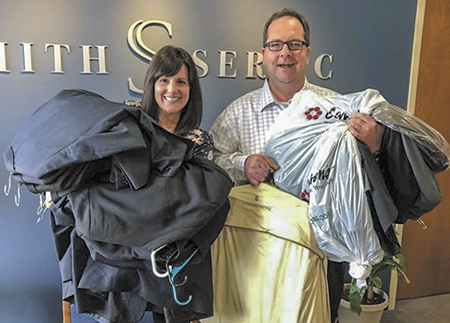 Attorney Michael Jasaitis acknowledged there is nothing original about a clothing drive.
When he was president of the Lake County Bar Association in 2013, he started a service project to collect gently used professional clothes. He thought of the initiative as an easy way for local lawyers to help the community and enhance the reputation of the legal profession.
But while he was organizing the project, he met Lake Superior Judge Salvador Vasquez and learned about the Community Transition Court. So Jasaitis, partner at Austgen Kuiper Jasaitis PC, put out the word to bar members that their donations could go to those ex-offenders trying to reintegrate into society.
Soon after, the ordinary clothing drive became extraordinary.
Suits, skirts, pants, shirts, blouses, shoes, belts, neckties and socks came on hangers and neatly folded in boxes and bags. Lake Superior Judge John Sedia offered his courtroom as a drop-off point. Jasaitis collected clothes at his law firm, and the bar association's office was the place attorneys could leave their donations. When all was counted, the project, dubbed Settling Our Suits, brought in 700 pieces.
"This wasn't terribly difficult," Jasaitis said of the effort, "but it made an enormous difference."
This past spring, current bar association president Steven Sersic revived the S.O.S. program. Again, the business attire from attorneys, paralegals and even clients came in such quantity that bar officials quit counting all the items when they reached 500.
"I know the men and women of the Lake County Bar have great hearts and they care about their community," said Sersic of Smith Sersic in Munster. "Even saying that, I was still taken aback by how much participation there was."
As with the first clothing drive, this time the donations were given to the transition court. Participants in that court as well as the mental health court and community corrections program are welcome to choose an outfit from the array of items. All the individuals in these programs who appear before Vasquez are required to dress professionally.
When the judge established the transition court in 2011, modeling it after a similar court in Allen County, he carefully considered whether to institute a dress code. These are, after all, individuals who have very slim wallets to provide the basic necessities such as food and housing, let alone pay for a quality set of garments.
Still, Vasquez believed the ex-offenders would benefit psychologically from wearing business clothing. Filing into the transition court session each Monday at 2 p.m., the participants are well-groomed and dressed nicely — no t-shirts or flip-flops in sight. Their appearance not only helps them feel better about themselves, but also makes a more favorable impression of their case and their character.
A small clothing bank for the court participants had been created and was taking donations from the community but, Vasquez noted, the selection exploded when the bar association became involved. "It's really been wonderful," he said.
Judy Love, problem-solving court coordinator for Lake County Community Corrections, has noticed the people in transition court gain self-confidence when they dress up. As they walk through the courthouse, they are treated with respect — sometimes even mistaken for attorneys — and are "not seen by others as a worthless felon."
She hopes the positive experience helps participants stay out of trouble and keeps them from returning to prison. According to the transition court statistics, 467 ex-offenders have been enrolled in the program since it started, and 55 percent have completed the program and gotten their parole waived as a result.
Lake County Bar Association members' Settling Our Suits initiative collected more than 700 garments in 2013. The professional attire filled a room at the bar association's office before being turned over to the Community Transition Court. Volunteers this year stopped counting at 500 items. (Photo courtesy of Lake County Bar Association)
Love printed some instructions because so many of the men coming through the program had never worn a business suit and did not know how to knot a necktie. "Seems like when they're dressed nicely, they have a completely different aura," she said.
From the bench, Vasquez will comment on the participants' appearance, offering either some advice to get a haircut or a compliment that they look good.
Also applauding their appearance and the work they do to reform their lives is Brother Robert Buggs of the City of Refuge Christian Church. He has volunteered with the transition court for about five years and calls the program the "court that cares."
The ex-offenders have been freed from incarceration, but they still face the dilemma of being hungry and tired and having no way to support themselves, Buggs explained. Turning back to crime might seem to be the only way to survive, but the transition court helps them get a footing in society. The clothes are part of that process, inspiring the participants to feel good and be successful.
That is what Sersic hopes.
The clothes the attorneys donate, while used, are still of good quality and could be worn in a professional setting with pride. Sersic knows the transition court participants have to travel a difficult road to resettle into their communities. He wants to make the suits, skirts and other items available because even though there is nothing original about giving away old clothes, for ex-offenders trying to change their lives, "it takes one more worry away."•
 
Please enable JavaScript to view this content.