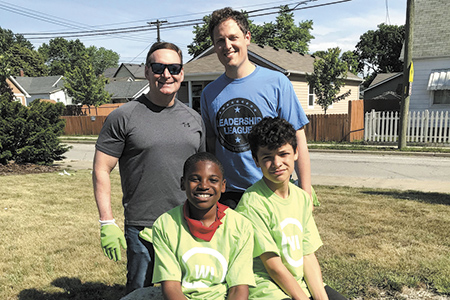 The Southern District's youngest group of leaders got right to work in their neighborhood just days after shaking hands with prosecutors and police officers at an unconventional graduation ceremony.
Digging dirt alongside community members, 19 boys freshened up a nearby church by planting flowers, keeping a running score of how much trash they could pick up in the process.
"It was nice to see them walk away with an experience of young men in their neighborhood that was positive," said Kelly Rota, the assistant United States attorney who imagined a program that could provide boys with male role models.
That's when the paradigm of Indianapolis' southwest-side ZIP code 46221 slightly shifted.
The United States Attorney's Office celebrated its four-year partnership with Daniel Webster Elementary School at the end of May when almost 20 fifth- and sixth-grade boys graduated from its Justice League Leadership Academy.
The six-week outreach program provided the students with tools to build positive relationships, problem-solving techniques and conflict-resolution and leadership skills. Each boy was handpicked by the school, chosen based on records of making poor decisions, getting in fights and receiving suspensions — boys who could benefit from positive role models, principal Karen Linn said. These were exactly the kind of kids Rota and U.S. Attorney Josh Minkler were looking for.
"Our focus was on doing volunteer after-school work at Daniel Webster IPS 46 to increase kids' self-confidence," Minkler said, "To give them skills to cope and stay in school, with the hope that they would graduate and become productive citizens. But why would a prosecutor's office do that?"
Because it's a public safety issue, he said.
"People that dropout of school, don't complete high school or don't complete middle school have a much higher rate of ending up in juvenile detention center," Minkler said.
Since 2014, the U.S. Attorney's Office has offered four programs to Daniel Webster students, largely in an effort to reduce violent crimes and gun violence.
Linn said 90 percent of her students live in poverty, with many of the children raised by their grandparents. It's an unfortunate pattern of parents losing their children due to drugs, crime or other problems.
"We have a lot of very disenfranchised people; most of our people are not working," Linn said. "A lot of addiction, a lot of violence, a lot of prostitution. The kinds of things you don't want your children to be around. And they're around it all the time."
Peaceful alternatives
Hoping to change the trajectory of young lives, Minkler, eight assistant United States attorneys and two district police officers mentored the 19 boys every Wednesday afternoon. The Peace Learning Center of Indianapolis led the group through various games that focused on team-building and communication skills.
One game required teams to collaborate on strategizing how to cross from one end of the room to the other while standing on tile-shaped mats. If one boy fell off, everyone had to start over.
"I think the first four or five times, they failed and started yelling at each other, 'What are you doing?' and 'I told you to not do that,'" said AUSA mentor Peter Blackett. "Within five minutes, they were working together and getting it. They went from yelling and angry at each other, to laughing and having fun and being more efficient than they probably could have even thought of when they started the game."
But Blackett said the breakdown after every game was where seeds of real change were planted.
"We would sit down and talk about, 'Hey, what was a challenge in this game? How were you guys able to overcome the issue,'" he said. "They're playing a game but don't realize what they're doing — problem solving."
The mentor said he was happy to see the program focus on young men, because all too often that's exactly who he sees in court charged with violent crimes.
"We keep seeing the same things when we go to sentencing hearings," Blackett explained. "Even though they're different people from different parts of the city, it's like you're reading the same report over and over again."
He described those he sees in court as high school dropouts and teenage boys who lack positive male role models to help them navigate adulthood. He mostly finds them between the ages of 18 and 25. Blackett is hopeful an outreach program like this can reach kids before they become too hardened by their surroundings.
"We're dealing with kids who are 10, 11 years old before they're getting to the age where they're built into who they are as people," he said. "All of the kids are good kids, you can tell they all have really positive attributes."
At that age, Linn knows it won't be too long before bigger influences shape their lives.
"They're getting ready to go full-blown adolescent and there are a lot of changes that happen," Linn said. "They're pretty impressionable little guys at this point."
Involving the legal community
Linn said all too often the boys' neighborhood teaches them to be tough guys who aren't to be messed with.
But Minkler wants to make sure things are different for them and offer alternatives to violence.
"That's one of the things that we've seen in this community," Minkler said. "Frequently people with a gun determine that the way to resolve that conflict is shooting at one another. You've got to give people an alternative."
In October 2017, the U.S. Attorney's Office released its strategic plan for the Southern District, identifying the most significant challenges facing the community. The plan hopes to meet those challenges head on with the office's federal role in the district. For Minkler, that means more aggressive prosecution of violent crime.
Indianapolis has a violent crime rate 2.5 times the national average, he said. The homicide rate is 4.5 times higher. But when it comes to reducing those numbers, Minkler said there needs to be more than just increasing prosecutions.
"Enforcement alone I will guarantee you is ineffective," he said. "Just prevention outreach, I will guarantee you is 100 percent ineffective. You have to have prevention, outreach and enforcement."
Linn agreed, emphasizing the need for more involvement from other law firms and organizations.
"From my perspective as principal," she said, "it does depend on how many others like Josh Minkler's office are willing to roll up their sleeves."
Minkler said he hopes his office can inspire law firms, legal organizations and businesses to step up and lead by example.
"You don't have to have federal prosecutors do this program," he said. "Any business, any law office can do this program. There's no reason others couldn't do it at other schools."
But for now, the U.S. attorney said his office plans to stick with Daniel Webster. That won't change.
"We're going to do something there next year and the year after that as long as I'm the United States attorney," Minkler said. "Hopefully that creates a legacy that this office follows long after I'm gone."•
Please enable JavaScript to view this content.