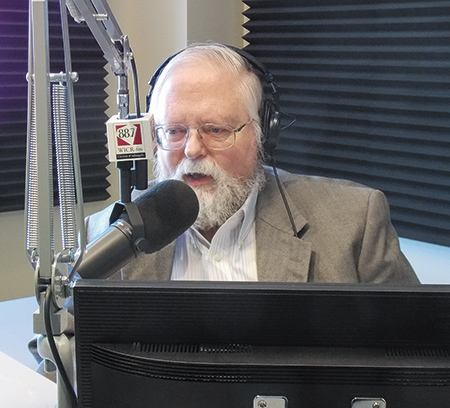 Saturday mornings, attorney Charles Braun answers questions about the law.
He doesn't know what legal issue or practice area the questions will cover. He doesn't know who will be asking. He doesn't keep a book or laptop close by to do quick research. Rather, he answers on the spot and with the public listening.
Braun, a solo practitioner in Indianapolis, is the host of Legally Speaking, a live call-in radio show on WICR 88.7 FM at the University of Indianapolis. For 35 years he has been the polite, calm and knowledgeable attorney answering questions and offering guidance to listeners in central Indiana.
On a recent Saturday morning, Braun, 66, strolled into the radio station carrying just a pen and yellow legal pad of paper. He checked in with the student who would be screening the calls and producing the show, then entered the studio. He sat in front of the microphone, slipped a pair of headphones over his ears and waited for the student producer's signal to begin.
Braun is a lawyer by training, but he was not exactly a novice when he hosted the first broadcast of Legally Speaking. He has extensive experience in communications, having written for his school newspapers and having been a lector in the Catholic Church ever since Second Vatican Council. In fact, a career aptitude test he took as a student at Bishop Dwenger High School in Fort Wayne determined he would be a good lawyer and a good journalist.
"By my senior year in high school, I knew that lawyering was my calling," Braun said.
Even so, when then-University of Indianapolis President Gene Sease proposed that Braun do a radio show, he quickly accepted. Up until then, WICR had been a small station with a weak signal that was just a few clicks up the dial from WRTV Channel 6. People living near the campus would often complain that whenever they tuned into the television station, they heard the radio station.
The Federal Communications Commission solved the cross-signal problem when it allowed WICR to get more power. Sease saw an opportunity to build a community radio station that featured local talent and local programming. Braun, who was the "legal beagle" at the Indiana Law Enforcement Training Academy, seemed to have the knowledge and personality to host a show at the stronger WICR.
Sease pitched the idea of doing a program, but Braun set the focus and formatted the program as a live call-in show about legal issues. Conceding he never expected Legally Speaking would be one the air for more than three decades, the retired university president gave all the credit for the longevity to Braun.
"I think it says a lot about his ability to attract listeners," Sease said. "Radio stations don't keep programs on if the public doesn't listen. Charles has the capacity to make people feel very comfortable when talking with him."
Callers are comfortable because Braun is a calming presence. While waiting for the first call on Saturday, Braun chatted about his work as an attorney and offered his services to answer questions about the law or provide an objective outside opinion to whatever concern they had.
"I'm not acting as your professionally retained attorney," the Indiana University Robert H. McKinney School of Law graduate tells his listeners. "But based on my 41 years of lawyering, I'll try my best to give you tips, suggestions and ideas for your consideration."
As the listeners phoned in and told him their situations, Braun picked up his pen and scratched a few notes on the pad of paper. One woman, who apparently had a relative pulled over by law enforcement while driving a boat on a lake, wanted to know which state agency had jurisdiction over Indiana waters. Another wanted to know the difference between a will and a trust.
Braun replied to each question in complete sentences with perfect modulation. In a warm, friendly voice, he explained the what and why of their questions, then pointed them to additional resources, like the lawyer referral service at the Indianapolis Bar Association.
"Right from the start, I wanted to have a positive program," Braun said. "In my opinion, there are so many other radio and TV programs that emphasize dispute, dissention, angry emotions, negativity. On my program, me and my callers are going to be positive people who are polite, who are respectful and who believe in building unity rather than dissention."
Occasionally, Braun will mix things up and invite another attorney to join the show. University of Indianapolis assistant professor Bobby Potters took a turn in the guest chair when he was the chief staff counsel for the Indiana Civil Rights Commission. He did not know what to expect when the on-air sign lit up, but said Braun was very nice and posed a range of thoughtful questions.
"I was not nervous," Potters remembered. "If I was, I'm pretty sure Charles Braun would have put me at ease."
Sometimes sprinkled among the Saturday morning inquiries are crank calls. One time a female phoned, very upset about the United Nations and demanding he take care of the problems at the global organization. Once in a while, he gets a call from a woman he describes as a stalker. She has asked to see him socially and requested that he be her legal guardian.
Braun came out of the studio one time and encountered an unemployed school teacher who had been waiting for him. The man said he needed help with financial problems, so the attorney sat down and talked through the options available. Not satisfied, the educator said he wanted Braun to give him money. A polite refusal ended the conversation, but the memory still leaves Braun a little unnerved.
On his show, Braun does not judge or criticize or debate. He listens and counsels, an approach that was especially useful after Congress passed the Patient Protection and Affordable Care Act in March 2010. Even today, just recalling the flood of calls causes Braun to put his hand in his hands and mutter, "Oh my gosh."
The callers wanted to know how the health care initiative could be legal and what authority Congress had to penalize individuals who did not buy health insurance. Braun explained the legislative process, gave both sides of the debate surrounding the law and reminded listeners that the courts would have to weigh in.
"There were some very hot callers during that time period," he said. "It's the single new law that I got the most questions about."
Legally Speaking, both Sease and Potters said, provides a needed service. People have questions about the law, but they may be afraid to contact a lawyer or feel they could not afford the fee. Braun gives them a place to get a little guidance and some suggestions for taking the next step.
Still, as relevant as the program is, it likely would not be successful without Braun, said WICR general manager Scott Uecker. The attorney – creative, educated and willing to interact with the public – is the kind of local talent the station wants and needs for its programs. Braun is on air Saturday after Saturday after Saturday, patiently answering questions.
"If anyone is more of a nice guy, I don't know who it is," Uecker said of Braun. "People feel very comfortable calling in and, because he's a practicing attorney, he knows the legal issues."
When the show ends for the day, Braun takes off the headphones and collects his pad of paper. He gets a CD with a recording of the broadcast from the student producer and walks down the hall to the station door.
Most of the time, people pick up the phone to ask about "the practical aspects of life" that generate a lot of legal confusion. They have questions about divorce, the next-door neighbor's cat who keeps trespassing, child custody and auto accidents. Everyday problems that many people tangle with, regardless of where they live.
"People don't have an intense interest in the American legal system or American law unless it slaps them in the face with a problem," Braun said. "That's a very common theme that I see and I've learned in 35 years."•
 
Please enable JavaScript to view this content.