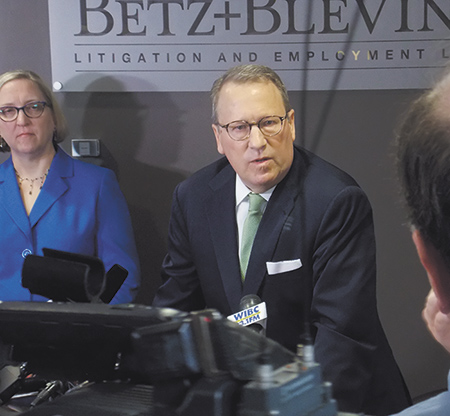 Since a memo was released detailing Curtis Hill's alleged sexual misconduct at a party celebrating the end of the 2018 legislative session, the Indiana Attorney General has continued to fight back, even as calls for his resignation persist.
Since the July 2 leak of the confidential legislative memo, Hill has continued to deny the allegations that he groped a state representative and three legislative aides at AJ's Lounge at party in March. To defend his position, he has hired two law firms to represent him and has also publicly lashed out against one of his accusers.
But as the law firm of Voyles Vaiana Lukemeyer Baldwin & Webb attacks the investigation by the Indiana Inspector General and the firm of Betz & Blevins threatens to file a defamation lawsuit against an unknown individual who, they assert, included "false and malicious" information in the memo, Hill does not appear to be changing any minds among Republicans in the Statehouse.
Hill
Republican Gov. Eric Holcomb fielded questions about the scandal during the ceremony announcing his selection of Lake Superior Judge Elizabeth Tavitas as the new Indiana Court of Appeals judge on July 19. The governor said he still believes the accounts of the women accusers and stood by his call for Hill to step down.
"I believe that there was sexual harassment that occurred," Holcomb said. "I stood up in (my) office back in March…and explained that my administration had a 0 percent tolerance for sexual harassment, and I'm going to stick by my word."
Similarly, following a press conference by attorneys Kevin Betz and Sandra Blevins, House Speaker Brian Bosma and Senate President pro tem David Long released a joint statement reminding the Attorney General the investigation is ongoing.
"Curtis Hill is the individual who should be answering questions about allegations of inappropriate conduct, and we stand by our prior statement regarding this matter," the Republican leaders said.
Another investigation
After Democratic Rep. Mara Candelaria Reardon, D-Munster, told legislative leaders in mid-May that Hill allegedly groped her buttocks during the sine die party, Republican and Democratic legislators interviewed her and three other accusers, including Senate minority communications director Gabrielle McLemore and Senate majority aide Niki DaSilva. But the lawmakers never interviewed Hill and only talked to him about the allegations after they had completed their investigation.
Taft Stettinius & Hollister LLP partner Blake Burgan was hired to review the legislative investigation and answer a series of questions, including whether the attorneys in the General Assembly had to report Hill to the Indiana Supreme Court Disciplinary Commission, to which he said "no." The confidential memo Burgan prepared for the Statehouse leaders was subsequently leaked to the press, igniting the firestorm.
Now, the Indiana Inspector General's office is conducting an investigation into Hill and the allegations he behaved in a sexually inappropriate manner. Reardon and DaSilva have both come forward publicly, releasing statements accusing the Attorney General of groping their buttocks, while McLemore has also gone public with allegations that Hill rubbed her back without permission.
In connection with the investigation, the Marion Superior Court granted a motion to appoint a special prosecutor, though one had not been named as of Indiana Lawyer deadline. Marion County Prosecutor Terry Curry made the request for a special prosecutor to assist the Inspector General and determine if criminal charges are warranted, saying he could not be involved in the investigation because Hill's office is currently representing him in two civil cases pursuant to statute.
Hill, through his attorneys at Voyles Vaiana, challenged Curry's motion.
"…(T)he appointment of a special prosecutor is premature and/or anticipatory, and does nothing more than create the impression and fuel the speculation that there was a crime committed or should be a criminal investigation," his court filing stated.
Curry pushed back and filed a response, saying Hill's assertion was "plainly wrong."
"Hill's Response has two additional fatal flaws," Curry's wrote. "First, the State would suggest that a person merely suspected of a crime has no standing whatsoever to challenge the appointment of a special prosecutor or the authority of an investigatory agency. Second, Hill cites no authority that would permit a court to essentially enjoin that investigatory agency from conducting a criminal investigation."
Meanwhile, three Democratic state representatives – Ed DeLaney of Indianapolis, Ryan Dvorak of South Bend and Matt Pierce of Bloomington – have tried to start laying the groundwork for an impeachment proceeding. They authored a proposed House resolution asking Bosma to begin an investigation into whether Hill should be impeached based on the allegations.
Accusing the accusers
Days after Hill appeared before the media to deny the allegations and blast the subsequent "rush to judgment," DaSilva released her personal account of what happened at AJ's Lounge. She claimed the Attorney General slid his hand down her back, and when she tried to push it away, he allegedly grabbed her hand and moved both their hands over her buttocks, lingering there before letting go.
Hill lashed out immediately, claiming an intentional coordination of the victims' stories. He issued a press release saying DaSilva had sent a copy of her statement to a friend in the Attorney General's office, asking for feedback before releasing it to the media. The friend, according to Hill, had already been terminated from her position.
"It's clear that the integrity of this investigation is compromised," Hill said in the same press release that publicly released the email. "The various stories appear to be coordinated and changed under the director of others."
At a press conference, attorneys Betz and Blevins pointed out discrepancies between Reardon's and DaSilva's statements to the legislative leaders and in their personal accounts. They also focused on the memo, claiming it contained false and flawed information. Also, they threatened to file a defamation lawsuit on behalf of Hill against the unknown individual who included the "false and malicious" information in the memo.
However, the attorneys emphasized they were not calling the accusers liars.
"As practitioners in this area for almost 50 years, we are also familiar with situations in which there is no liar, there is no false allegations by individuals, they're both correct," Betz said. "As Ms. Blevins said, in situations that occur in the time period between 1 a.m. and 2 a.m., with alcohol flowing, perceptions are a very difficult thing to come to a firm conclusion about. And sometimes no one's wrong, no one's right. They're both right and these are simply different perspectives and conclusions."
Defense fund
The Fairness for Curtis Hill nonprofit has been created to solicit money to help pay Hill's lawyers. Terre Haute attorney James Bopp, Jr., and retired Indiana Court of Appeals Judge Linda Chezem announced the creation of the fund, saying Hill has not received a presumption of innocence or due process. Contributions to the fund will be confidential, and no taxpayer money would be used, Bopp said.
Chezem, fund chair, compared Hill's treatment to her treatment when advocating for the Equal Rights Amendment.
"I was figuratively patted on the head, told to go home, be a nice girl, have babies," she said. "It stings to see the same condescending and arrogant attitude I encountered then now directed toward Curtis Hill, Rep. Reardon and the other women in this story." •
Please enable JavaScript to view this content.