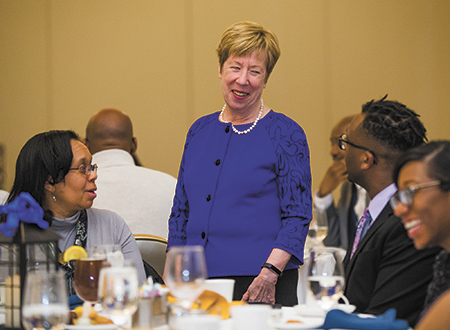 The law school dean who has written scholarly articles that have been cited in U.S. Supreme Court decisions and who claims "My Cousin Vinny" is her favorite legal movie will be returning to the classroom next summer.
Nell Jessup Newton has announced she will be stepping down as dean of the Notre Dame School of Law in July 2019. The Fighting Irish mounted a full offense and convinced her in 2009 to leave her alma mater, the University of California Hastings College of Law, where she served as chancellor and dean.
She joined Notre Dame as dean and full tenured professor on July 1, 2009.
"I think (in) 10 years you can make an impact on the school, then it's time to let the next person make their impact," Newton said of her decision to leave the deanship. "Ten years is a fabulous length of time."
Nell Jessup Newton has led the Notre Dame Law School since July 2009. With four decades in legal education, she is ready to take her energy and passion back to the classroom.
Under her leadership, the Notre Dame Law School added faculty and strengthened the curriculum in business and intellectual law, as well as in intellectual property. In addition, clinics and several new programs were launched and interdisciplinary programs, along with a dual J.D./MBA degree, were developed.
These are strong accomplishments for any law school leader, but Newton got them done when the Great Recession landed a crippling blow to legal education. Applications dwindled, particularly from academically strong individuals, and jobs dried up, leaving many law school graduates across the country without sufficient work and unable to repay their student loans.
Notre Dame consistently admitted classes with nearly 200 members and a median LSAT score in the 160s. Moreover, a vast majority of the graduates were employed in J.D.-required positions.
"We weathered the storm pretty well," Newton said, giving credit to the law school's faculty. "I'm very proud of how well we did."
As a legal scholar, Newton has built her reputation as an expert on American Indian law. She arrived at Notre Dame having written more than 50 articles on Indian legal issues and having co-authored the third edition of the "Cases and Material on American Indiana Law" textbook.
Paul Shagen, assistant general counsel for the Pokagon Band of the Potawatomi Indians, remembered being intimidated by Newton's presence when he talked to the Notre Dame students from the Native American Law Student Association. Afterward, however, he was humbled when Newton asked him to join the faculty as an adjunct professor and teach American Indian law.
Noting Newton's articles have been cited in federal Indian law rulings from the U.S. Supreme Court, Shagen said the dean is brilliant and well-respected. But in getting to know her, occasionally stopping by her office for a chat, he learned Newton is kind and genuine.
"She's just a really nice person," he said.
Mostly, Shagen is grateful for the opportunity to impact a student's life in the way many professors dream of.
Lisa Meissner, a 2015 graduate of Notre Dame Law School, took the course on American Indian law that Shagen co-taught during her final semester. It was a night course, coinciding with dinner time, but having grown up encountering Indian tribes in Wisconsin and while summering in Washington, Meissner was enthralled.
Although she had been planning a career in environmental law, Meissner switched to American Indian law. Shagen directed her to the leading firm in the practice, Hobbs Straus Dean & Walker, where she is now an associate in the Washington, D.C., office. Meissner describes the whole turn of events as serendipitous.
During her legal studies, Meissner did not have much interaction with Newton. But she thinks of the dean often when she pulls out "Cohen's Handbook of Federal Indian Law," a book on which Newton has long served as editor-in-chief.
Newton is planning to spend part of her final year as dean crafting a letter to leave in her desk for her successor. She wants to pass along some advice and a few ideas.
Then, she'll leave to spend the fall 2019 semester at the law school's London Center and spring 2020 at the law school's Washington, D.C., facility. When she finally returns to South Bend, she will resume full-time teaching.
"I've got the energy," Newton said. "That's why I'm not retiring yet."•
Please enable JavaScript to view this content.