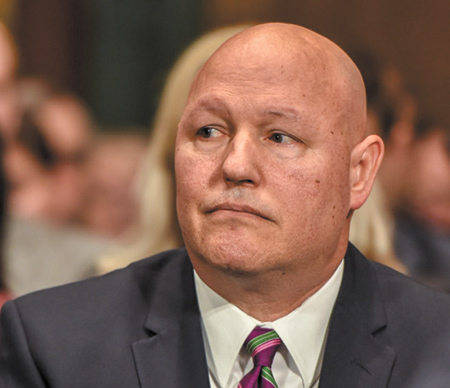 Late in the afternoon of Aug. 28, attorneys and staffers at Barnes & Thornburg began switching their internet browsers to the live feed from the U.S. Senate.
The Indianapolis firm's attention shifted to colleague and friend James Sweeney II, whose nomination for the federal bench was up for a vote on Capitol Hill. While other nominations were considered and Sweeney's name was getting closer to being called, text messages darted from person to person inside the Barnes office.
As the excitement was building, Julia Spoor Gard, chair of the firm's intellectual property department, remembered Sweeney as sort of disappearing. The lawyer who is beloved by staff members to the top partner, who knows the names of everyone in the cleaning crew and who will take time to walk across the office to meet face-to-face with someone in another department, was uncharacteristically nowhere to be found in the office.
Actually, his absence might not have been that surprising given that coworkers and classmates describe Sweeney as humble and very modest. Likely, he did not want to be in the spotlight.
Sweeney, 57, was confirmed by a voice vote in a rare show of Senate bipartisanship. The next day, Gard saw him at work and wondered why he was not taking at least a little time off. Sweeney told her he wanted to pull his weight.
His confirmation is "truly good for the state and the country," Gard said. "We need more judges like Jim."
A native of Indianapolis and veteran of the Marine Corps, Sweeney is set to become the first new judge to join the U.S. District Court for the Southern District of Indiana since 2010. He will fill the seat that has been empty since June 2014, when Judge Sarah Evans Barker took senior status.
The court will still have one vacancy, created when Judge William Lawrence stepped to senior status this summer. Faegre Baker Daniels partner James Patrick Hanlon has been nominated and is awaiting confirmation by the full Senate. As of IL deadline, no vote had been scheduled.
Sweeney will become part of one of the busiest federal courts in the United States that, according the Administrative Office of the U.S. Courts, is in a judicial emergency with a weighted caseload of 821 cases per judge. In fact, Chief Judge Jane Magnus-Stinson said the docket is so full, the court needs two new judgeships in addition to the five it already has.
She described Sweeney and Hanlon as bright individuals and expects them to "hit the ground running" when they arrive at the courthouse. Sweeney could be on the bench by mid-September. In October, he will attend a training session offered by the Administrative Office to get a refresher on subjects such as civil rights law, federal criminal and civil procedure and Social Security disability. Sometime after that will likely be his formal investiture ceremony.
Magnus-Stinson offered Sweeney this advice: "Carefully listen to both sides, hire smart law clerks who can keep you up to the minute on the state of the law and enjoy it. It is a job of great variety, intellectual satisfaction and challenges."
Desert Storm to Notre Dame
Sweeney graduated with merit from the U.S. Naval Academy in 1983 and was commissioned a second lieutenant in the U.S. Marine Corps then assigned to the Marine Tactical EW Squadron 2. He then fought in Desert Storm, where he planned and led the first airstrike into Iraq and 38 total combat missions.
He received an honorable discharge in 1992, joined the U.S. Marine Corps Reserve and in the fall of 1993, started classes at Notre Dame Law School. There he met and formed a friendship with Lance Lawson, a graduate of the U.S. Military Academy at West Point and veteran of Desert Storm.
Now a managing shareholder at McNair Law Firm, P.A. in North Carolina, Lawson described Sweeney as a "dedicated servant."
He noted his friend's service in the reserves as a commander of a squadron and a reserve support unit. While building a practice in intellctual property law, Sweeney was reporting one weekend a month and two weeks a year to prepare his charges for deployment to the Middle East and, later, to serve in the Pentagon, focusing on cybersecurity and cyberwarefare issues.
Also in 1998, Sweeney was recalled to active duty to provide legal counsel and technical expertise in the military courts-martial cases of United States v. Ashby and United States v. Schweitzer. Marine Corps Capts. Richard Ashby and Joseph Schweitzer were on trial after their aircraft flew too low and severed two weight-bearing suspension cables on a gondola descending in the Italian Alps. The car plunged more than 300 feet and killed all 20 passengers.
Ashby and Schweitzer were acquitted of involuntary manslaughter and negligent homicide charges but were later found guilty of obstruction of justice and conduct unbecoming of an officer, according to the Courthouse News Service.
"He's an amazing person," Lawson said. "To have been able to do what he's done is quite amazing."
Sweeney retired from the Reserves as a colonel in 2013. In 2014, he was inducted into the Indiana Military Veterans Hall of Fame.
After Sweeney's confirmation, the North Carolina attorney called his friend and found him to be "very pleased" but also "very humbled."
"This is a no-brainer," Lawson said of Sweeney's confirmation to a federal judgeship. "He's one of the best and brightest."
'Go-to guy'
Now-retired federal judge John Tinder was watching the action on the Senate floor when he lost his internet connection. By the time he tuned back in, the vote was over, but he saw his former law clerk had been confirmed. He sent a congratulatory text message that evening and followed up the next day with a phone call.
Sweeney served in the Southern Indiana District Court as Tinder's law clerk after graduating from Notre Dame. The judge was impressed by the Marine's accomplishments even before they met and came to count on Sweeney as his "go-to guy." As a clerk, Sweeney was self-directed and good at finding answers and counter arguments.
Tinder recalled taking Sweeney along when he tried a two-week criminal trial in Evansville. After the verdict was read, the case was concluded and their bags were packed, the judge had to wait while his clerk went around, saying goodbye to the hotel employees, court clerks and restaurant workers with whom he had made friends.
"He likes people," Tinder said.
Mario R. Borelli, an Indiana University Maurer School of Law grad who is now an attorney at Leone, Throwe, Teller & Nagle in East Hartford, Connecticut, had settled into clerking for Tinder a short time before Sweeney arrived. Having reviewed the Notre Dame Law School graduate's resume with the judge, Borelli, whose undergraduate studies were at Notre Dame, was expecting a tall, athletic, possibly hard-charging guy. But when they met, Borelli was bowled over by how unassuming Sweeney was.
Soon he learned the new clerk was serious, intellectual and had a demeanor that comes with making life-and-death decisions in the military. Sweeney, Borelli said, showed a sharp legal mind that could quickly grasp and gain insight into the heart of the issue but then undertake careful analysis.
Outside of the judge's chambers, the two clerks would trade stories over lunch and work out together in the exercise room in the basement of the Birch Bayh Federal Building and U.S. Courthouse.
"To know Jim is to know what he values is the kind of things you want a district court to value — resolve, restraint and consideration of the people in front of him," Borelli said.
Over his career, Sweeney has gained a reputation for working long hours. Tinder remembered the times when he returned to the courthouse early in the morning after having worked late and finding Sweeney was still there. Colleagues say Sweeney believes in power naps and would go into the Barnes law library to catch a little bit of sleep before returning to his desk.
Terri Bruksch, co-administrator of Barnes' litigation department in Indianapolis, almost always sees Sweeney's car parked in the garage no matter when she leaves or arrives at the office. She and Sweeney were associates together and have remained friends.
One of her first memories of Sweeney is from the firm's golf outing held shortly after they both started at Barnes. Bruksch, who has golfed since high school, was surprised to see her co-worker come with a laminated instruction sheet that told him how to place his stance and approach each shot. Before then, she said, she had never met anyone who learned to golf by reading a book.
As an attorney, Bruksch said Sweeney is honest, demonstrates sound judgment and is willing to speak up when something needs to be said. She is comforted to know he'll be taking to the federal bench the dedication that kept him at the office all those long hours.
"We're going to miss him," Bruksch said. "I just hope he can have lunch with me every once in a while."•
 
Please enable JavaScript to view this content.