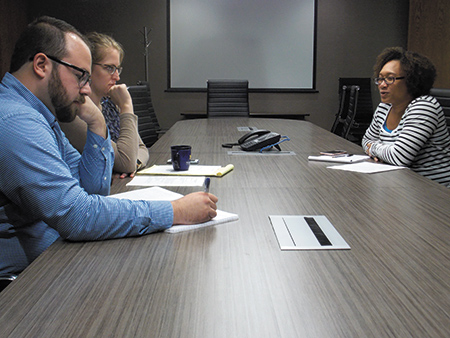 The Indiana Supreme Court is preparing to ask for an increase in civil legal aid funding when the Indiana General Assembly convenes for the 2019 session.
The request will come as legal aid nonprofits try to diversify their donor base while looking for new ways to help the steady flow of people in need. It also comes as the future of traditional funding sources is uncertain.
Indianapolis legal aid leaders say cutting funding will exacerbate the problems of poverty well beyond the courtroom. For just about anyone who is struggling, providers say, a legal matter will likely be the barrier to getting a job and becoming self-sufficient.
Floreancig
"We talk about food and housing, but we ignore the underlying problems of maybe the reason that person doesn't have housing is because they have an eviction on their record," said John Floreancig, general counsel at Indianapolis Legal Aid Society. "Maybe some people will call me naïve to poverty, but I believe that legal problems are the basis of a lot of poverty in our community."
Civil legal service providers have begun emphasizing that message as they have applied for grants and appealed to individuals for donations.
Indianapolis Legal Aid Society and Indiana Legal Services have expanded their fundraising staffs in recent years and are more aggressively seeking money outside of longtime funders.
Laramore
Jon Laramore, executive director of ILS, said diversifying the financial support doesn't just bring in more dollars to help more people. It also insulates the agencies from having to make hard decisions about cutting programs and personnel if the primary funder goes away.
However, most of the grants being pursued focus on a specific issue. The legal aid offices have to direct the money to particular initiatives, rather than putting it where it is most needed, as they have been allowed to do with funding from the traditional sources.
Those so-called unrestricted dollars, Floreancig said, go to providing family law services to clients. Guardianships, custody, child support and divorce constitute the main workload for legal aid but often are not the kinds of things foundations and endowments fund.
The Indiana Civil Legal Aid Fund is a pot of unrestricted money. Created in 1997 with an annual appropriation of $1 million, the fund was increased in 2007 to $1.5 million each year. Now the Supreme Court wants a $500,000 boost to bring the annual allotment to $2 million, which would be a total request of $4 million for the state's biennium budget.
To bolster its position, the Supreme Court will echo the legal aid organizations and point to the broader impact that addressing civil legal issues can have. The court plans to draw from a recent study commissioned by the Coalition for Court Access which found that every $1 invested in Indiana's civil legal aid services results in $6.64 in "immediate, verifiable and long-term financial benefits and assistance to disadvantaged Hoosiers."
Unequal funding
As his nonprofit files more grant applications, Floreancig tries to guard against "mission creep." He worries that initiatives launched because financial support was available will stall when the money runs out.
"All of these grants we're having to apply for have strings attached and … it's pulling us from our mission because some of these grants are dedicated to certain types of work, which means we cannot go another type of work," he said. "A housing grant means more of our attorneys' time will be spent on housing versus, let's say, divorce."
ILAS has been challenged to find financial support since its primary funder, the United Way of Central Indiana, began shifting its focus and cutting money to member agencies. These were always unrestricted dollars.
With an annual budget of just over $1 million, the legal aid society has seen United Way dollars drop to a $200,000 yearly appropriation. Another shift is just beginning as United Way has announced it is moving to a grant-making model. Starting in 2020, the legal aid society's funding will fluctuate and possibly flatline depending on what ILAS applies for and receives.
ILS gets the bulk of its support from the Legal Services Corp. Despite the Trump Administration's attempt to eliminate all civil legal aid funding, Congress not only kept the LSC budget line but upped the appropriation to $410 million for fiscal year 2018.
The Indiana legal service provider received $7.24 million from LSC in 2017 which included the basic field grant and migrant grant along with one-time pro bono and technology grants. ILS will lose the pro bono funding but still anticipates its 2019 income from LSC will be $7.26 million, assuming Congress keeps funding at the current level. 
Even while LSC support is expected to remain stable, ILS is planning to see an increase in its budget from a little over $10 million in 2018 to just under $11 million in 2019. The reason is money from other sources, namely the Victims of Crime Act funding which is supporting the Indiana nonprofit's work in elder abuse, LGBT issues and human trafficking.
Laramore also acknowledged the unrestricted money is, in his words, wonderful and can be put toward a broad range of client problems. Yet, as his agency goes after grants, it is careful to avoid mission creep by putting the grant funds toward projects. Those projects are kept focused on the main legal issues the agency has always covered, such as family, consumer and elder law.
"It's a constant effort on our part to make sure we can help as many people as we can," Laramore said.
Collaboration
Overall, the amount of support poured each year into civil legal services has reached an estimated $1.7 billion, according to the National Legal Aid and Defender Association.
Saunders
But, as NLADA's Don Saunders, vice president of civil programs, and Radhika Singh, director of civil legal aid initiatives, said, the money is not evenly distributed around the country, so who has access to justice and the quality of that justice depends on where they live. In California and New York, where funding for legal services is high, families have better access than households in the South, where fewer public dollars are spent on legal assistance.
Saunders and Singh maintain the best way to fund civil legal services is to have a sustainable source, like the LSC. Competitive grants come with no guarantee that the support will continue.
For ILS, Laramore said another key to financial stability is "partners, partners, partners." Collaboration, he continued, is an efficient way to find people who need help and provide legal assistance.
Singh
Currently, the legal services nonprofit is starting to transplant its successful medical-legal partnership model into other agencies. ILS has established partnerships with the John H. Boner Community Center and the Hawthorne Community Center, both in Indianapolis, to help people remove a barrier, like a problematic credit history or an old conviction, so they can secure employment and get steady income.
Private bar
Along with reaching out to grant-making organizations, ILS and ILAS have increased their efforts to raise donations from individuals, particularly lawyers.
Laramore believes civil legal aid agencies can appeal to donors by telling stories of clients who have been helped and reiterating the message that providing legal assistance is an important aspect of bringing people out of poverty.
At ILS, individual donations have blossomed from $70,000 in 2014 to $270,000 in 2017.
"I think we have great stories to tell that appeal to many people," Laramore said.
Over the last five years, ILAS also has been turning more to donors. Attorneys during that time have given a total of $1.5 million while law firms have contributed $400,000. Floreancig surmised the corporate gifts from law firms are lower because the decisionmakers are not in Indiana. As firms have grown to having offices across the country, the story of what legal aid is doing locally is not being heard at headquarters.
But private donations are vulnerable to economic downturns. Floreancig noted during the Great Recession, the ILAS waiting rooms filled with people who probably used to donate to the legal aid providers. Those clients have dwindled as the market has improved but, Floreancig said, "the need is more than we can handle."•
Please enable JavaScript to view this content.