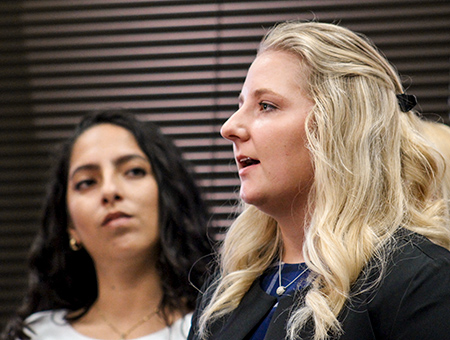 Indiana's top attorney threatened to sue the women for defamation.
The Governor of Indiana, the majority and minority leaders in the Statehouse and even the special prosecutor investigating the allegations all said they believed their stories.
But the four women, who publicly came forward with allegations of being groped by Indiana Attorney General Curtis Hill, found out that while the #MeToo movement gave them plenty of support from other victims, they will still be on their own in fighting for change.
Niki DaSilva. (IL Photo/Katie Stancombe)
"This is a systemic issue that we're trying to address here," said Niki DaSilva, legislative assistant for the Indiana Senate Republicans. "I think this is a message to other women that they can stand up for themselves, too. And what we're trying to do is create a process that says, 'Here are the steps you can take to ensure this doesn't happen, and when it does, we're here to support you and this is the recourse you have.'"
DaSilva, along with State Rep. Mara Candelaria Reardon, D-Munster; Gabrielle McLemore, communications director for the Indiana Senate Democrats; and Samantha Lozano, legislative assistant for the Indiana House Democrats, plan to file civil lawsuits against Hill and the state in response to Hill's alleged sexual misconduct.
Represented by attorneys Hannah Kaufman Joseph, Kimberly Jeselskis and BJ Brinkerhoff from Katz Korin Cunningham PC, the women said they believe state and federal lawsuits can bring changes to state policy. They have filed charges with the Equal Employment Opportunity Commission as well as a notice of a tort claim against the state of Indiana, the Indiana Attorney General's office and Hill, himself.
"It's essential that the state of Indiana take action to improve how they treat victims of sexual harassment and similar discrimination because the policies in place right now are virtually nonexistent," Kaufman Joseph said. "The structure to report is virtually nonexistent."
Indeed, when Reardon first told Democratic and Republican leaders in the Statehouse what happened to her while at the sine die party, the Legislature decided to conduct its own investigation. Select senators and representatives interviewed some of the women, then turned their findings over to Taft Stettinius & Hollister to ask about the risk of liability.
The law firm concluded the risk of being held liable was low because Hill's behavior was "not sufficiently severe or pervasive to establish a valid claim" and because it occurred outside of work.
Rep. Mara Candelaria Reardon, D-Munster. (IL Photo/Katie Stancombe)
Indiana state government is not alone in being rocked by allegations of sexual assault and sexual harassment. The Associated Press reports that since 2017, at least 30 state lawmakers around the country have been removed from office after claims of sexual misconduct. In response, roughly half of all state legislatures have made some sort of changes to their policies.
During the 2018 session, the Indiana General Assembly unanimously passed a bill requiring sexual harassment prevention policies be crafted and put in place in the Legislature. House Enrolled Act 1309, signed by Gov. Eric Holcomb March 22, mandates that the Legislative Council's personnel subcommittee prepare recommendations and the full Legislative Council approve the policies by Nov. 20.
However, according to the General Assembly's website, the subcommittee has not met and has no meetings listed. Moreover, the chair of the subcommittee, Speaker Brian Bosma, was the subject of an investigation by the Indianapolis Star regarding his own sexual encounter with a legislative aide in the 1990s.
Reardon said what happened to her and the other three women since they came forward should not discourage other victims from telling their stories. More voices will bring change faster.
"When you shine a light on a predator, it stops the predator," she said. Asked later if she thought the attorney general was a predator, Reardon replied, "I do. I believe, in my opinion, when you exhibit predatory behavior, you are a predator."
Change through the courts
Employment law attorneys say civil suits can push private and public entities to review their internal mechanisms for handling allegations of harassment, discrimination and retaliation. The employers might provide more training, enact new policies and make the procedure transparent so the claimants know how their complaint was handled and what happened.
Hill
Craig Williams, shareholder at Fox Williams & Sink LLC, said he has seen private employers institute changes when faced with a lawsuit, but those changes may come at "glacial speed."
"Change does not come quickly in anything, especially with this type of allegation," Williams said. Also, he noted, whether any changes made are long-lasting is difficult to determine. Although employers have the incentive to continue preventive measures so they do not get sued, they generally do not make public how they maintain their policies.
The four women said Hill's "unlawful conduct" during and after the sine die party gives rise to several claims. In their notice of the tort claim, they include assault and battery, false imprisonment and defamation, among other claims.
According to the investigation by the Indiana Inspector General, Hill attended the celebration marking the end of the 2018 legislative session where several witnesses described him as appearing intoxicated and inappropriately touching women. The attorney general approached the four women and either rubbed their backs, grabbed their buttocks, grabbed them by their waists, asked them if they knew who he was and said they needed to "show a little skin."
The women's tort claim notice details Hill's actions after their allegations became public. In part, he threatened litigation against the women, used the official Indiana Attorney General Twitter and Facebook accounts to intimidate the claimants, and dipped into campaign funds to sponsor Facebook advertisements questioning the "credibility, fairness, and accuracy" of the claimants' reports.
"What we're seeking right now is to get attention to this issue and seeking as much equitable relief, which is nonmonetary relief, to remedy what's occurred to these women," Kaufman Joseph said. "When you talk about taxpayers' resources being an issue, there's been quite a bit of time, money and resources used by the Attorney General's office to discredit these victims."
'There's something we can do'
As is procedure, the tort claim notice was filed with the Attorney General. The office now has a couple of months to review and investigate the complaint. Although, in this instance, Hill would be examining a case that directly involves him and his office. Some attorneys said these types of inquires tend to be perfunctory at best.
Still, the Attorney General's office will have to decide whether to hire outside counsel to defend against this lawsuit. An Indiana Supreme Court ruling in State Ex Rel. Sendak v. Marion Cty, etc., 373 N.E.2d 145 (1978), found the power to hire private attorneys rests solely with the state's top lawyer.
Asked whether it would hire outside counsel, the OAG referred the inquiry to the Voyles law firm, which represented Hill in the criminal investigation. That firm said it had no comment at IL deadline. When IL asked Katz Korin Cunningham if it had requested the tort claim notice be reviewed by outside counsel, Binkerhoff said, "We filed the notice as required by statute, and we trust the AG's office will handle the investigation appropriately."
Retired attorney Jan Kreuscher, who worked in the Attorney General's office for more than eight years during the 1990s, said using a tort claim to establish a procedure for handling sexual harassment complaints will be progress. However, changing the culture will require the leadership to set the tone.
Kreuscher recalled early in the tenure of Attorney General Pam Carter, a deputy attorney general was accused of sexually harassing a court reporter. He was immediately fired and the office employees were then told such activity would not be tolerated.
"Coming up with a statement and adequate process will be a good step, but the culture will not change until more women are in a position of power," Kreuscher said. "(We) have to have women not just in positions of power but exerting power and (we) have to have a reporting mechanism."
The four women have shown that in the present environment, being believed is not enough to foster change.
Separate investigations by the Inspector General's office and the special prosecutor, Daniel Sigler, concluded Hill's actions did not merit any decisive response.
Sigler determined Hill could only be charged with misdemeanor battery and there was insufficient evidence to convict. The Inspector General found although Hill did use state resources to defend himself, he did not violate state statute or the Code of Ethics.
The release of the Inspector General's and the special prosecutor's reports Oct. 23 seemed to signal an end. But after Sigler and the Inspector General announced their findings, the four women stepped into the public spotlight together and said they were not done fighting.
"What has happened today has told women that when we come forward, that when we share what happened to us that we can be believed but that doesn't really mean anything," McLemore said. "… We put ourselves out there, we put our jobs and reputations on the line just to be told, 'You're believed, but there's nothing we can do.' So we're just taking that next step to see if there is something we can do."•
Please enable JavaScript to view this content.