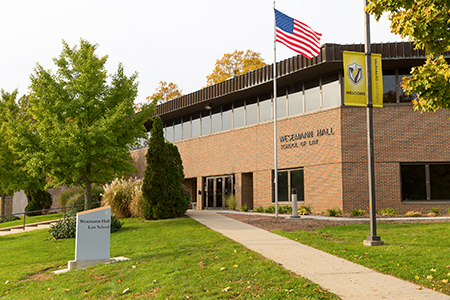 When Matthew Kite decided to go to law school eight years after he finished his undergraduate degree, he resigned his job in marketing, sold his "Bimmer," got rid of his house and moved back home with his parents.
Then, enticed by scholarship money, he enrolled for fall 2015 at Valparaiso Law School. However, during the 2016 spring semester, the northwestern Indiana law school was struggling under declining enrollment and had announced plans to trim its payroll. Ultimately, 13 faculty and seven staff members left.
At the end of classes in May 2016, Kite left too.
"I would have stayed because I really liked the faculty. I really liked the small class sizes," Kite said. "It's just at that point, when it was kind of on the downward spiral and everybody kind of felt it, it made sense to transfer."
Kite subsequently returned to his hometown of Indianapolis and enrolled in Indiana University Robert H. McKinney School of Law. He completed his legal studies, passed the bar and landed a job as an attorney in the public sector.
While he was enjoying his accomplishments as he joined more than 200 other new attorneys at the Indiana Admissions Ceremony Oct. 16, the future for Valparaiso Law School was not so bright. A proposal to transfer the J.D. degree program to Middle Tennessee State University was rejected Oct. 15 by the Tennessee Higher Education Commission.
The work to move the law school from Valparaiso to Murfreesboro, Tennessee, has stopped and both schools have indicated they are not going to continue to pursue the transfer. In a statement, Valparaiso said the law school would remain open so the two remaining classes scheduled to graduate in May 2019 and May 2020 can complete their degrees.
What happens after that is unclear.
Valparaiso Law School interim dean David Cleveland stated in an email that no additional information is available at this time. MTSU could not provide a university official to answer questions.
"It was great," Kite said of his time at Valparaiso, noting his classmates were smart and the faculty was talented. "I was really, really sad to leave because I had a lot of friends there. At the end of the day, it just made sense to come to Indianapolis."
Lock, stock and barrel
Shortly after Valparaiso University said in November 2017 that its law school needed another entity to either partner with or take over the operations, Middle Tennessee State University reached out. The two institutions of higher education worked out an agreement and in June unveiled their intent to transfer Valparaiso Law School to the Murfreesboro campus.
As part of the agreement, the law school faculty and all the holdings in the law library, plus the library faculty, would have transferred to MTSU. Cleveland would have become dean of Middle Tennessee State's new College of Law.
The students currently enrolled in Valparaiso would have finished their studies in Indiana. While Valparaiso was teaching out the classes of 2019 and 2020, MTSU would have enrolled its first law class in the fall of 2019.
Marketing the new law school and recruiting the students for the inaugural class in Tennessee would have been handled by Valparaiso. MTSU would have reimbursed the Indiana school for wages, costs and expenses associated with the marketing and recruiting efforts.
Also, although the transfer was touted as a gift, Middle Tennessee agreed to pay Valparaiso $2 million to cover the costs and expenses related to the transfer. Moreover, MTSU would have reimbursed Valparaiso for the liability insurance procured in conjunction with the transfer for a period of five years.
Further, the entire agreement was contingent upon the law school maintaining its accreditation from the American Bar Association.
In its pitch to the Higher Education Commission, MTSU maintained that a public law school would provide opportunities to residents in the Nashville-Murfreesboro-Franklin area of the Volunteer State and that new lawyers would be needed to fill coming jobs. Middle Tennessee State cited data from the Bureau of Labor Statistics in noting there is an expected 8 percent increase in employment of lawyers coming in the next 10 years in Tennessee. Including retirements and turnover, the expectation is there will be 620 openings annually, creating a situation where demand will exceed the number of individuals passing the Tennessee bar each year.
To start, MTSU was anticipating enrolling a 1L class of 75 students in 2019. The following year, the entering class size would increase to 85, and after that each class would have 100 students.
Middle Tennessee State projected its expenditures for the law school would range between $6.69 million and $7.89 million annually for the first seven years. Revenue was anticipated to equal the expenditures.
'Bittersweet'
Waiting for the admission ceremony to begin, Amalia Gemelas, a 2018 graduate of Valparaiso Law School, had mixed emotions as she prepared to be admitted to the Indiana bar.
"I would say it's a very bittersweet moment just to know that, I guess, I am part of one of the last graduating classes after such a long history," Gemelas said. "But I choose to think there are a lot of us still out here, so they're still able to do something right."
Gemelas chose Valparaiso because of the law school's reputation in northwest Indiana and because it gave her the opportunity to build her advocacy skills. In particular, she said, her work in the immigration clinic under the guidance of associate professor Geoffrey Heeren allowed her to help people and be their voice.
Still, during her time at Valparaiso, Gemelas noticed a change in the atmosphere. Some students transferred, and the ones who remained were less involved in the different activities. Caring for the law school became harder, she said, when it seemed like it might fail.
But looking back, Gemelas does not think she would have made a different choice.
"I think going to a school that had a smaller student body provided me with some opportunities that I might not have gotten elsewhere," she said. "I was able to get more of a one-on-one rapport with a lot of my professors … . So, I don't have any regrets."•
Please enable JavaScript to view this content.