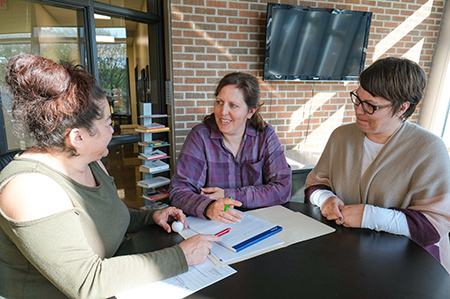 For some, making the trip downtown was too difficult, and for others, the idea of going to a law office was too intimidating.
The result was that the clients at the John Boner Neighborhood Centers on the east side of Indianapolis were not following through on staff instructions to go see a lawyer at Indiana Legal Services. The solution was for the Boner staff and ILS attorneys to strengthen their relationship.
Now, Boner clients do not have to travel into the city or wonder whether their problem could be handled by a lawyer.
First, the staff and the attorneys developed a special questionnaire that spots any underlying legal issues for clients who have financial troubles and are coming to the community center to get help from the financial coaches. Next, the staff cleared out an office so that Cheryl Koch-Martinez, ILS consumer advocacy project director, can be on-site and available to meet with clients three days each week.
"We see people moving from crisis to stability and ultimately to thriving," said Carla James, director of financial foundations at the Boner Center. "Legal Services plays a significant role because without that, we're not able to address that legal matter."
As the need for civil legal aid continues to outstrip the resources to provide representation, Legal Services Corporation maintains that collaborating and partnering with other nonprofits — like ILS and the Boner Centers are doing — can boost the ability to reach more low-income people and families.
LSC promoted the idea of cooperation during its quarterly board meeting in Indianapolis Oct. 18-20. Taking a break from its meeting agenda, the board hosted an Access to Justice forum that featured two panel discussions highlighting legal and nonlegal agencies in the Hoosier state working together to address the problems faced by low-income households.
Legal Services Corp. board chairman John Levi addressed a near-capacity crowd in the Indiana Supreme Court courtroom, describing access to justice as a "core American value." The gap between the civil legal needs of the poor and the resources available to help not only places hardships on low-income Americans, Levi said, but also corrodes Democracy and undermines the rule of law.
"Just as there can be no one above the law, there should be no one below it," Levi said.
Meeting the need
LSC President James Sandman said increasing access to justice will require simplifying the court system for litigants across the country. (Photo courtesy of Legal Services Corporation)
LSC is the funding arm for 133 civil legal aid providers across the United States, including Indiana Legal Services. Congress makes the appropriation, then Legal Services Corporation dispenses the money to grantee organizations.
In 2018, Capitol Hill provided LSC with $410 million, an increase of $25 million from the previous appropriation and especially welcomed after the Trump administration proposed eliminating all funding to the civil legal aid agency. Even so, the amount was significantly less than the $527.8 million LSC had requested for 2018.
Moreover, the mismatch between need and resources is startling. LSC's 2017 Justice Gap Report found 86 percent of civil legal problems faced by low-income Americans receive inadequate or no legal assistance. Limited resources also prevented legal service providers from fully addressing between 907,000 and 1.2 million civil legal problems brought by low-income households in 2017.
James Sandman, LSC president, believes solving the problem will require a broader approach.
Speaking to the Indiana Lawyer, Sandman emphasized the familiar theme that closing the justice gap will take more funding and more attorneys doing pro bono work. But he also pointed to two changes that could bring additional relief: simplifying the legal system and allowing trained, regulated paraprofessionals to provide greater assistance to legal aid clients.
Sandman cited statistics from the National Center for State Courts that estimate that in 75 percent of the civil cases in state courts today, one or both parties do not have a lawyer. He also noted that in the state courts of New York, couples wanting an uncontested divorce will have to file 12 to 21 different forms.
"Everything about it is opaque, everything from the language of the law to the forms that are used and the rules of civil procedure to the rules of evidence," Sandman said of the court system in general. "We need to simplify the process. We need to redesign the process knowing that a significant number of people are not going to have lawyers and the system has to work for them, too."
Pro bono essential
Legal Services Corporation recognized Indiana attorneys and organizations with the Pro Bono Service Award. Recipients were (from left): Damian Gosheff, Ruth DeWit, Alice Springer, Zia Mollabashy, William Marsh, Carl Pebworth and Monica Fennell. Additional winners include Randy Brown and Joseph Bauer, who are not pictured. (Photo courtesy of Legal Services Corporation)
Still, Levi said volunteer lawyers continue to play an essential role in LSC's mission to help ensure equal access to justice. While in the Circle City, the LSC board held an evening reception to recognize Hoosier lawyers for their work representing low-income clients. Carl Pebworth, partner at Faegre Baker Daniels LLP, which was the only law firm to be honored, returned to the idea of collaboration as the key to pro bono service. He said attorneys are best able to volunteer when a structure is in place that can identify the clients and compile materials that lawyers can reference when they have a question that is outside their area of legal expertise.
"It's hard to understate how important it is to have some structure connecting willing volunteers with the needs," Pebworth said.
Michael Harrington, senior vice president and general counsel at Eli Lilly and Co., credited partnerships with helping his in-house attorneys do pro bono. He explained that Lilly has finely trained pharmaceutical lawyers and patent attorneys, but they get apprehensive about representing clients in family law or other such legal areas.
However, working with Faegre and ILS has enabled the Lilly attorneys to contribute and provide civil legal assistance to the households in need.
"We all recognize that we are diminished when people in our community fail to have access to meaningful legal representation," Harrington said at the reception. "We're diminished as a nation, as a community. We are diminished as a legal profession."•
Please enable JavaScript to view this content.