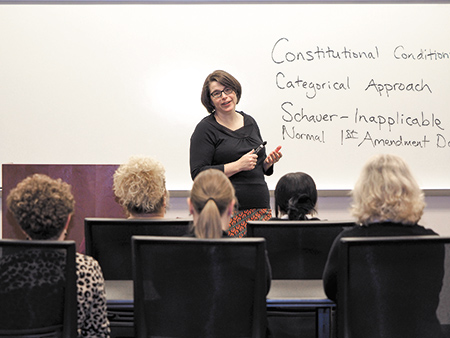 Clearly, it's an uncomfortable topic.
Ask an attorney to comment on Indiana Rule of Professional Conduct 8.2(a), which governs lawyers' speech about judges, and you'll likely hear crickets. Indeed, Indiana Lawyer reached out to more than 40 attorneys and judges across the country for this story, and only four agreed to interviews.
The silence in response to interview requests, coupled with the comments from the four attorneys who were comfortable speaking about regulation of lawyer speech, sends the message that such regulation is a sensitive subject. Lawyers, it seems, don't want to address the topic for fear of being perceived as speaking critically of the judiciary, while judges seemingly don't want to discuss situations where they feel they have been unfairly criticized.
The situation isn't surprising. Legal professionals work within the Rules of Professional Conduct, so they don't want to make any comments that might be perceived as unduly critical of others in the profession — a profession built largely on respect and civility. But according to an Indiana University Robert H. McKinney School of Law professor, the unease surrounding Rule 8.2(a) is not a matter of respect, but rather a matter of lawyer fear.
In her new book, "Voice of Justice: Reclaiming the First Amendment Rights of Lawyers," Professor Margaret Tarkington takes a deep dive into caselaw surrounding lawyer speech and related discipline and concludes that rules similar to 8.2(a) can cause attorneys to stay tight-lipped even in the face of judicial misconduct. That effect, Tarkington said, can often do more harm than good — that is, instead of building respect for the judicial branch, it can allow judicial misconduct to continue.
Those who disagree with Tarkington say American Bar Association Model Rule 8.2 and its progeny are intended to be safeguards that protect judges from unwarranted criticism. But in her book, Tarkington takes the view that disciplining lawyers for speaking critically of judges actually undermines America's legal system as a whole.
In addition to speech about the judiciary, Tarkington's book also looks at the holistic impact of regulation of lawyers' 1A rights. (Photo courtesy of Margaret Tarkington)
Muddied caselaw
Tarkington became acquainted with speech-related lawyer discipline when In Re: Michael A. Wilkins was decided. In that 2000 case, Wilkins, who did not respond to a request for comment about his discipline, received a public reprimand after criticizing a judge.
Tarkington then moved to Utah, where she encountered a similar lawyer disciplinary case. In the Utah case, a lawyer was sanctioned after speaking out against a judge for issuing a "factually and legally erroneous opinion."
Those two cases formed the basis of the professor's research into lawyers' First Amendment rights and whether those rights are hindered when legal professionals take their oaths of office. W. Bradley Wendel, a Cornell Law School professor who reviewed Tarkington's book, said caselaw on the topic can be disparate.
For example, many judges subscribe to the belief that lawyers inherently give up some of their First Amendment rights when they agree to become subject to their states' professional rules. Wendel pointed to the famous Justice Oliver Wendell Holmes quote regarding law enforcement free speech: an officer "may have a constitutional right to talk politics, but he has no constitutional right to be a policeman."
In the same way, Wendel said, the First Amendment may protect lawyers' free speech in their personal lives, but they do not have a right to be a lawyer. Thus, when attorneys agree to legal conduct rules, the theory is that they give up some of those rights by the nature of their profession, he said.
Contrast that with the Supreme Court case NAACP v. Button, 371 U.S. 415 (1963), which was decided in response to a 1956 Virginia law. In response to the desegregation ruling in Brown v. Board of Education, the Virginia Legislature enacted a law that redefined lawyer "solicitation" to prohibit the NAACP from soliciting plaintiffs to bring desegregation lawsuits. The Supreme Court, however, ruled that the First Amendment protects lawyers' association rights, and that the NAACP's litigation was "a form of political expression" protected under the First Amendment.
Judicial perspective
After sifting through this varied caselaw, "Voice of Justice" concludes, among other things, that lawyers are the only class of people with the requisite knowledge to accurately criticize the judiciary, so restricting their speech undermines the judicial system and frustrates lawyers' role in the system of justice.
Paul Ogden, a former Indianapolis attorney who let his license become inactive after being disciplined for comments about a judge, agreed with that conclusion, saying Rule 8.2(a) acts as an anti-whistleblower rule.
As a former Dearborn County judge and current executive director of the Indiana Supreme Court Disciplinary Commission, G. Michael Witte has heard such arguments before. But Witte said he views the rule as a way of ensuring the public has an accurate picture of the judicial system.
Being in the evidence business, Witte said lawyers should respect the difference between factual statements and claims made with reckless disregard for the truth — the standard laid out in Rule 8.2(a). Citizens also expect lawyers to err on the side of truth, he said.
But Witte also said judges must have a thick skin and shouldn't be afraid of being taken up on appeal. He recalled lawyers coming into his chambers during his time as a judge to apologize for filing an appeal against him.
Appeals are part of the process, Witte would say, so no apology was necessary. But when a lawyer challenges a judge's qualifications or integrity, more harm can be done if those challenges aren't based on fact, he said.
"Those statements are really unfairly undermining public trust in the institution as a whole," Witte said.
Indiana examples
Disciplinary complaints related to Rule 8.2(a) pop up once or twice a year in Indiana, Witte said. He pointed to two recent examples of speech-related discipline: Ogden's case, and In re Dixon, 994 N.E.2d 1129 (Ind. 2013).
Ogden was suspended for 30 days and ordered to pay half the costs of the proceedings against him after he sent a private email criticizing Hendricks Superior Judge David Coleman's handling of an estate case. Ogden said he believes his discipline stems more from a blog post he wrote that was critical of the Disciplinary Commission than from his comments about Coleman, but Witte said Ogden's statements about the judge were demonstrably false. Coleman did not respond to a request for comment about Rule 8.2(a).
Ogden maintained that his comments were protected under the First Amendment and would have passed muster under the actual malice standard laid out in New York Times v. Sullivan. However, he says Rule 8.2(a) creates a more restrictive standard for attorney speech.
Specifically, In re Dixon created an objective standard for determining when lawyer speech about the judiciary is actionable. That standard, Witte said, requires lawyer speech to be reviewed in light of how a reasonable attorney would view the statements.
Though the Supreme Court ruled against the Disciplinary Commission in Dixon, Witte said the commission lost the battle but won the war when the objective standard was put in place. That standard, he said, is preferable to a standard that would look for the presence of actual malice.
No easy answer
Tarkington said there is an inherent irony in rules such as 8.2(a). While drafted in the name judicial integrity, the professor said they actually undermine the judicial system by silencing lawyers and, thus, "making way for judicail incompetence or unlawfulness to persist." Further, Tarkington said lawyer speech serves as a check on government power, so regulating lawyer speech can inhibit that check.
But on the flip side, Witte noted the comments to Rule 8.2 encourage lawyers "to continue traditional efforts to defend judges and courts unjustly criticized." He pointed to the contentious Brett Kavanaugh Supreme Court confirmation hearings as an example of both sides of that commentary playing out.
Looking at the issue holistically, Wendel, of Cornell Law, said there is no easy answer to the question of how much lawyer speech should be regulated. It's true that lawyers must defend the judicial branch when necessary, he said, but if they are not given the same leeway to speak out against judicial errors, the whole system breaks down.
"It's one of these insolvable problems," Wendel said. "There are so many different principles, it just defies neat analysis."•
Please enable JavaScript to view this content.