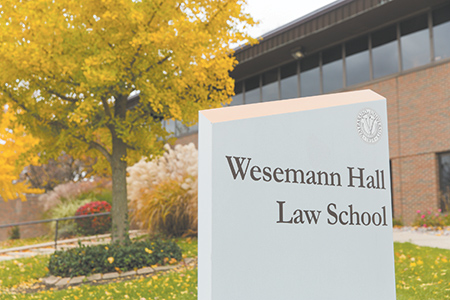 Valparaiso Law School's fate skyrocketed and crashed in five days.
On Oct. 10, Valparaiso University and Middle Tennessee State University announced an agreement to transfer the law school to Murfreesboro, Tennessee. But the following Monday, the Tennessee Higher Education Commission rejected the proposal, exhausting options to keep the university's legal education program alive.
Before November arrived, Valpo announced its 139-year-old law school would be ceasing operations after the last class graduates in 2020.
"It's a sad day," said Valparaiso University president Mark Heckler. "It's a very sad day."
Despite disappointment over the decision, leaders in the Indiana legal profession said they could not have done anything to change the outcome. Selecting students, hiring faculty, developing curriculum and maintaining finances are all internal workings of a law school.
Indiana State Bar Association president Todd Spurgeon visited some law schools recently and said seeing all that the deans had to deal with was eye-opening. The ISBA can support them, he said, but still, much of what they have to do, they must do on their own.
Even so, Spurgeon said, "I think it's a huge loss."
Ivan Bodensteiner, longtime professor at Valparaiso Law School who served as interim dean three times and remains an adjunct faculty member, echoed Spurgeon. Although the institution benefitted northwest Indiana's legal community by offering continuing legal education programs and making its students available to serve as law office clerks or assist pro bono clients, Bodensteiner does not believe attorneys or any legal organization could have played a role in helping the law school overcome its troubles.
"I never felt like it was someone else's responsibility to help Valparaiso through this," Bodensteiner said of the private university. "Like any other school at a university, you either make it financially or you don't."
Valparaiso is not alone, as other law schools across the country have either closed or are in the process of teaching out their students. However, Valparaiso stands out because it is the oldest law school to close and it will be the second to lock its doors in Indiana. Indiana Tech Law School in Fort Wayne, which enrolled its first class in August 2013, closed in June 2017.
Together, Valparaiso and Indiana Tech give Indiana the dubious distinction of being the only state, currently, to see more than one law school close. But Indiana Chief Justice Loretta Rush does not believe the closure of Valparaiso and Indiana Tech's law schools gives a black eye to the Indiana legal profession.
Law schols are closing for a myriad of reasons, Rush said, some of which are probably not known to the public. Her concern is the impact Valparaiso's demise will have on northwest Indiana.
"We're doing the best we can, and there's some things that are not in our control with regard to the opening and closing of those law schools," she said.
Filling the void
Valparaiso Law School has roughly 80 third-year students and 17 second-year students. It did not enroll a 1L class for the 2018 fall semester.
The law school intends to teach-out all the students enrolled. However, while the third-year class will continue as normal and graduate in May 2019, the path for the second-year class is still being formulated. The university is considering the possibility of having the 2L class attend another law school for their final year, then transfer the credits back to Valparaiso, which would award the J.D. degree.
"I'm proud of the … students," Heckler said. "They're going to graduate and be great lawyers. We want them to be proud of their law school. What we were trying to do in this place is very special."
Indiana Lawyer reached out to some current and former faculty members who either declined to be interviewed or did not respond to a request for comment.
Christopher Murphy, board member for Independent Colleges of Indiana and a member of the Indiana Commission for Higher Education, lauded Valparaiso for making the right decision, even though it was agonizing. The university, he said, has a greater responsibility to its undergraduates and the other schools on its campus.
An attorney by training who leads 1st Source Bank, Murphy first learned of Valparaiso Law School when he was preparing for the Virginia bar exam and some of his bar review materials were stamped with the Indiana institution's moniker. He does not think the closure will hinder Hoosier students from getting a law degree in the state because the other law schools in Indiana have large financial endowments and long histories.
Rush is starting conversations with the other law schools in the state — Indiana University Maurer School of Law, IU Robert H. McKinney School of Law and Notre Dame Law School — to determine how to fill some of the void that will be left when Valparaiso exits. She is particularly concerned about how to cover the work the law students did for low-income clients through the law school's clinics. Also, she is worried about losing the Indiana Conference for Legal Education Opportunity (ICLEO) program at Valparaiso, which encourages minority, low-income or educationally disadvantaged students to pursue a career in the law.
"I'm sad to see it close," Rush said. "I've been talking to other law schools (and asking), 'How are we going to fill that need?'"
'New paradigm'
Valparaiso Law School, Heckler said, was crippled by the Great Recession and the corresponding upheaval in the legal market. With applications declining, law schools were dipping lower into the pool of potential students to fill classes. Valparaiso had the added challenge of fierce competition from the six law schools in Chicago.
However, some believe the debilitating blow came in 2016, when the American Bar Association publicly censured the school. The ABA faulted Valpo for enrolling students who did not appear capable of earning a J.D. degree or passing the bar exam.
Bodensteiner said the censure was a "helluva kick in the rear," and after that, things started going downhill. He challenges the ABA perception, saying Valparaiso was providing an opportunity to students who might not otherwise have a chance to become lawyers. While he concedes it is fair to question whether the law school did as well as it should have, he maintained the ABA only talks about diversifying the profession but does not seem to have figured out how to do that.
Valparaiso pursued several options to keep the law school open, according to Heckler, including talking to some other universities in Indiana that did not have law schools. However, Middle Tennessee was the proposal that aligned perfectly, and when that deal was nixed, there were no alternatives.
The ISBA, Spurgeon said, is working to provide Valparaiso Law students with networking opportunities and other support they need. Pointing to the bar association's mission and Articles of Incorporation, which includes language about fostering legal education, he sees the ISBA as having a duty to assist law students because they are the future of the legal profession.
Jon Costas, mayor of the city of Valparaiso and an elder law attorney, wonders if the lesson from Valparaiso is that there needs to be more innovation in legal education. A graduate of the law school, he is a member of the Indiana Commission for Higher Education and served on a task force Valparaiso University assembled after the ABA censure to explore the future of the law school.
Costas said he understands the need to ensure a quality education but wondered if maybe the ABA should give law schools more room to innovate instead of offering a one-size-fits-all approach to accreditation. The business sector can create different models, Costas said, and even some institutions of higher education are being creative, such as when Purdue University took over the online-based Kaplan University earlier this year.
As to whether the legal profession could have done something to stabilize Valparaiso Law School, Costas nodded to the inevitability of change.
"People are so used to dramatic change in this world," he said. "I think they realize it's just a part of life and to fight for an old paradigm may not be the best thing and may stop a new paradigm."•
Please enable JavaScript to view this content.