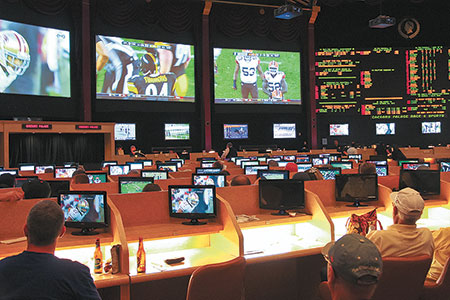 A trending topic discussed by state legislators across the nation is legalizing and incorporating sports wagering into casinos. This comes after a decision in May by the United States Supreme Court that struck down a federal law that barred states from offering legal sports gambling.
The Professional and Amateur Sports Protection Act, or PASPA, was deemed unconstitutional by a 6-3 vote, thus opening the floodgates of opportunity for states seeking to offer sports wagering.
Sports wagering is the betting of money on a particular outcome of a sporting event or a or portion of it.
"A casino or a book maker offers the odds of who's going to win and by how many points," explained Philip Sicuso of Bingham Greenbaum Doll. "Depending on some of the circumstances in the game, you win or lose a certain amount of money."
As the 2019 legislative session draws closer, some Hoosier legislators are taking their chances on proposals that could make Indiana the ninth state to legalize sports gambling.
Terre Haute Republican Sen. Jon Ford and Rep. Alan Morrison both offered up legislation last year without much traction. Now, they're eager to try again.
Ford's legislation would allow for sports wagering at casinos, racinos and riverboats, enabling bettors to play off their mobiles devices. But first, they'll have to prove they are at least 21 at a brick-and-mortar casino in order to sign up. Ford said offering mobile betting will add another tool to Hoosier casinos' tool chests to remain competitive with neighboring states.
"We know all the states around us are working towards legalizing sports wagering," Ford said. "We need to let our casinos allow this or they'll be at a distinct disadvantage."
Morrison agreed, noting that his bill also will recommend mobile betting, but with precautions in place to ensure responsible activity and safeguard the integrity of the games.
"When a Hoosier is betting on a game in an Indiana casino, they have trust in that process and a large part of the bill deals with integrity," Morrison said. "Our goal in Indiana is to be as business-friendly as possible and for users to have as good of an experience as possible."
Unearthing underground gambling
In an ever-evolving digital age, virtually anything can be done from a mobile device. That's why Morrison said he thinks offering mobile betting is important to Indiana's gaming industry.
But Sicuso said there are some hesitations about embracing a mobile approach to sports wagering. The big concern, he said, it making sure responsible gaming takes place.
"It's making sure that you can know your customer," Sicuso said. "The idea of making sure that it's not a 13-year-old kid using his dad's mobile device conducting these activities."
Plus, he added, it's already easy for students and others to download mobile wagering apps that stem from offshore betting sites. Many of these are unregulated and untaxed, leading to an unseen, underground world of gambling.
"It's not illegal to engage in the conduct for a citizen like you or me to make a wager. The activity that's unlawful is to offer a wager and make a profit from it," Sicuso explained. "Really, the illegal activity that's going on right now is conducted by the offshore companies that offer a service and take money."
Ford said he hopes his bill will help unearth some of the illegal gambling and bring it into a regulated market. Hoosiers can't determine the amount of illegal sports wagering out there, he said. This could clean it up.
Keeping taxes low also could help bring illegal sports gambling out of the shadows, Ford contended. He proposes offering a low entry fee and tax rates at 6.75 percent — lower than what was proposed in his previous legislation.
Morrison agreed, saying that Indiana should keep its tax low. If the sports books spend less on fees and taxes, there could be a better experience for everyone, he said.
Both legislators seem confident that sports betting will have a shot at succeeding this session. If it does, Indiana would join Nevada, New Jersey, Delaware, West Virginia, Mississippi, Pennsylvania and Rhode Island as states that offer legal sports wagering.
Morrison noted that sports wagering probably won't serve as a silver bullet to mend state revenue issues, but it could be a good marketing tool for the state's gaming industry.
"We as a body are recognizing that we need to put our gaming industry in the best possible scenario," Morrison said. "We need to continue to figure out ways to help our gaming industry be successful."
Sicuso said he sees great momentum and interest in the topic, and he expects to see serious conversations about legalization among Indiana legislators.
"A lot of people are taking a really hard look at it in a manner that makes me think there's a good chance that its going to succeed in being legalized here," Sicuso said. "It's just really hard to know for sure. We'll see where things go."•
Please enable JavaScript to view this content.