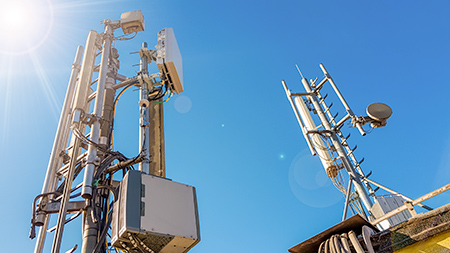 Just when it seemed technology couldn't possibly get any faster or more advanced, wireless networks introduced 5G service.
As one of just four cities to get a first bite at the 5G apple, Indianapolis is experimenting with the new cellular service promised to be fastest and most connected yet. Verizon brought the new technology to the Circle City — as well as to Sacramento, Los Angeles and Houston — in 2018 with the promise of dramatically changing the way we use the internet, and in a good way.
For businesses, network providers say 5G will lead to faster internet speeds and almost no delays in data downloads, while home services are designed to strengthen the connections among smart devices. Those advancements, according to providers, will improve the experience of gaming and augmented and virtual reality while opening the door to future technological developments previously not thought possible.
Okenfuss
The advent of 5G has generally been received positively by city and business leaders in Indianapolis, where the technology sector is booming. But within the legal profession, which is traditionally known as one of the last business sectors to adopt new technology, attorneys say it's still too soon to determine the benefits or drawbacks the new cell service might have on the practice of law.
Attorneys who practice in the data and technology realm are optimistic. They see possibilities to access more data that could benefit clients while also speeding up the rate at which they can perform client work.
"It's smarter, faster, better," Judy Okenfuss, leader of Ice Miller's internet of things practice, said of the expected impact of 5G service. "Using big data brings it all together."
What is it?
According to Verizon, 5G is the latest step in the development of cellular service. That development began with 1G service, marked by the initial introduction of analog cellphones, followed by 2G service offering SMS and cellular voicemail, 3G service allowing for mobile web browsing, image sharing and GPS location tracking, and 4G service creating "deep web functionality" for smartphones.
As the next step, 5G, according to Verizon, promises "quicker downloads, outstanding network reliability and a spectacular impact on how we live, work and play." The two biggest benefits, providers say, are faster speeds and lower latency, or lag time between instructing a device to begin a download and the actual beginning of the data transfer.
The new technology will likely have a significant impact on the internet of things, which is the concept of electronic devices "talking" to one another, Okenfuss said. She gave the example of a smartphone app being used to remotely lock and unlock a door.
With the increased connectivity promised with 5G service, Okenfuss said the internet of things can grow stronger by expanding its data collection capabilities. That could enable smartphones to perform data analytics on their own, she said, which could allow lawyers to access information clients care about without having to be in the office.
"I'm out with my phone visiting a client and they ask, 'Where are we on that matter?'" Okenfuss said. "I can hit a few buttons and get real-time financial data, so if the client is trying to budget, you have the data right there with you."
Data, data, data
Biederman
Attorneys Indiana Lawyer spoke to for this story said the expansion of data gathering and analyzing capabilities will likely be the biggest benefit of 5G to the legal profession.
For example, having the ability to collect larger groups of data and download it more quickly could expand discovery options, said Ray Biederman of Mattingly Burke Cohen & Biederman LLP. Additionally, attorneys are already using data analytics programs that try to predict case and motion outcomes, and Okenfuss said lawyers' ability to use those analytics during due diligence could be increased with improved 5G technology.
"One of the aspects 5G is promising is more connectivity, and as a litigator to me that means that there's a lot more data that can be collected and more information out there about our clients and about different aspects of lawsuits that our clients are involved in," Biederman said. "And so that can open up a lot of avenues about data that needs to be collected and what types of data would be responsive to discovery requests."
But the flipside to having access to smarter and faster technology is that the technology might change the role of a lawyer, said Brian McGinnis, a data privacy and cybersecurity attorney at Barnes & Thornburg LLP. He pointed to the example of in-house counsel contracting with firms; if new technology can automate or speed up data-related legal functions, then the need for outside counsel to handle that data might decrease, he said.
McGinnis doesn't necessarily view that change as a bad thing. Instead, he said it provides the opportunity for lawyers to focus more on the counseling and strategy aspects of practicing law, using new technology as a tool in their arsenal. Similarly, Biederman said having access to more data through technology allows attorneys to be more creative in how they use that data.
"I think that aspect is always going to be there," Biederman said. "And I think some of these tools help level the playing field between super large law firms and solo practitioners."
Thinking it through
McGinnis
Though McGinnis is excited about the possibilities 5G will create, he is also cautioning against firms or their clients adopting the technology without first examining both its benefits and its risks.
For example, if a client adopts 5G and suddenly has access to troves of data, do they know how to properly manage and securely store it? And how will the use of 5G change the client's business practices?
"I think the rush is to turn on all these things without fully understanding it," McGinnis said. "We need to think through these things."
To that end, McGinnis said attorneys should try to stay abreast of technological developments so they can best advise their clients. Biederman agreed, noting that from a contractual standpoint when negotiating deals for clients, it's important for lawyers to understand the technological landscape their clients are working in.
In Ice Miller's internet of things practice group, Okenfuss said the team of attorneys she leads will sometimes get together just to think through technological advancements to ensure they understand how the tech landscape is changing. Clients might not fully understand what 5G service means for their lives or their businesses, she said, so they might not know what questions to ask. If that's the case, then it's up to attorneys to know what the important questions are, she said.
Considering 5G is still in its infancy, McGinnis said it's too early to determine how the new service will impact the legal profession, though he said he knows tech experts who are excited about the possibilities. It's also too early to predict possible glitches in the service, Biederman said, but he speculated that connectivity between devices could be a potential problem.
Right now, Verizon and AT&T are offering 5G cell service, with other wireless networks promising to follow suit soon.•
Please enable JavaScript to view this content.