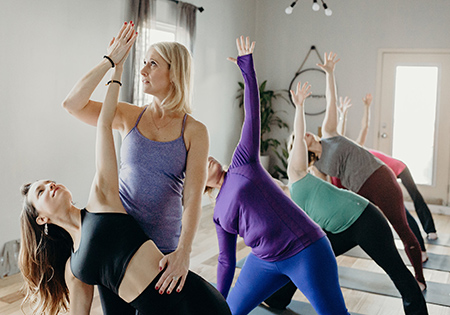 Ice Miller partner Kristine Camron can distinctly remember the morning she received a phone call that completely threw her life off balance.
"I was diagnosed with cancer, and that was a shock to me," she said. "I'm a relatively healthy person. I exercised, I thought I did everything right. When you're younger you think you're immortal – nothing bad can happen to you."
For the next 18 months, Camron's legal practice and life were put on pause. She endured one surgery, a failed radiation treatment and a second surgery. But in the middle of that stretch of time, Camron came to a lifechanging realization.
Only 37 years old, with three young kids and a new title of partner, Camron knew she needed to fight her battle, but she wasn't sure how. Then one day, she stumbled into a yoga studio and discovered yoga and meditation.
"I found the quiet of the yoga practice as well as the breath work extremely helpful in terms of a way of calming myself down as I was facing going into surgery and treatment," she said.
Camron
Ten years later, Camron owns her own yoga studio and regularly practices mindfulness. Reflecting on who she was before cancer, Camron says meditation was not only a tool that helped her in the healing process, but also in the practice of law.
"I was trying to do it all. There was a lot of noise in my life, and I never really got quiet," Camron said. "I was always running around listening to the outer voices and trying to meet whatever everybody else wanted."
It wasn't until she started listening to herself that she was able to function more efficiently as a lawyer. Whether in the middle of a difficult negotiation or facing an unreasonable deadline, meditation gave Camron relief from the stress.
"I could shut my door and sit in my office for less than five minutes and I would just breathe and focus on letting it go, and it would shift my energy," she explained. "I realized how much I was constantly clenching my jar, holding my breath, acting stressed and then reacting. Oftentimes it would just cause me more problems than it would solutions."
Finding a balance
Camron didn't realize other attorneys might benefit from mindfulness until she was approached by several lawyers during a class at her studio. They proposed that she consider registering for continuing legal education certification and offer her knowledge of the subject to interested law firms.
Once she worked through the process and officially offered her first mindfulness seminar last October, the calls kept coming.
"I got great reviews from it," she said. "To be honest, most CLEs you go to, you sit in the back of the room and it's not very engaging because you have to do it. This one, you're doing yoga, meditation, affirmation — it's more of a discussion concept versus a lecture, and you're participating more."
Camron said she thinks other lawyers appreciate the open and free dialogue at her CLEs, which prompted positive responses. Those who came back to her weeks or months afterward shared how they had utilized the mindfulness techniques themselves.
Funke
Sarah Funke, an Ice Miller partner in the employee benefits group, said she incorporates breathing techniques into her practice every day.
"I think most of us get really busy," Funke said. "You spend your day jumping from one emergency to the next and get stressed out, and you either ignore the signs of stress, like shallow breathing, or even when you're aware of it, you don't do anything about it."
Before attending Camron's class, Funke assumed she had to be in a certain environment and location in order to practice mindfulness.
"I was making it too complicated," Funke said. "The nice thing about these mindful or meditation techniques is that they're so simple to do, you can do them anywhere."
Specifically, Funke focuses on her breathing techniques. It helps her relax, and it's actually helped in her practice, too.
"I do it in my car on the way into work if I know I have a call in the morning and I'm feeling a little stressed about it. Or if I'm feeling stressed during the day," she said. "I feel like I'm less reactive to things. In a stressful situation, you're thinking about what you want to say next or how you're feeling in that moment versus really listening to the person you're talking to."
For Karen Young, a solo practitioner and adjunct professor at Indiana University Robert H. McKinney School of Law, Camron's weaving of the rules of ethics into mindfulness has been the most impactful for her as an attorney.
"It was a great take on something we heard a ton of times," Young said. "How she tied it in with mindfulness and slowing things down and dissecting them gave new life to them. And I had her notes right beside me on my desk for the longest time, looking back through. I hadn't thought of some of the ethics rules in the ways that she brought them up, probably ever."
Young says now she can better relate to and apply the rules of ethics into her everyday practice and has seen its impacts in her decision making.
"It's actually helped me balance and think through as to why I would say no to something, (where)as before I would say yes and stretch myself too thin," she said. "It's made me mindful of those types of activities and clients, and to stop to think before I may have taken out a project that I really probably couldn't do competently or fully.
"It created a more balanced approach in my practice area, but also a better and more present attorney for the clients I do have and carve out time for them."
Keeping kOMposure
Since her first CLE in October 2018, Camron has received several requests to speak with various firms, hosting mindfulness and stress-reducing CLEs for the Indiana State Bar Association and Defense Trial Counsel of Indiana. She's also hosting a Power of the Pause Workshop at her Broad Ripple yoga studio, kOMpose, on Feb. 23, targeted for lawyers who want to better communicate with opposing counsel and difficult clients.
"We're taking common sense concepts and putting them into practice. Concepts that are simple and not going to take a lot of effort or money," she said.
Camron, who opened up during a packed ISBA mindfulness CLE, said that she, too, tried to use alcohol as a way to numb the stress and pain of her practice. But finding that route unsuccessful, she realized that mindfulness, meditation and yoga are alternative ways of dealing with the pressures of practicing law.
"It's interesting how many lawyers I have that come to the studio," she noted. "There is a need to release the stress and we need to find a healthy positive way to do that, and that's really what this is designed to do."•

Please enable JavaScript to view this content.