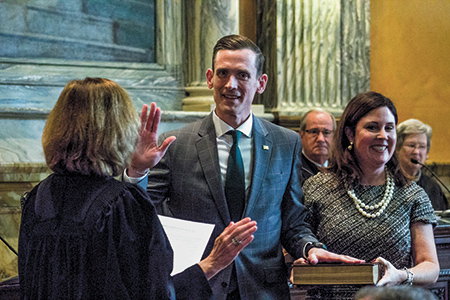 Tilting the microphone down from the podium, the youngest daughter of Judge James Patrick Hanlon drew smiles from the crowd as she characterized her father as a hardworking man who always makes time for his kids.
"I think his job is so cool. He has worked so hard to get here," Greer Hanlon said. "He's a really good guy and is going to be a really good judge."
The packed courtroom filled with applause as Hanlon embraced his three children during his public investiture ceremony earlier this month. Indiana Southern District Chief Judge Jane Magnus-Stinson administered the ceremonial oath of office, while Hanlon's parents and wife performed the robing ceremony.
A former Faegre Baker Daniels partner, Hanlon was confirmed to the Southern District bench in October and began his judicial duties in November. In ceremonially donning his robe February 1, Hanlon officially brought the U.S. District Court for the Southern District of Indiana to a full bench for the first time in nearly five years.
Addressing a crowd of nearly 250 people, Hanlon offered his gratitude to those who came from near and far to celebrate the occasion, marveling that he could share the moment with people from every stage of his life.
"I'm so incredibly honored and grateful to become a part of this system. When I look around here, I am overwhelmed by what I see," he said.
"I can't tell you all how much it means to have each and every one of you here today. And while this day is incredibly specially for me and our family, what's really important about an investiture is that it celebrates and honors the institution of the federal courts."
 
Judge Hanlon hugs his children during his formal investiture earlier this month. (IL photo/Katie Stancombe)
First to congratulate Hanlon was Magnus-Stinson, followed by senior judges Sarah Evans Barker and William Lawrence, as well as district judges Richard Young, Tanya Walton Pratt and James R. Sweeney. Sweeney himself joined the federal bench less than a year ago.
Each of Hanlon's new colleagues gave words of congratulations and encouragement, calling to mind Hanlon's faithfulness to justice and equality.
"He will not be an arid, dry, learned judge without a true understanding of the people that he's working with and the people who appear in front of him," Lawrence said. "The law demands brilliance and effort, and Judge Hanlon has both of these qualities."
Barker agreed, recalling times she witnessed Hanlon's work as a United States Attorney for the Southern District of Indiana.
"I've seen him in action, and he is the real deal," Barker said. "He is one of the best. We're all glad for this culminating moment and for your good luck, and for ours as well."
Quieting the room with the emotional tremor in her voice, Barker implored Hanlon to not pursue success, but rather faithfulness to the court and his constituents.
"Be steadfast and faithful," she said. "And be the fine judge we all hope and expect you to be."
Others celebrated Hanlon's hard work and dedication, including Faegre Baker Daniels partner J. Murray Clark, who noted Hanlon built a successful practice virtually from scratch.
"He was an extraordinary practitioner, colleague, friend and business partner," Clark said. "Patient, honorable, dignified, unpretentious and modest. Really respected and trusted by his clients and a tremendous mentor to many of our professionals."
Likewise, Congresswoman and former Southern District U.S. Attorney Susan W. Brooks enthusiastically applauded Hanlon's appointment to the bench.
"You're going to make an outstanding jurist," Brooks said. "Through it all, JP has always wanted to do meaningful and important work — work that's often very difficult. We are very blessed in this country to have judges like JP Hanlon."
As the investiture drew to a close, Hanlon made a public promise to discharge the duties of his office with fidelity and impartially to the best of his abilities.
"I can't promise that I'll get every ruling always right," he said, "but I can always promise that every ruling will be made with the goal of fairness, equality and upholding the rule of law."•
 
Please enable JavaScript to view this content.