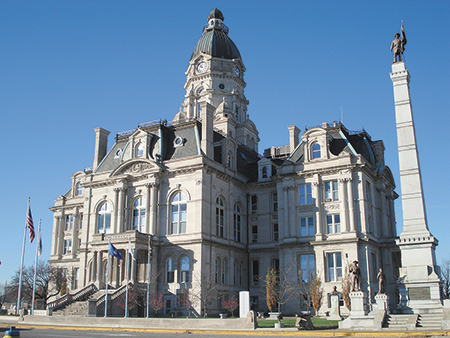 Excitement is buzzing from the Bloomington campus of Indiana University Maurer School of Law all the way up to the Indiana Supreme Court now that a new partnership has formed between the two.
The law school has teamed up with Indiana's high court to create a judicial clerkship pilot program, which Chief Justice Loretta Rush and Indiana Court of Appeals Judge Edward Najam call a "win-win" for the state.
Rush
Five first year law students from IU Maurer who are interested in careers in public service have been selected and paired with Indiana trial court judges who preside in smaller communities — specifically, Orange, Putnam, Vigo, Washington and White counties. The pilot's ultimate goal: offering law students an opportunity to experience real-life practice in small rural communities while also offering assistance to Hoosier judges who might be overlooked by students who want to clerk in larger urban areas.
"Not everyone has to go to a big city. There's some real beauty and justice that goes on in these rural counties," Rush, a Maurer graduate, said. "I think it's a wonderful place to practice law."
The chief justice and Najam first pitched the clerkship idea to IU Maurer dean Austin Parrish and IU provost Lauren Robel, who then handed the charge to Aviva Orenstein, Maurer's associate dean of students and academic affairs. Emphasizing the uniqueness of the partnership, Orenstein extended her gratitude to the Indiana Supreme Court for its support in aligning the pilot with IU Maurer's commitment to offering rural communities access to justice, courts and legal services.
Orenstein
"There are a lot of ways the judiciary can be overwhelmed, and we're really looking forward to assisting where we can," Orenstein said.
As leader of the initiative and a member of the pilot's selection committee, Orenstein said choosing five students from 24 applicants was challenging. The selected students will receive a $4,000 stipend to cover their living expenses and costs during the summer externship, as well as two hours of academic credit.
Before stepping foot into their respective courthouses, the clerks will receive a crash course in courtroom evidence, civil procedure and confidentiality at a bootcamp hosted by IU Maurer. Orenstein said the pilot program is a like a full-time job, which means the clerks will be expected to complete an entire summer's worth of work before returning to school in August.
"It's a really great gig," Orenstein said. "It's the kind of thing I would have jumped at as a law student."
First year law student John Pope did jump at the opportunity and was shocked when he received word that he'd made the cut. Pope knew there was a strong pool of candidates to choose from and felt honored to be one of the five students selected for a clerkship, alongside Samantha Feistritzer, Bryan Hudson, Molly Madden and Kaitlin Willbanks.
"I'm surrounded by so many amazing students at the law school, so I figured someone else smarter and better qualified would get it. I feel really blessed," Pope said. "Maybe some of my life and upbringing have set me up well to be an advocate for rural communities."
Pope's small-town upbringing and love for rural communities initially drew him to apply for the pilot program. The idea of assisting those in areas that might have fewer resources and opportunities than urban communities tugged at his heartstrings.
"I feel like, sadly, people who live in rural areas may feel underrepresented, whether it's politics or legal issues," he said. "They may feel like larger cities with higher populations get more votes and get more choices."
Reddy
As aging small community attorneys retire, Rush said younger lawyers don't seem willing to follow in their elders' footsteps, opting instead for bigger communities with specialized practices. That leaves rural communities with a lack of representation and competent counsel, which Vigo Superior Court Division 2 Judge Lakshmi Reddy said is a difficulty she faces daily.
Reddy, whose court was chosen from 19 others interested in participating in the pilot, said she's excited to have Pope as her first clerk. In addition to helping her conduct legal research and draft orders, Reddy said she hopes Pope's fresh enthusiasm will help her research and potentially develop a future Vigo County family problem-solving court. The goal, Reddy said, is to not only finish cases quicker, but also to provide better community service and resources for families in her county.
"We're trying to assist families, rather than just issue orders," Reddy said.
With the number of cases she hears on the rise, the judge said it can difficult to catch her breath. Without extra support from students such as Pope, Reddy said smaller communities can become backlogged by the time-intensive research some cases require.
"Especially with such a high rise of unrepresented litigants," the judge said. "Those unrepresented litigants don't know the law. Most of the time, we know the law, but now it's the judges that have to do that work to make up for what the attorneys should be doing."
Pope said he hopes he can help ease that burden during his clerkship, adding that his personal and professional experiences might intertwine with the needs of the community to contribute a fresh perspective to problem solving in the court. To Orenstein and others behind the initiative, that is what the pilot program is all about – offering students a chance to share their perspectives in a real-world experience while giving back to those who administer justice.
"I think that when students see how the law really affects people, they become much better lawyers and better law students," Orenstein said. "They've studied all of this in the abstract, but to see what it means to actually argue in a court that affects somebody's life really leaves an impression. Any time you work for a judge, it's eye opening — it's just a privilege to be able to serve justice."
Rush agreed, noting IU Robert H. McKinney School of Law in Indianapolis has already shown interest in adopting a similar program in the future. The chief said it would be a dream for the judicial clerkship program to expand to all three of Indiana's law schools, including Notre Dame Law School in South Bend.
"There's a lot for the profession to gain by linking these attorneys and judges with new lawyers in regard to building that next generation," Rush said.•

Please enable JavaScript to view this content.