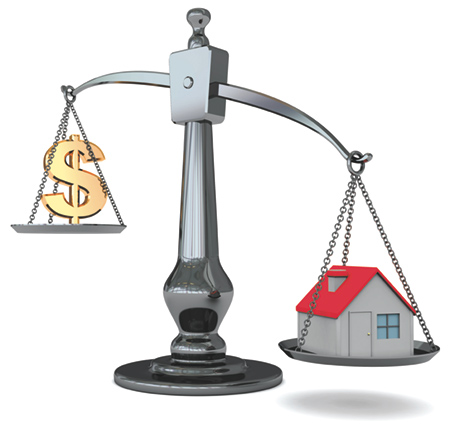 Buying a home is an exciting process, but it can also be confusing. Navigating the world of competing offers, title transfers and appraisals can be difficult, especially when buyers and sellers don't use real estate agents to facilitate the process.
To ease some of that burden, real estate website Zillow offers a tool known as a home value "Zestimate." Using public data, Zestimates, as the name implies, provide an estimate of how much a home is worth. That amount is listed on a home's Zillow profile alongside the seller's asking price, allowing buyers to compare the two.
But Zestimates aren't appraisals, and no one from Zillow visits the properties to complete an inspection. That means the estimated home values aren't always accurate — the median Zestimate error rate reported recently was 5 percent, meaning half of all homes were sold within 5 percent of the Zestimate.
A class of Illinois homeowners sued Zillow because of those alleged inaccuracies, taking their complaint all the way to the 7th Circuit Court of Appeals. The issue, they said, is that the Zestimates for their homes were too low, which impeded their efforts to sell.
 
A Zillow "Zestimate," shown above, provides an estimate of a home's value based on publicly available data, such as the sales price of nearby properties. (Zillow.com screenshot)
An Illinois district court and the 7th Circuit both rejected the class's argument, but Realtors and real estate attorneys still have concerns about whether Zestimates are unnecessarily misleading. Zillow, however, insists its estimation practices are transparent and legal, thus making their home valuations a beneficial tool for buyers and sellers.
Too low?
The case, Vipul P. Patel, et al. v. Zillow, Inc. and Zillow Group, Inc., 18-2130, centers around five properties in Schaumburg and Barrington, Illinois. Of those properties, three were listed for sale with asking prices ranging from $1.495 million to $2.999 million, but the Zestimates for the listings ranged from $1.1 million to $2.5 million. Though the other two properties were not listed for sale, the owners still argued the Zestimates for those properties — $567,292 and $608,015 — were too low.
The class's amended complaint argued Zillow violated the Illinois Uniform Deceptive Trade Practices Act and the Illinois Consumer Fraud and Deceptive Business Practices Act when it posted allegedly inaccurate Zestimates to its website and refused to alter or remove the estimates upon request. But now-Circuit Judge Amy St. Eve, who was then a district judge in the Northern District of Illinois, dismissed the complaint with prejudice in May 2018, and the 7th Circuit unanimously upheld that decision in February.
Judge Frank Easterbrook wrote that St. Eve correctly found Zestimates are nonactionable opinions and that the plaintiffs lacked a private right of action to enforce an Illinois statute prohibiting appraisals by non-licensed appraisers. Further, the 7th Circuit said the Zestimates would actually become less accurate if Zillow agreed to remove some estimates.
"In general, the accuracy of algorithmic estimates cannot be improved by plucking some numbers out of the distribution or 'improving' others in ways that depart from the algorithm's output," Easterbrook wrote. "The process is more accurate, overall, when errors are not biased to favor sellers or buyers."
Calculations
The algorithm the federal court referenced is the proprietary formula Zillow uses to arrive at its Zestimates. According to Michelle Wynne Otter, assistant general counsel for Zillow, the formula is based on millions of data points Zillow acquires either through public records or information submitted by Zillow users.
 
Hocker
Wynne Otter
In Indiana, those public records will likely reflect the fair market value that each home has sold for in the past, said Janet Hocker, a real estate attorney with Hocker & Associates. Hocker also owns and operates a title insurance company and serves as its general counsel.
About 20 years ago, Indiana switched its property tax assessment method to a fair market value standard, Hocker said. That means home buyers and sellers are now required to disclose the purchase price of their transaction, and that price is used in the property tax assessment process, she said.
But the caveat to that system, Hocker said, is that unless the assessor's office is told otherwise, the purchase price will continue to be used as a basis for property tax assessments, even if the home's fair market value increases through home improvements. Those property tax assessments — with the inherent inaccuracy that might come from an outdated fair market value — are part of what Zillow uses to calculate Zestimates for Indiana properties, Hocker said.
Right now, Hocker said it's more common for clients to complain about their official assessed values. But given the increased digitization of the real estate process, she expects to soon begin hearing more complaints about allegedly inaccurate Zestimates.
Helping or hurting?
Though it's not common for Zillow to be sued over its Zestimates as was done in Patel, it is common for the company to receive calls from consumers complaining that the Zestimates for their homes are too low and are hindering the selling process, Wynne Otter said. Barbara Andersen, the Illinois attorney who argued the case on behalf of the class, said she has heard from several homeowners aside from her clients who likewise were concerned about low Zestimates hurting their sales.
But more than complaints, Wynne Otter said Zillow hears from users who say the Zestimates helped them in the homebuying process. Similarly, John De Souza, a northern Indiana and Michigan real estate broker and immediate past president of the Indiana Association of Realtors, said Zestimates are a very commonly used tool.
According to Zillow, its customers appreciate the Zestimates because their homes are their most valuable assets, and they want to make sure they are asking and/or paying the appropriate amount for those assets. De Souza conceded that sometimes, Zestimates can be fairly accurate.
"But when they're off," he said, "they're off."
De Souza himself purchased a home last year in a neighborhood that has recently appreciated. However, the Zestimate now listed for his home is roughly $107,000 less than what he paid — a 60 percent error.
When those types of errors occur, De Souza said it makes his job more difficult because he has to explain to clients that they are asking or offering too much or too little. He also has to explain that banks rely on official appraisals, not online estimates, so clients might not be able to get a loan for the price they think is fair based on Zillow's valuation.
Educating the public
All parties agree that the lesson to be taken away from this litigation is the importance of education. From Zillow's perspective, Wynne Otter said the company tries to explain to concerned consumers that the Zestimates are just that — estimates — and won't affect the actual value of their homes. Those conversations generally put Zillow users at ease, she said.
 
De Souza
From a real estate perspective, Hocker and De Souza said the questions surrounding Zestimates underscore the need for home buyers and sellers to seek professional assistance. Rather than relying on an online estimate that might not be accurate, they said it's better to seek professional advice to avoid under or overpaying for a property.
The benefit of such advice, De Souza said, is that realtors know their markets and have a better understanding of market trends.
Hocker agreed, adding that "it does pay to do your due diligence and talk to true professionals — attorneys or Realtors — before you commit to something."•
Please enable JavaScript to view this content.