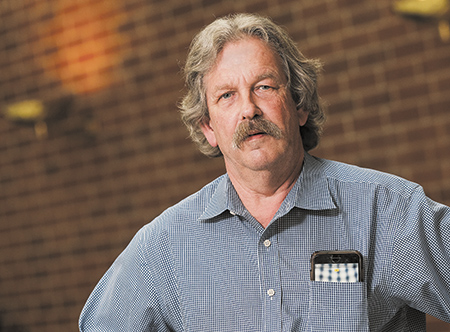 Sometime in August, attorney Bret Clement will start driving to work with a notebook in the passenger seat of his car.
He will toy around with words during his 35-minute commute into downtown Indianapolis, sometimes thinking of common sayings, then substituting in different words, pulling terms from the law or drawing inspiration from current events. When he pulls up to a stoplight, he will grab the notebook and jot down the combinations that have potential.
What goes into the notebook may eventually become the names of the newest daylilies he has created. The president of Ayres Carr & Sullivan, PC, has been growing and crossbreeding the colorful fun flowers for nearly 20 years. He has established Clement Daylily Gardens, where he plants, mulches, waters, weeds and cares for the perennials he offers for sale.
His interest in daylilies has been sustained by the "amazing thrill of being able to go out in the summer and see the new ones bloom and know it's something you had a major role in creating."
Daylilies, or as they are known by science, Hemerocallis, trace their roots to Asia but were introduced to Europe in the 1500s or 1600s and eventually made their way across the Atlantic Ocean to America. The green leaves cascade out from the plant, resembling corn, which is the plant's genetic relative, and the flowers feature petals that peel back to greet the sun and show off their vibrant colors. At the end of the day, the blooms close and die, making way for fresh blooms the next day or the day after.
"It's just something I do," Clement said of his daylily gardening. "If I've had a tough day at work, it can be relaxing."
From seed to flower
Clement first planted daylilies at his home because he did not like having to mow along a fence in his yard. At the suggestion of his former law partner, the late Gene Wilkins, Clement went to a gardening center, bought a couple bunches of the flowers, dug up the grass by the fence and tossed the daylilies into the ground.
The tedious mowing chore was eliminated and Clement was content until one summer when he noticed the daylilies had become beautiful almost by accident. That blossomed his interest, and he began reading and researching about daylilies before eventually trying his skills at creating new ones through cross-pollination.
Clement makes his approach to hybridization sound easy. He maintains that he finds a trait he thinks would be a good parent and then walks through his seedling beds looking for another daylily that has other traits that might pair well.
However, the process can be painstaking. Only a small percentage of the daylilies crossed produce the seed pod, and sometimes those seeds will not germinate. Next comes a long wait because some new daylilies can take four years to bloom, and what does eventually bloom might be, well, ugly.
Clement will pull the disappointments from his garden and throw them into a pile to make room for the flowers he wants to keep. The daylilies he continues to cultivate and sell are stunning, with bright throats of green and yellow and petals splashed with rich, deep purples and reds. Some have a darker hue around the throat, known as the eye, and others have a lighter pigment surrounding the throat, known as a watermark.
Lately, Clement has been working to create daylilies that have patterns of color on petals that fall into unusual shapes. The petal forms can range from being pinched to twisting, curling or cascading.
"You don't worry about the disappointments," Clement said. "You look at the things that work and thank God for them."
Leaving something behind
Clement, a University of Notre Dame graduate who "crossed enemy lines" to earn a J.D. at the University of Michigan Law School in 1979, has dovetailed his enthusiasm for daylilies with his legal knowledge to serve as the general counsel and parliamentarian of the American Daylily Society.
Judie Branson, president of the Society, was so taken when she first encountered daylilies that she bought some that very day and planted them in her yard that evening. Now, leading the national organization, Branson relies on Clement for advice and guidance.
"Bret is very quiet, he doesn't say much," Branson said. "But he tells it like it is whenever he's asked a question."
Branson also noted the skill and knowledge required to hybridize daylilies on the level that Clement does. The work is meticulous, very detailed and requires great patience. "Bret definitely has that," she said.
Once Clement decides to market one of his new of daylilies, he first registers it with the American Daylily Society, which requires submitting a photo, lineage, $20 and, of course, a name. The car trip obviously fosters a lot of creativity that sprouts unique monikers like "It Was A Trump and Stormy Night," "Four Score and Seven Cats Ago," "Plausible Deniability" and "Zeus Da Goose."
When one daylily really propagated, Clement tapped into his business acumen and tagged it with a name he thought would attract customers – Clowns in Washington. Demand was so high the flowers practically flew out of his garden, and many of them, he noted, landed in the D.C. area.
Clement is busy with his daylilies on most weekends from April to November. During the height of the summer, when the blooms are full, he will work every day in the garden from 6 to 8:30 a.m., then hop into his car and head to his law firm.
Ironically, he hopes the flower that lasts only a day might enable him to create a lasting legacy of beauty.
"Very few of us can leave anything behind," Clement said. "My hope is that after I'm long gone, somebody will be growing my flowers."•
 
Please enable JavaScript to view this content.