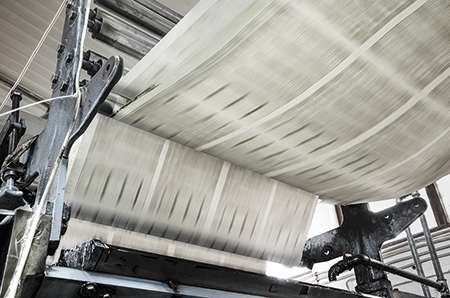 U.S. Supreme Court Justice Clarence Thomas stood alone recently when he suggested reconsidering five decades worth of libel law standards.
In a proposal earlier this year to reconsider the landmark ruling in New York Times Co. v. Sullivan, 376 U.S. 254 (1964), Thomas argued the nation's libel laws make it too difficult for public officials to win libel suits.
The absence of another justice in Thomas' dissent is notable, according to Bingham Greenebaum Doll LLP partner Dan Byron.
"That told me something," the media and First Amendment attorney said. "If Gorsuch and Kavanaugh would not join in the dissent, that means that they did not approve of the language or the idea."
In a rare and heralded 9-0 decision, Sullivan became the nation's foundation for protecting First Amendment free speech, and particularly freedom of the press.
That decision created a higher standard of proof for public officials trying to win libel suits. Under the ruling, plaintiffs must prove a defendant acted with actual malice, or that they published a statement with reckless disregard for the truth. Its goal was to encourage and protect robust debate about public issues, while preventing restriction on political discourse.
"It was the first time the plaintiff had to prove actual malice," Byron said. "When you have actual malice as a standard, then you have to establish that you the reporter actually entertained a serious doubt, and you have to prove that by clear and convincing evidence. That's a very high standard of proof."
Although that precedent has remained rock-solid for First Amendment defenders for more than 50 years, Thomas' call for reconsideration begs the question: Could libel laws protecting the press ever be in jeopardy of change?
'Easier for plaintiffs to sue'
Byron
The answer to that question, Byron said, is probably not.
"What Thomas wants to do is change that law to make it easier for plaintiffs to sue, which means that the press would spend most of their time fighting lawsuits and spending a lot of money," he said.
But the chances of changing the law seems very unlikely, he noted, because the act of altering them isn't as simple as some may think.
"When you hear of folks like President Trump saying we'll change the libel laws, that's not really how it works," said Jen Nelson of the Reporters Committee for Freedom of the Press.
Nelson
"Things like actual malice and negligence, these standards have been developed over decades of jurisprudence through the courts," she continued. "It's a bit different than simply 'opening up the libel laws.'"
Nelson noted that altering decades of Supreme Court caselaw is not so simple. But in the unexpected event that Sullivan and other First Amendment rulings are reconsidered, a former journalist predicted the number of libel suits would increase, as well as the number of reporters self-censoring.
Indiana University Media School professor Gerry Lanosga said in his 20 years of practicing journalism, he's had plenty of time to consider the impact of libel on the press. He's seen firsthand that the chilling effect looms large in the consciousness of journalists.
Lanosga
"It's not necessarily a bad thing because it helps reporters self-police to make sure that what they're publishing is as accurate as can be," Lanosga said. "But if the laws changed to the extent that it can be very easy for a public official to file suit without quick summary judgment … I think the consequences would be undesirable to say the least."
Lanosga noted that when mistakes are made in the newsroom, publishers, editors and journalists typically own up or face swift consequences.
"They don't need to be forced by courts of law," he said. "They get fired; corrections are promptly published. The Sullivan standard is working fine."
Chilling effects
Regardless, chilled speech is the primary threat against public discourse and the press's duty to report on matters of public interest, Lanosga said. Byron concurred, noting that freedom of the press is critical for the exchange of ideas, as well as the press's ability to operate without the constant fear of being sued if they make a mistake.
But things get dangerous for the press — and the public — when retaliatory threats of libel lawsuits make their way to media company offices.
"The press will clam up and would probably report very little if they thought that every time they wrote a negative story about a politician or anyone, that they would automatically be sued," Byron said. "If you don't have a nonpunitive exchange of ideas in the marketplace about anything, then you really don't have a democratic society."
Barnes and Thornburg LLP partner Steven Badger agreed, noting that some public officials are willing to make threats of libel lawsuits in order to stifle criticism.
"If that occurs, there will essentially be less information available to the public about the affairs of government and matters of public interest, and society in general will be harmed by that," Badger said.
In another effort to keep that from happening, many states have enacted anti-SLAPP statutes to protect defamation defendants. If a claim appears to be a "strategic lawsuit against public participation," anti-SLAPP statutes aim to safeguard First Amendment rights by ensuring defamation cases with merit move forward while quickly extinguishing frivolous claims.
That in turn benefits the public, Nelson said. Otherwise, information that would be of a benefit to the general public would be withheld if the press resists reporting on an issue of public concern for fear of receiving a summons.
An example of such a case was heard before the Indiana Court of Appeals last month in Kevin Pack v. Truth Publishing Company, Inc., and John S. Dille, III, 18A-PL-01742. There, a former teacher at Northridge High School in Middlebury alleged The Elkhart Truth defamed him in an article it wrote concerning a federal suit Pack had filed against the school for firing him.
Pack argued the journalist who wrote the article defamed him by referring to Pack's "incompetence" as a reason for his termination, while contending the case was not a public matter, and that the journalist did not properly report the facts.
"Reporters are not in Kansas anymore," Pack's attorney James Ayers told Indiana Lawyer. "They are knowingly seeking viral attention, and someone should see that there are consequences for damage done by malicious (knowingly incorrect) or patently incompetent reporting."
However, the defendant maintained the opposite in arguing that the article was published in furtherance of free speech on an issue of public interest and that the case had been correctly dismissed under Indiana's Anti-SLAPP Act.
Unlike the assertions made in Pack, Byron said in his more than 55 years of practice, he's never seen a reporter print a story while entertaining a serious doubt about the truth.
"I would say it's exceedingly rare that someone would actually, intentionally, or with reckless disregard commit actual malice," he said.
Byron pointed out that America's libel laws are favorable to the press, which reduces the already-slim likelihood that Sullivan will be reconsidered in the future. Even if they were to be reconsidered, anti-SLAPP statutes would also support free speech.
"There is no other country that is as strongly supportive of free press as this country," he said.•

Please enable JavaScript to view this content.