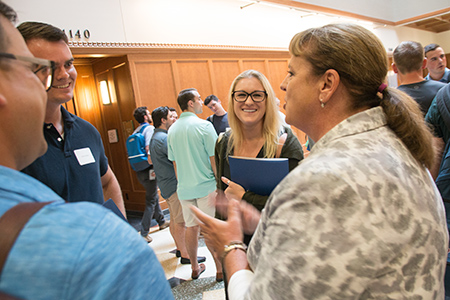 Courtship season is in full bloom, but forget loving and cherishing — these "marriages" are about test scores, rankings and scholarships.
Law schools are proposing their final offers of admission and waiting to see who accepts, while applicants are trying to decide where to enroll and, in some cases, asking their top choices for more financial assistance. All are hoping for a match that sustains, if not improves, law schools' individual reputations and that provides applicants an entrance to top jobs and clerkships.
"At the end of the day, we don't really want them here unless they're going to be happy," said Austen Parrish, dean of Indiana University Maurer School of Law.
Parrish
How to find that "best fit" — the law schools and applicants meant to be together — is a long, difficult process.
For nine to 12 months, law schools look at the hard factors, such as a candidate's LSAT score and undergraduate GPA, along with the soft factors, like interesting experiences, work history, and how he or she overcame adversity. At the same time, applicants are looking at law schools' U.S. News and World Report rankings along with the job outcomes and student loan debt.
The wrong choice can have painful, long-term consequences.
Picking applicants who, in the end, cannot complete the J.D. program or pass the bar exam could lower a law school's ranking and might endanger its accreditation. Paying full tuition but not getting a law job that pays at or near the top of the associate salary scale could put the applicant in financial distress.
IU Maurer has been routinely enrolling first-year classes that boast a median LSAT in the low 160s and a median GPA between 3.7 and 3.8. Competition for top students is fierce, Parrish said, but finding the applicant who will be successful requires looking behind the numbers.
Candidates who have studied more rigorous majors and taken advanced classes will be more attractive to IU Maurer. Or, if the potential student finished a bachelor's degree awhile ago and has been working, the law school will look his or her accomplishments.
As undergraduates, many applicants have done amazing things, Parrish said. They have traveled, volunteered and participated in first-rate externships.
Choosing an applicant can be difficult. In addition to looking for smart, interesting people, the dean said, IU Maurer also wants applicants who stand apart by having been genuine and thoughtful about applying and articulating why Indiana would be a good fit for them.
"We want to have the best faculty, best students and best school in Bloomington," Parrish said.
Standing out
Other law schools across the country are also searching for the best fit.
Data shows Law School Admission Test scores and applications are increasing. According to the Law School Admission Council, the percentage of 2019 law school applicants who have scored between 155 and 164 on the LSAT has risen over the previous year. Also, the number who applied to law schools climbed 8 percent to 45,600 for the 2018-2019 academic year and has ticked up another 2.5 percent to 46,800 for the 2019-2020.
However, law schools have not been growing their enrollments accordingly. LSAC data shows the 1L class for the 2018-2019 academic year totaled 38,400, a 2.7 percent increase over the prior year. As more apply, competition is ramping up as law schools hold class sizes but try to entice higher-quality students. Law schools are primarily looking at the test scores and grades.
"The numbers matter a lot more so than applicants like to believe," said Anna Ivey, former dean of admissions for the University of Chicago Law School and founder of Ivey Consulting, which helps applicants navigate the law school admission processes.
A high LSAT score and GPA, Ivey said, can make the candidate more attractive to top schools and bring higher scholarship amounts. Investing the time and money into preparing for the LSAT is critical and can bring substantial rewards, she said.
Ivey
Kellye Testy, president and CEO of the LSAC, described the LSAT as the "on-ramp to law school." Specifically, the preparation to take the exam begins to develop the applicant's critical thinking and analytical reasoning skills that will be exercised throughout law school and as a lawyer.
While the LSAT has been a good indicator of who will thrive in law school, Testy cautioned applicants against concentrating only on the test and not giving attention to the other steps in the admissions process. The personal statement and letters of recommendations are also considered by law schools.
"You're not your numbers," Testy said. "You are a whole person. You will be looked at as a whole person by the schools."
Walking away
Ivey believes a little innovation in admissions processes could help law schools better find the applicants they want.
In particular, law schools could draw inspiration from MBA programs and pose different essay questions to applicants, she said. Little has changed in law school admissions, and potential students often are required to write two pages about what the admissions committee should know about the applicant.
Ivey thinks the answers would be more revealing if law schools asked, "Tell us about the time you failed" or "What matters to you and why?"
Baska
Jacob Baska, director of admissions and financial aid at Notre Dame Law School, concurred that the soft factors can help separate from the pool of high achievers the applicants who would do well in South Bend. Echoing Parrish, Baska noted the importance of putting the LSAT score and GPA average in context but also the need to find the applicants who will bring different perspectives and experiences into the classroom, enriching the education of the entire student body.
Notre Dame's entering 1Ls have consistently arrived with a median LSAT in the mid-160s and in the past few years have boasted a median GPA slightly above 3.7.
Once the applications start being filed in the fall, the law school begins tracking the pool. Baska explained his team will keep tabs on whether the number of applicants as well as the median LSAT scores and GPAs are up or down compared to past years. Adjustments will then be made, not just regarding the scores but also the mix of personal backgrounds as well to get a diverse class.
The goal, Baska said, is finding the students who will be a good fit at Notre Dame. "We want to make sure we can assist them in getting where they want to go," he said.
Killoran
Ditto for the applicants, according to David Killoran, CEO of PowerScore, a business that helps individuals navigate the LSAT and law school admissions. In the post-Recession era, those considering a J.D. degree are much more sophisticated than they were 10 years ago in terms of researching law schools and trading information with other applicants.
They are aware of the employment stats and student debt level for each school, Killoran said. And they have heard the horror stories from the previous graduates who could not find lawyer jobs. The applicants are paying attention to financial offers and are not shy about letting their top picks know they need a higher scholarship amount before making a commitment.
However, playing perhaps an oversized role in their decision-making is the law school's rank. Applicants can agonize over whether to pay more to attend a top-tier institution or accept a better scholarship from a lower-ranked school, Killoran said. This time of year, he is usually in daily conversations with his clients trying to help them determine which law school will be right for them.
If they do not get what they want, many times that's it. Killoran has been seeing applicants walk away from their pursuit of legal education and move forward in a different career with no regrets about leaving law schools at the altar.•
Please enable JavaScript to view this content.