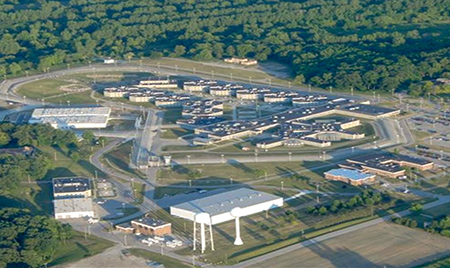 When a defendant is convicted and sentenced to prison, it's expected that they will be required to work while incarcerated. But a group of inmates at the New Castle Correctional Facility, Indiana's only privately run state prison, have brought a unique legal challenge that could limit the scope of what inmates at private prisons are required to do.
The class-action case of Damarcus Figgs and David Corbin v. GEO Group, Inc., 1:18-cv-00089, alleges inmates in New Castle's Mental Health Unit are the victims of human trafficking and are subjected to forced labor. Transferred to the MHU for "stabilization," the inmates say they've been detained in the mental health unit for longer than necessary in order to turn a profit for the prison's private operator, Florida-based GEO Group.
Similar challenges have been brought before, though generally in the context of federal immigration detention centers. But what sets Figgs apart is that the case seemingly marks the first time a judge has ruled that a private prison operator can be liable for human trafficking in a punitive setting.
The merits of the case have yet to be litigated, but even if it doesn't succeed, attorneys say Figgs could represent a major turning point in acceptable prison operations.
 
Frank
"The defendant here is not the government," said David Frank, a Fort Wayne attorney representing the class plaintiffs. "The defendant is a private, for-profit corporation that has as its business model the exploitation of human beings in violation of human rights."
Surviving claims
Figgs was initially filed in Henry Circuit Court but was later removed to the U.S. District Court for the Southern District of Indiana. The named plaintiffs, Figgs and Corbin, each suffer from antisocial personality disorder and serious depression, while Corbin also suffers from post-traumatic stress disorder.
The plaintiffs, a class of roughly 100 inmates in the mental health unit, were each sent to the MHU after suffering trauma in prison, the complaint says. They are supposed to remain in the MHU for three to six months, the complaint continues, but "class members are almost always held longer than three months, usually longer than six months at the MHU, and at times for years."
Frank's argument included numerous legal claims, including peonage, Eighth and 14th Amendment violations, claims under the Americans with Disabilities Act and state law torts. But the only claims to survive were two brought under the Trafficking Victims Protection Act: forced labor in violation of 18 United States Code section 1589 and trafficking in violation of 18 U.S.C. 1590.
"Because the facts as stated by the Plaintiffs are taken as true for purposes of a motion to dismiss, the Court must accept that they are forced to work for GEO without wages (or miniscule wages of $10.00 per month), the purpose of that work is to turn a profit for GEO, and that GEO 'obtains [its] persons and labor by scheme of misrepresentation and deceitfully holding itself out as a facility that would assist Plaintiffs,'" Judge Tanya Walton Pratt wrote in partially denying the motion to dismiss. "The Court must also accept that 'the conditions under which they perform services for [GEO] are harmful and include long periods of segregation and isolation, few breaks, and routine shackling.'
"Although the Court can determine as a matter of law whether the Plaintiffs have alleged sufficient facts that would give rise to a statutory duty on the part of the Defendants," Pratt continued, "whether that statute has been violated is a question for the trier of fact."
Innovative anomaly
In urging the court to grant its motion to dismiss, GEO argued the TVPA carves out a "civic duty" exception that allows inmates to be required to perform chores and maintenance. But Pratt said that duty, outlined in Channer v. Hall, 112 F.3d 214 (5th Cir. 1997), only applied to the federal government and only in 13th Amendment cases.
The 13th Amendment does allow for punitive involuntary servitude, but Frank said the TVPA is a broader human-rights statute that is more specific about what conduct is prohibited by labor trafficking laws. Further, inmates are sentenced to incarceration, he said, not enslavement.
"Under federal law, it is now recognized as a principle that you cannot be subjected to slavery, no matter who you are," Frank said.
The key factor in this case is that the defendant is a private prison corporation seeking to turn a profit, Frank said. Indeed, most cases brought under the TVPA deal with federal immigration detention centers, said Alex Levy, senior staff attorney with The Human Trafficking Legal Center.
In many ways, a case against forced labor in immigration centers is easier to make, Levy said, because the 13th Amendment only carves out an exception for involuntary servitude that is punitive. Immigrants held in detention centers have not been convicted of a crime, she said, so that exception cannot apply to them.
 
Shahshahani
Often, immigrants in detention centers are expected to participate in a work program, said Azadeh Shahshanani, legal and advocacy director for Atlanta-based Project South. Detainees who refuse to participate in the work programs are either threatened with or placed in solitary confinement, much the same way the plaintiffs in Figgs say they are threatened for failure to complete the work GEO asks of them.
Like Figgs, Project South has brought an anti-trafficking case against a Georgia detention center on statutory grounds, Shahshahani said. But the difference between her case and Frank's is that detention centers are civil, not criminal.
To that end, Levy said Frank's anti-trafficking argument against punitive labor in private prisons is an innovative anomaly. Though it's unclear how the Figgs claims will fare on the merits, if those claims were to be successful, Levy said, "it could upend the entire prison system."
Movement away?
Frank is confident Pratt will rule in favor of his clients on the merits and award them injunctive relief and damages. And from a broader perspective, he hopes the case will undercut private prison corporations.
"I think this decision calls into question the entire business model of for-profit prison corporations," he said, adding that "it necessarily has to be that their business model is illegal."
Likewise, Levy said there is a "reasonable intuition that private companies should not be profiting from incarceration and the labor that comes with it," and the public is often "aghast" to learn that such a business model exists. But bad optics don't inherently make private prison corporations unconstitutional, she said.
For its part, GEO said in a statement that the Figgs allegations are "baseless and without merit."
"The work program at the New Castle Correctional Facility is implemented in full compliance with the standards and procedures, as well as the wage rates, set by the Indiana Department of Correction," the company said. DOC did not respond to requests for comment on the litigation.
At the federal level, there was a movement away from privately operated federal prisons during the Obama administration, when Deputy Attorney General Sally Yates distributed a memo telling the Bureau of Prisons to either not renew private prison contracts, or to reduce the scope of those contracts. But former Trump Attorney General Jeff Sessions reversed that memo, saying it impaired the BOP's ability to plan for future prison populations.
GEO filed an answer to the Figgs complaint last month, and the case has been transferred to Magistrate Judge Matthew P. Brookman. A status conference is scheduled for Aug. 27.•
Please enable JavaScript to view this content.