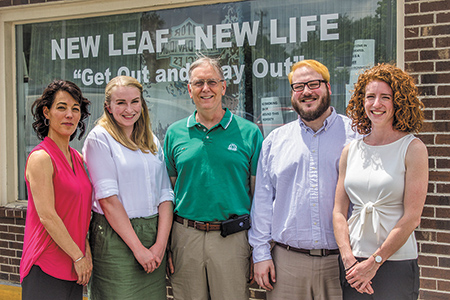 Behind the facade of his successful business and societal ties, Max Smith was a drug addict. Well into middle age, Smith found himself entangled in the criminal justice system after racking up several drug-related felonies in 2015 that landed him in the Monroe County Jail.
The disconnect between what others saw of him and what Smith knew to be true about his addiction left him feeling marginalized and unwelcome in his community. It wasn't until Smith encountered a group of volunteers from Bloomington re-entry nonprofit New Leaf New Life that his perspective was altered on who he had been and who he could be.
Beheydt
Around the same time, four Indiana University Maurer School of Law 1Ls were developing a strategy to further the goals of local legal service providers. The students — Jessica Beheydt, David Medley, Ingrid Barce and Natalie Fiacco — developed the idea of an ongoing initiative that could offer free expungement services to those hindered by a criminal record.
As 2019 law school graduates, that team's collaboration, persistence and vision led their paths to cross with Smith's and others like him. As a result, a new partnership has formed between IU Maurer, Indiana Legal Services and New Leaf New Life to launch the Expungement Help Desk in Bloomington this fall.
"I'm absolutely thrilled," Beheydt said. "It's amazing what three years of work will do, to see a project from its infancy to its implementation."
Cleaning up
"If you know how to do it, it's relatively straightforward," Beheydt said of expungements. "But for a lay person, it's complicated and scary. You may only have to do it once, but if you get it wrong, that's a big problem."
Beheydt, who is also a 2019 Skadden Fellow, plans to help kickstart the initiative's launch when she begins her work with ILS' Bloomington division in August.
Watching the project come to fruition took a lot of time and work, she said, adding that the Bloomington project was inspired, in part, by ILS' Indianapolis expungement help desk. While working with ILS during law school, Beheydt realized that if interested law students could be properly trained, they could easily knock out numerous expungements in a single day.
After receiving the green light from ILS executive director Jon Laramore to make that idea a reality, arrangements were made for local ILS attorney Beth Silberstein to supervise the students' work. Thus, the initiative was set in motion.
How it works
Eligible expungement requests received by ILS Bloomington will be sent to the help desk, where at least two law students per semester will do the legwork to gather information and draft expungements and related documents.
Selected student leaders will ensure the work is complete and thorough before it lands on Silberstein's desk for final review. The supervising attorney will confirm the work complies with Indiana law, and if everything checks out, the completed expungement file will be returned to the student.
An appointment will then be scheduled with the client and student to hand over the files, if possible. From that point, it's up to the client if they move forward with filing, Beheydt said.
So far, 30 students have volunteered to work on a rotating schedule, Beheydt said. Between two and four students will work the desk at a time, and at least two of those will receive class credit through an ILS externship.
The desk will be housed inside the New Leaf facility and will be open to the community two days a week. Students will be provided with the physical space to work and meet with clients, allowing them to plant themselves in the community.
Meeting needs
New Leaf secretary David Meyer said keeping the help desk on site instead of in a law office should foster a sense of familiarity and comfort with clients. That, in turn, will allow connections to be formed and doors to be opened.
Meyer
"We're about transforming lives so that people can reintegrate back into society," Meyer said. "Expungements remove a ball and chain from our clients that prevents them from being able to be successful at work, or in other areas of their lives."
Carrying around a criminal record forces people to live as second-class citizens, Meyer said. He anticipates interest from the community, as the help desk seems to be a good fit for the work already conducted at New Leaf.
The need for expungements in the Bloomington area is dire, Meyer said, and the initiative's services could act an empowerment tool.
The number of expungement petitions filed by unrepresented Hoosiers, in particular, has skyrocketed in recent years, according to an Indiana Civil Legal Needs Study. Unrepresented expungement petitions climbed more than 135 percent in just one year, from 421 petitions in 2015 to 995 petitions in 2016, according to the study.
Moving forward
Smith, who now serves on the New Leaf board of directors, said he plans to take advantage of the initiative's services when he is eligible and looks forward to getting his record cleaned up.
"I'm really stoked about this expungement desk," Smith said, "Because the way our system works right now, if you're tagged with a felony, it makes it much more difficult for you to function as a normal person."
Smith hopes to welcome those who feel isolated and hindered from moving forward with their lives because of struggles in securing better housing and employment. Those are two main hurdles to growth for people with a felony conviction, Meyer said.
New Leaf board member Craig Grimes encountered those hurdles firsthand when he was denied a job at Lowes for his possession and dealing felonies.
"There are convicted felons that get jobs all the time," Grimes said, "but it may not be anything more than a $7.25 per hour fast food job that puts them right back in an environment where they've used before."
Shame and fear associated with a tainted record can also shut people down, Grimes said — another unfortunate reality of living with a felony record.
"Our clients may have accepted the fact that they have this stain on their record and learned to live with it, instead of knowing that they can do something about it," Meyer said.
Raising awareness
"Our sense is that there is a fundamental lack of knowledge of what is available to people with an expungement," Meyer said. "It's something that will need to percolate within the community so they understand why they should do this."
Beheydt agreed education is key. Word-of-mouth will be the biggest influencer among newly released inmates and community members, she said.
Informing judges, prosecutors and court staff is also crucial. An informative handout detailing services offered at the help desk is being finalized and will be distributed to the community, Beheydt said.
"And the clerks, judges and staff will love that, because they often get people asking for legal advice and they always have to say, 'We're not allowed to give legal advice, go to this agency.'" Silberstein added. "I think they are going to love being able to say, 'Here's a resource for you.'"
But without a fostered sense of community and commitment, change will be challenging, Grimes said. He intends to seek an expungement and is excited about the initiative, but he needs more information and guidance on how to proceed first.
"You can give them all the information in the world, but they don't know what to do with it," he said. "They need someone to sit down with them and spend time talking to them, letting them know what they need to do and what the benefits are."
Smith agreed, noting the movement can't progress without knowledge.
"It's about people connecting with people who connect with people," Smith said. "That's what I'm most excited about with the help desk — being able to spread the word about it to others."•
Please enable JavaScript to view this content.