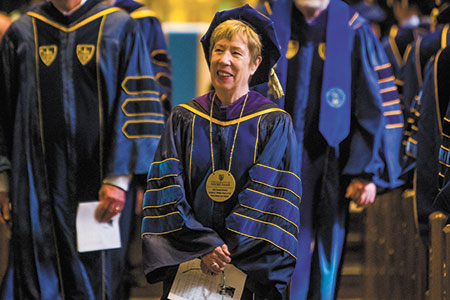 As a Berkeley dropout, Nell Jessup Newton was introduced to the legal profession through a legal aid office in San Francisco, where she was first hired to be the receptionist before being promoted to a paralegal.
Newton came to realize, as many around her were encouraging her to do, that she should become a lawyer. So, she returned Berkeley, finished her bachelor's degree in humanities with an emphasis on ancient Greek, then enrolled in Hastings College of Law at the University of California, where she completed her J.D. degree.
From there, Newton entered academia, eventually returning to lead Hastings before getting lured away to serve as the dean of Notre Dame Law School in South Bend.
But Newton never lost her allegiance to the staff. At the law school, they answer the phones, keep track of the finances, retrieve keys accidentally dropped down the elevator shaft, plan orientation, help students prepare for job interviews and handle all the other tasks that enable the professors and students to concentrate on studying the law.
Perhaps not surprisingly, the individuals who "keep the trains running on time" at the Notre Dame Law School have a special affinity for Newton. The staff hosted an informal afternoon reception on the last Wednesday in May to recognize and thank her for her leadership as she prepares to step down as dean at the end of June.
When Newton walked into the darkened conference room, the staff yelled, "Surprise!" As the lights were turned on, they applauded and applauded and kept on applauding.
Newton has led the law school since 2009 and maintains a decade was the "ideal length" to accomplish all she wanted at Notre Dame. After a sabbatical teaching at the school's law programs in London and Washington, D.C., she plans to return to the classroom in South Bend.
"I'm so glad I get to be a faculty member and hang out with you people," Newton told the staff.
By the time Newton arrived at Notre Dame, she had already built a significant career in legal education, holding faculty positions at eight law schools and leading four as dean. Upon receiving her J.D., she planned to return to legal aid work, but at the encouragement of her constitutional law professor, she entered academia, first teaching legal writing at Catholic University in Washington, D.C.
Robert Jones, associate dean for experiential programs, credited Newton's extensive experience in higher education with guiding Notre Dame through the challenges brought by the Great Recession and its aftermath. The Fighting Irish did not go through the upheaval some other law schools did because, Jones said, Newton kept a steady hand on the tiller and not only guided Notre Dame through the storm, but developed and expanded programs.
"She quietly and very thoughtfully moved us forward," Jones said.
Developing lawyers
In particular, the number and diversity of the externships and legal clinics grew under Newton's leadership. The clinics added mediation, intellectual property, tax and transaction work along with the traditional litigation experience. Also, the externships grew to include immersive semester-long stints in Chicago, Washington, D.C., and London.
Grisier
Matthew Grisier, a 2019 Notre Dame Law School graduate, worked during the spring 2018 semester in the U.S. Department of Justice as part of the externship program in the nation's capital. Already looking to pursue a career in federal prosecution, Grisier said the experience gave him valuable insight into the demands of the job and helped him get hired as an attorney by the Justice Department after he received his law degree.
Newton taught the seminar that accompanied Grisier's externship. Each Wednesday after work, the Notre Dame students would gather at Kirkland & Ellis LLP for dinner and study while the dean taught, alternating between teaching in-person and by Skype. Over the semester, the students wrote a series of papers and reflected on what it means to be a lawyer from Notre Dame.
Grisier, who was in Newton's contracts class as a 1L, pointed to the students as the dean's legacy. Newton, he said, was genuine and "lightning-quick" with a good story. She worked to engage the students and fostered a warm environment at the law school so that it was a place where everyone had opportunities to succeed.
When Newton had an idea for a new initiative or saw that a student needed a financial boost to get over some bad luck, she would ask Mary Catherine Roemer, assistant dean for law school administration who supervised the law school's operating budget, if the funds were available. Roemer would explain that shifting money to the new effort would take away from other programs, but she never said no because she could always hear the passion behind the dean's ask.
"I think people probably underestimate her concern for the students," Roemer said. "I think sometimes she got a bad rap that the administration wasn't there for the students. She was there for the students."
'Newton is NDLS'
Vincent Versagli was a member of the team Newton assembled to help the law school's graduates get jobs. He, like his colleagues in career services, came directly from law firms, in-house legal departments and public interest organizations and brought an understanding of the fundamentally changing employment market for lawyers.
They had fresh ideas, Versagli said, and built a culture in which the students realized they needed to devote significant time to their job searches. Some things worked and others didn't, but Newton took a hands-off approach and the culture has since developed to where the students are now making presentations and sharing their work experiences with their fellow students.
"Dean Newton is Notre Dame Law School and Notre Dame Law School is where it is now because of Dean Newton," said Versagli, now director of career development. "… The resources and opportunities that are available now to students are so much greater than what they were before, and it's all because of her vision."
Gustin
Erika Gustin, class of 2019, is headed to Carlsmith Ball LLP in Hawaii. She began her studies at Notre Dame by taking Newton's contracts class and has appreciated more and more the dean's rigorous approach, mixing hands-on activities with lectures and requiring the students take the exams without using notes or an outline.
The Arizona native maintained a close relationship with Newton, periodically checking in to provide an update on her studies and get general life advice. Gustin said the dean was instrumental in helping her and her classmates establish the Exoneration Project at the law school, but also through her example, Newton showed Gustin how, as a woman, to command attention in any room and present her ideas without apology.
"For the law school in general, and for me specifically, I really don't think we would have had the same robust diversity of experiences we have had with Dean Newton," Gustin said.
Christine Holst, student services program manager, has helped Newton maintain connections with the students even as she juggles the demands of being dean. Newton has made time to congratulate students who are doing well academically and worked closely with student organizations to bring in speakers or create a relationship with donors.
The dean has been just as attentive to the staff, Holst said. Newton has been supportive of the administrative employees, giving them room to exercise their ideas, iron out the details and run with her suggestions. She trusted the staff to take care of the day-to-day tasks.
"If you think about 10 years, what did it look like for law schools in 2009 when she was coming in and where we are now, she's really leaving a place that allowed students to flourish and be those different kind of lawyers," Holst said, referring to Notre Dame's mission to produce a "different kind of lawyer." "She's got a legacy to be proud of."•
Please enable JavaScript to view this content.