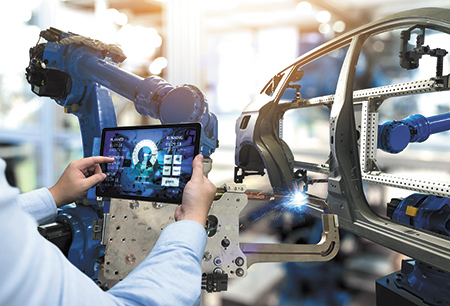 The days of a dark, smoky factory filled with men pushing buttons to keep the machines running are long gone.
Instead, today's manufacturing plants are high-tech, diversely staffed and even clean. Robots automate production and improve efficiency. And the people tasked with operating the robots aren't just button pushers — they're trained technologists who understand the inner workings of complex machinery.
These are the days of manufacturing 4.0, the name of the fourth industrial revolution marked by connectivity among the devices that keep a factory running. In an "internet of things" world, the industrial internet of things allows plant machinery and products to talk to each other and provide real-time data and updates on how the equipment is operating and how the products are functioning out in the market.
This technological shift in the manufacturing industry has been a years-long process, but recently the focus on automation of plant operations has outpaced even the focus on workforce development. Manufacturers are still searching for skilled workers to fill technology-driven positions, but they're also turning to automation to supplement human labor.
This focus on automation creates a host of new legal questions for manufacturers, particularly in the realm of data privacy. As this area of the law continues to develop, attorneys working in the manufacturing industry say they're taking steps to keep up with industry standards and help their clients navigate the new world of automated production.
Slow shift
For years, "workforce development" has been the mantra of the Hoosier manufacturing industry. Businesses bemoaned the lack of workers having the technical skills needed to run their machines, prompting government officials to implement initiative after initiative designed to give more Hoosier workers the requisite training.
Indeed, as recently as 2014, more than half of all manufacturers in Indiana, 55 percent, said workforce development was their top priority for the year, with only 27 percent saying the same about automation. But in 2015, the gap between those two priorities began to close, with workforce development and automation being the top concern for 44 and 43 percent of manufacturers, respectively.
By 2017, automation was the main concern for 52 percent of manufacturers, while 39 percent said the same of workforce development. The gap was further widened in 2018, when 58 percent of manufacturers listed automation as their top priority, compared with 37 percent primarily focusing on workforce development.
 
Berger
This shift in priorities, reported in the 2018 Indiana Manufacturing Survey, is indicative of two shifts in the industry, said Andrew Berger, senior vice president for government affairs for the Indiana Manufacturers Association. First, in keeping with tradition, there is still a lack of skilled workers available to Hoosier manufacturers, so companies are turning to technology to fill the gaps.
But secondly and more broadly, Berger said technology is creating new opportunities to increase efficiency and productivity, making it a necessity to remain competitive in today's automated manufacturing marketplace.
"It's not new buildings or machinery," Berger said. "It's automation and robotics that makes for new, more efficient layouts of assembly lines."
Striking a balance
 
White
The automation focus isn't specific to Indiana, though the Hoosier state is the largest manufacturing hub in the country. Jeff White, a Connecticut-based attorney who leads one of the nation's top manufacturing law practices at Robinson & Cole, said manufacturers across the country are using new technologies for multiple purposes.
First, as Berger indicated, automated equipment can be used in place of human labor when a skilled workforce isn't available. But White also sees the new technology being used to attract skilled workers to manufacturing plants.
As the baby boom generation retires, manufacturers are aware that younger workers want jobs that have a technology component, White said. These laborers don't want to simply supervise the machines — they want to work alongside them, using their technical training to run complex computer programs and ensure the technology functions properly.
"If you want to recruit the next generation of talent, these are the kinds of things they want to see — high-tech facilities, not bending metal like your typical idea of manufacturing," White said.
 
Millwood
Tim Millwood, vice president of global manufacturing at Cummins Inc., said in the field, he's seeing more of a balance between prioritizing workforce development and automation, rather than one outpacing the other. Investing in new technologies gives Cummins employees more flexibility in how they do their work, he said, and that, in turn, creates an incentive for skilled workers to join the Columbus-based business.
"We want our workforce to fully engage their brains," Millwood said. "We don't want them focused on monotonous jobs. There's not a lot of work satisfaction in that."
Connectivity
With these new high-tech jobs in the manufacturing industry come new legal questions that must be answered by attorneys working in the industry. Drew Miroff, a complex business litigation partner at Ice Miller LLP, said the biggest legal question right now is how to deal with the connectivity of technology in a manufacturing plant.
Machines on a factory floor now talk to one another, Miroff said, working together to provide real-time updates on productivity and how different pieces of equipment are being used. Millwood said the data from those "conversations" can then be used for predictive analytics about plant operations.
 
Miroff
Often, even the products made by these machines are embedded with technology that allows the manufacturer to track their use, Miroff said. White gave the example of the missing Malaysia Airlines flight MH370, which was operated by a Rolls Royce engine. After the plane's disappearance, Rolls Royce was able to review data about the engine's operations.
Though useful, such data creates new questions concerning data liability and privacy, Miroff said. Who owns that data? Who controls it? Who's in charge of monitoring it?
Then there are the cybersecurity questions. How do we protect our intellectual property? How do we guard against a hack? If we get hacked, whose fault is it?
"Is it the programmer? The owner?" Miroff said. "You've got a lot more players."
Developing law
Further compounding the manufacturing 4.0 era is the fact that the law is not developing at the same pace as the technology, Miroff said. There's not much caselaw on these new manufacturing-specific data privacy and security questions yet, forcing lawyers to get creative in how they advise manufacturing clients.
 
Keefe
Kirsten Keefe, senior counsel for regulatory and compliance for Cummins, said one way Cummins' in-house team deals with that lag time is by staying engaged with industry groups and keeping apprised of changing industry standards. Cummins' legal team also provides feedback to regulators on whether cyber-rules are reasonable in light of the industry's new direction.
Keefe also said it's important for the in-house government affairs team to work with other corporate lawyers, such as those handling intellectual property and cybersecurity matters, to ensure the legal team has a cohesive strategy for advising on the new liability issues created by automation.
Considering automation is here to stay in the manufacturing industry, Berger of the Indiana Manufacturers Association said the need for manufacturers and their attorneys to understand the risks of the new technologies will only grow.
"That's the future — the present and the future," he said.•
Please enable JavaScript to view this content.