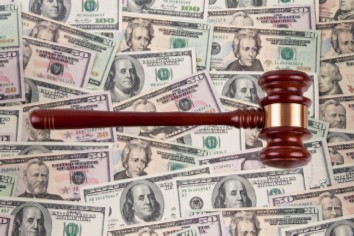 A Michigan insurance company does not have to cover losses of more than $7 million stemming from a July 2019 South Bend fire that destroyed a costume and theatrical supply retailer's warehouse, the 7th Circuit Court of Appeals ruled Tuesday.
The court affirmed the United States District Court for the Northern District of Indiana's summary judgment ruling for Frankenmuth Mutual Insurance Company in its case against Fun F/X II Inc. and Cao Enterprises II LLC.
A fire inspection company notified owner Victor Cao in September 2017 that his building's sprinkler system had no water pressure. The company's inspector and Cao immediately notified South Bend Water Works but were told there was no record of water being turned off at the warehouse or any reported water flow issues.
Cao spoke with the city fire inspector in November 2017 to attempt to resolve the issue and restore water flow. He also contacted South Bend Water Works, where an operator again told him there was no record of water being cut off at the warehouse.
The warehouse then underwent an annual inspection in 2018, and Cao was not notified of any problems.
But in July 2019, a fire destroyed all the warehouse's contents, with Fun F/X reporting an insurance claim exceeding $7 million.
The sprinkler system still had no water flowing to it, and the cause of the flow disruption wasn't discovered until after the fire.
The insurance policy issued by Frankenmuth contained an exclusion for losses resulting from Cao's failure to notify of any protective safeguard impairments, such as the lack of waterflow in the sprinkler system. The district court granted Frankenmuth summary judgment based on that notice-of-impairment exclusion, with the court noting that Cao knew of the faulty sprinkler system but failed to notify the insurance company.
In affirming the district court's summary judgment ruling, the 7th Circuit noted state law puts the burden on the insurer to demonstrate a claim is barred by an exclusion. State law also requires an insurance policy to clearly express coverage limitations.
The appeals court found that Cao had acknowledged he knew there was no water flowing to the sprinkler system on at least two occasions.
"On each occasion, he was obliged to notify Frankenmuth that his sprinkler system had no working water source," Senior Judge David Hamilton wrote, finding the language of the exclusion unambiguous.
The appellate court also rejected Fun F/X's argument that notice to Frankenmuth wasn't required because Cao did not know of the system impairment at the time of the July 2019 fire.
The case is Frankenmuth Mutual Insurance v. Fun F/X II, Inc. and Cao Enterprises II, LLC, 22-1933.
Please enable JavaScript to view this content.