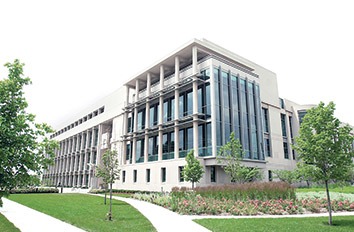 Three federal judges from the 7th Circuit Court of Appeals shed some light on how they work, offered advice to attorneys and reminisced on former judges during a conversation Monday evening at the Indiana University Robert H. McKinney School of Law.
The judges — David Hamilton, Doris Pryor and Michael Scudder — took part in the conversation after hearing oral arguments in six cases at the law school earlier in the day. IU McKinney professor and former Indiana Supreme Court Justice Frank Sullivan moderated.
'Broader institutional values'
Anyone trying to learn in advance which judges would be part of the event would have had a difficult time. Even the lawyers who argued in the morning didn't know which judges would be on the panel until they showed up.
Hamilton, who was confirmed to the court in 2009 and assumed senior status in December, said it's a longstanding tradition in the 7th Circuit to keep panels anonymous.
"The idea was to discourage arguments being aimed at particular members of the court," he said.
Another tradition of the 7th Circuit, Scudder said, is to hear oral arguments in all counsel cases. He said one reason for that commitment is the limited scope of what the U.S. Supreme Court will agree to review.
"This is the last stop," Scudder said of the appellate court.
Scudder, who was confirmed to the court in 2018, also appealed to what he called the "broader institutional values" that are at stake. He used the example of someone who is challenging their sentence.
"I strongly prefer our tradition because there's a human being that is serving the time," Scudder said. "That individual having his day in court and having our undivided attention for a 10-minute oral argument, I think, has value above and beyond whether our minds are likely to be changed in the appeal."
'You've got to narrow the point'
During oral arguments, the panel gave each side between 10 and 15 minutes — a short amount of time to condense what can be years' worth of litigation. In offering advice to attorneys, Pryor used the analogy of writing with a pencil that starts to get dull.
"When you're coming in for a 10-minute argument that you maybe have been litigating for five to six years, you've got to narrow the point," said Pryor, who was confirmed to the court in December.
Hamilton estimated his vote changes "less than 10% of the time, maybe less than 5%," based on arguments. What arguments have a better chance of impacting, he said, is the way judges write an opinion.
"There's a lot of discretion in how we go about writing those opinions," he said, "and arguments and the discussion we have right afterward will shape those."
Rather than focusing on if an argument changes his mind, Scudder said nuance often matters more.
"Without fail in oral argument, one colleague or another, all of the time, will offer some observation on some little shade of gray in the case that I will not have seen for one reason or another," he said. "There's real value in that."
'An absolute gold-plated judge and individual'
Pryor had high praise for former judge Ann Claire Williams, who was the first person of color to sit on the 7th Circuit and who retired in 2018.
Pryor said Williams called her to talk about the 7th Circuit, but instead of only wanting to talk to Pryor, Williams wanted to meet with her family.
Like Pryor, Williams was a working mother who traveled for arguments.
"'I've already walked this path,'" Pryor said in recalling the sentiment of Williams' mentorship. "'I've even put up the streetlights, Doris Pryor. Let me show you how to do it.'"
Scudder said he heard from Williams during his confirmation process, noting she appeared "much more confident than I was that I was going to be confirmed." He said she wanted to talk about the court, how it worked and her perspective.
"Judge Williams is just an absolute gold-plated judge and individual," Scudder said.
Remembering a colleague
For his part, Hamilton talked about former Judge Richard Posner, who served on the 7th Circuit from 1981 until he retired in 2017. Scudder filled Posner's seat on the appellate bench.
Hamilton, who started law school in 1980, said he'd never heard of Posner at that time.
"By the end of the first week, his name had come up in every class," he said.
Hamilton recalled a high-profile case from early in his time with the 7th Circuit in which he was going to disagree with Posner's majority opinion.
The two men went to lunch, where Posner asked, "David, are you familiar with the academic literature on the effectiveness of separate opinions in U.S. Courts of Appeals?"
"No, I can't say that I am," Williams responded.
"He said, 'Well, they don't have any effect at all,'" Hamilton recalled with a laugh, adding that he didn't take Posner's advice at the time.
Please enable JavaScript to view this content.