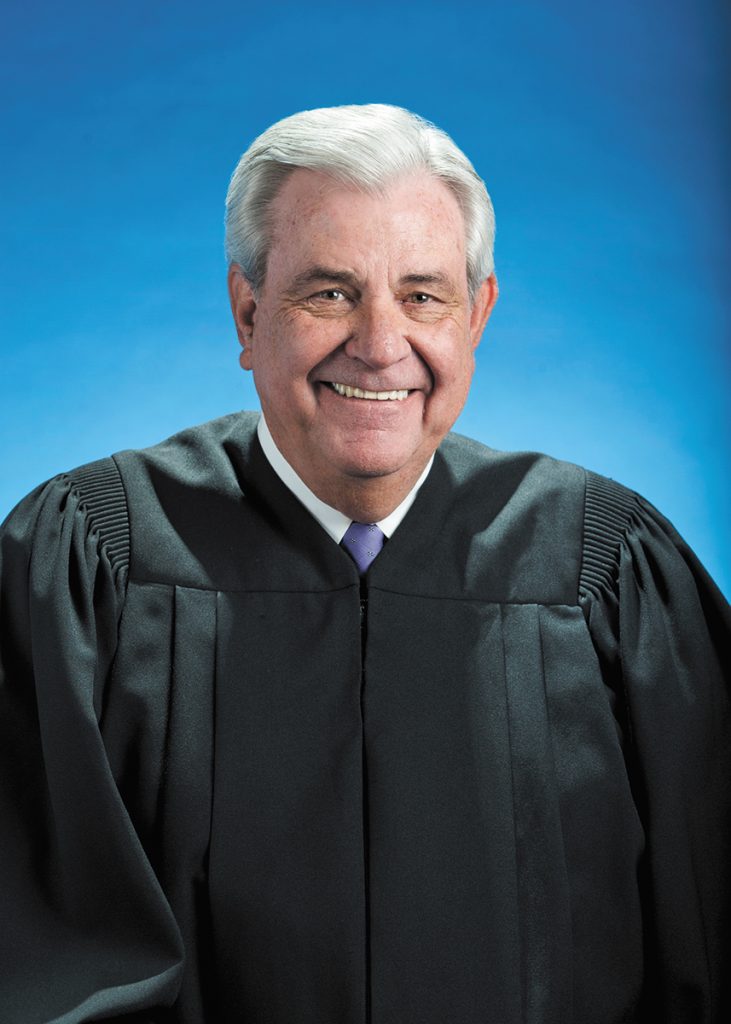 When Judge Michael Barnes arrived in Indianapolis to begin his tenure on the Indiana Court of Appeals in 2000, he was one of several state public servants hailing from South Bend.
The group, which included then-Lt. Gov. Joe Kernan, was dubbed the South Bend Crew by Judge Nancy Vaidik, who had joined the appellate bench just months before Barnes and, despite being from Valparaiso, often tagged along for the group's outings. Many times they would gather for burgers and conversation at Ralph's Great Divide restaurant near downtown Indianapolis, where Barnes would talk of his family and baseball.
After the meal, the gang would all go back to work. But whether Barnes was performing his judicial duties, bantering with colleagues or watching his beloved Cleveland Indians at spring training, he was always the same – personable, engaging and never using his position to impress or belittle others.
"He was a great friend," Vaidik said. "He was a friend to all of us."
Barnes, who served as St. Joseph County prosecutor for 20 years and on the Indiana Court of Appeals for nearly 20 years, died May 22 after a long battle with cancer. He was 72.
"He was a public servant's public servant," said Court of Appeals Chief Judge Cale Bradford, who described Barnes as both a colleague and a friend. "The world is a little colder place without Mike Barnes."
Born and raised in rural Illinois, Barnes came to South Bend to study at Notre Dame Law School. After he graduated in 1973, he stayed, building a legal career largely in public service.
Barnes served for 20 years as St. Joseph County prosecutor, being first elected in 1978, then was appointed by Gov. Frank O'Bannon in 2000 to the Indiana Court of Appeals. He retired on June 15, 2018, to spend more time with his wife, Alberta Edwards Barnes, his two sons, Tim and John, and four grandchildren while continuing to serve as a Court of Appeals senior judge.
On the appellate bench, Bradford said, Barnes was a consensus builder. He worked with his colleagues on each panel to reach a decision that was agreeable to all three, but he would not push for a unanimous ruling if that meant the judges had to abandon their principles or strong beliefs.
He authored 2,800 opinions during this tenure. Colleagues praised Barnes' writing, saying his opinions were thoughtfully and professionally done and blended common sense with good judicial sense. Sometimes he even nodded to his love of music by dropping in a reference to a popular tune.
"He was a keen legal mind and a wonderful all-around person," Bradford said.
Prosecutorial beginnings
Retired Indiana Justice Frank Sullivan knew Barnes for more than 40 years and considered him a friend, ally and colleague.
Barnes served as prosecutor and was in private practice at Barnes & Thornburg in South Bend when he joined the appellate bench. Indeed, he highlighted his lack of judicial experience when he described himself on the court as "not a regular fit."
Even so, Sullivan said Barnes was an asset to the appellate court, adding important precedent to Indiana's caselaw.
"He brought his expertise in criminal law to the Court of Appeals upon his appointment by Gov. O'Bannon but he wrote important opinions in all areas of the court's jurisdiction," Sullivan wrote in an email to Indiana Lawyer. "He made particular contributions to commercial law with his decisions."
The commercial law opinions Sullivan said stand out include Belden, Inc. v. American Electronic Components, Inc., 885 N.E.2d 751 (Ind. Ct. App. 2008), involving a "battle of the forms" under the Uniform Commercial Code. Also, Indianapolis Car Exchange, Inc. v. Alderson, 910 N.E.2d 802 (Ind. Ct. App. 2009), examined the "buyer in ordinary course" exception to general secured transaction priority rules.
As much as Barnes impacted the judicial and legal community during his time as a judge, Magistrate Judge Michael Gotsch of the U.S. District Court for the Northern District of Indiana said the appellate judge cherished his time as county prosecutor because he felt that was where he helped his community the most.
Barnes became St. Joseph County's first full-time prosecutor when he was elected, and he set about creating an office that found opportunities and embraced innovation.
As prosecutor, he marshalled the resources of his office to help child victims of abuse and neglect by spearheading the CASIE – Child Abuse Services Investigation and Education – Center, and he instituted the STOP program, a multi-jurisdiction initiative to investigate and prosecute domestic violence crimes. Also, he started what is believed to be Indiana's first victim witness assistance program, which put an advocate on the prosecutor's staff specifically to keep the victim and victim's family apprised of progress in the case and to help prepare the victim for court.
Discovering 35,000 delinquent child support cases that impacted 20% of St. Joseph County residents, Barnes launched the effort to locate parents, establish paternity and enforce orders for support. The result was more than $100 million collected in past-due payments.
"He loved being a judge, but his real passion was being a prosecuting attorney," Gotsch said. "So many things he did as prosecutor made life so much better."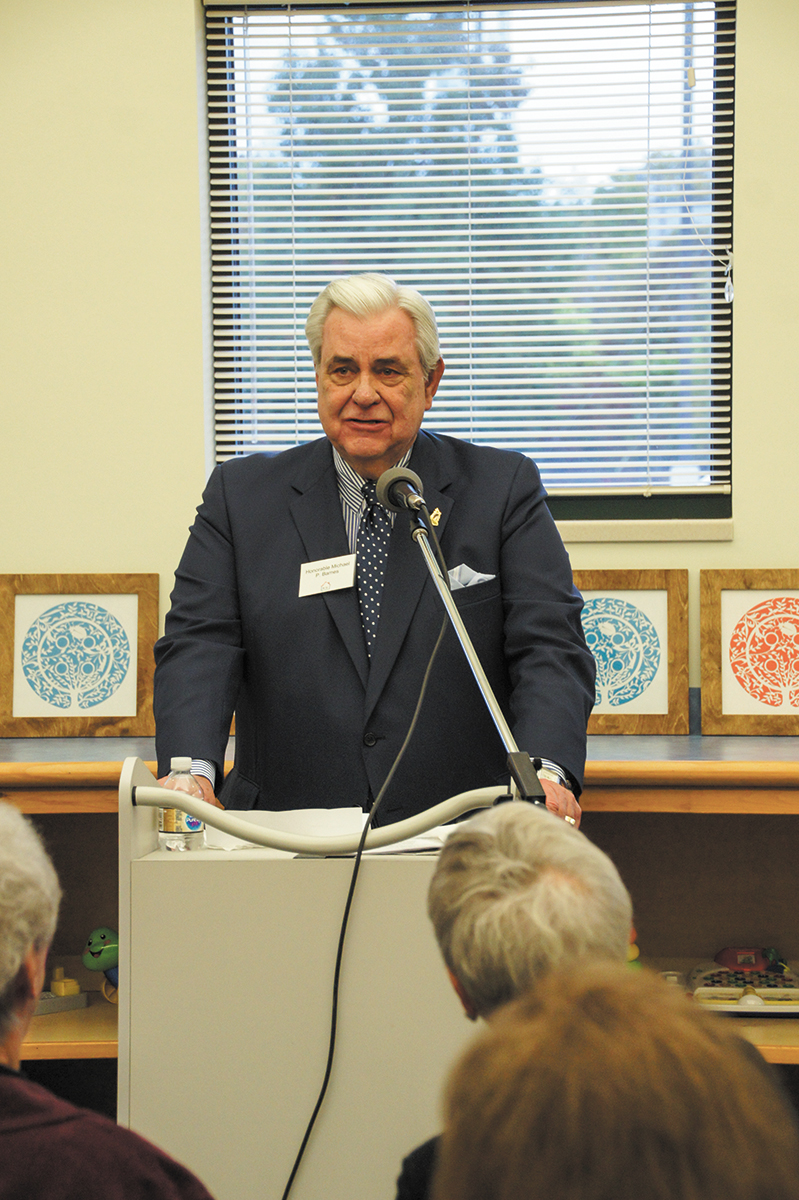 Impacting others
Whenever she went to the prosecutor's office, Carolyn Hahn could never tell the attorneys from the paralegals, the secretaries or the clerks because everyone was treated with the same, high level of respect. Barnes listened to all on his staff, believing they all had good ideas for innovating and taking new approaches to old problems.
Hahn, an elementary school teacher, was hired to work at the CASIE Center. There she joined deputy prosecutors and detectives in developing processes and methods for working with the youngest victims of abuse, always remembering Barnes' directive that children are first. "He was such an inspiration for me," Hahn, now executive director of the CASIE Center, said.
After completing his first year at Notre Dame Law School, Tom Veldman clerked in the summer of 1980 in the St. Joseph County Prosecutor's Office under Barnes. He said the work was very serious, the attorneys and staff in the office were "good, smart people," and there was no better place to be.
Veldman graduated and built a career in Washington, D.C., and Dallas before returning to South Bend to run the family business, Tire Rack. He would often encounter his former boss at PEGGS restaurant, where Barnes would always take a few moments to inquire about his life and offer kind words.
"So many things he did and did well," Veldman said. "It was never about him. It was always about doing things for people who needed help."
As Gotsch has moved forward with his own career, first as a St. Joseph Circuit Judge and now as a federal magistrate judge, he remembers the valuable lesson Barnes taught. The former prosecutor would continually reiterate that everyone had to be treated with dignity, which included criminal defendants who were not labeled as evil but rather as individuals who made bad decisions or were in bad circumstances that led to bad decisions.
"Aside from my parents and maybe one high school teacher, he certainly had the most impact on my life," Gotsch said of Barnes.
Making the trip to South Bend to help Barnes celebrate his retirement in 2018, Vaidik was astounded at the photos, mementos and members of the legal profession who traded stories and admiration of Barnes. During the evening, a call went out for those who credited Barnes with their success, and about 75 women stood up, underscoring for Vaidik the commitment her friend had for promoting and championing females.
"He was all about public service and doing for others," Vaidik said. "He didn't do that because he wanted name recognition, but because it was the right thing to do."•
Please enable JavaScript to view this content.