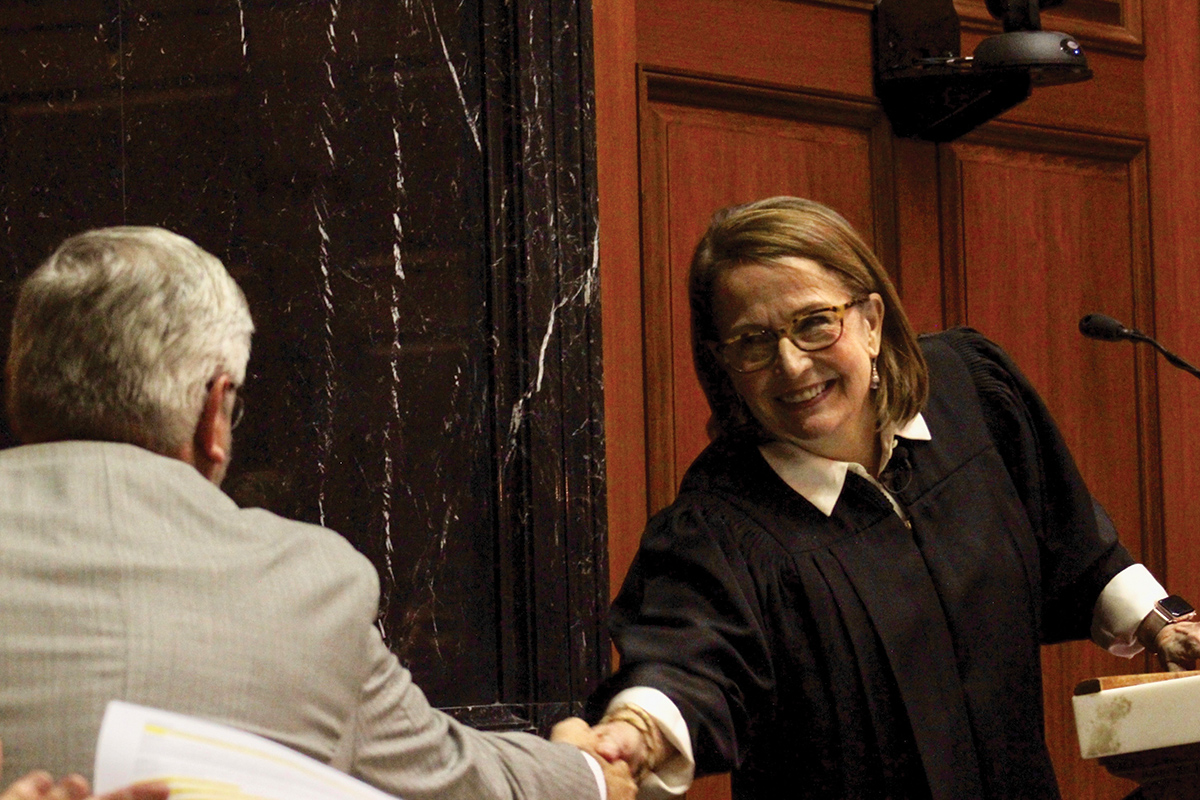 Chuckles from the assembly of people gathered for the 2022 State of the Judiciary address followed as Indiana Chief Justice Loretta Rush opened by saying, "It is so great to be here."
The chief justice on Jan. 12 presented her eighth State of the Judiciary address to Indiana Gov. Eric Holcomb, state lawmakers and fellow judges, providing an update on the condition of Indiana's courts. She returned to the Indiana House of Representatives chamber to address the General Assembly following a virtual address in 2021.
"The message I offer today is one of perseverance," Rush said, focusing on what she said were the four critical components of the judiciary's constitutional responsibilities.
Titled "Indiana Courts: Fulfilling Our Constitutional Responsibilities," Rush's address homed in on increasing public trust, strengthening Hoosier families, improving public safety and modernizing courts.
"We are implementing initiatives to increase confidence in the judiciary," the chief justice said. "And why is public trust so critical to the judiciary? Because it's the judiciary's currency."
Citing Founding Father Alexander Hamilton's Federalist Papers — and assuring the crowd that she wouldn't break out in song — Rush noted that while the judiciary has "no influence over the sword or the purse," it does have tremendous influence over Hoosiers' trust in government.
The chief said Indiana is working to strengthen Hoosier families by instituting court reforms to better serve vulnerable and endangered children, adults and veterans while also helping families better navigate divorce, child custody and eviction concerns.
Additionally, Rush cited the judiciary's efforts to expand problem-solving courts and its commitment to working with justice partners to safely implement pretrial reform. The state is also innovating on the modernization of courts, she said.
"From recently completing one statewide case management system to increasing the speedy resolution of business disputes," she said, "we are committed to leveraging technology to better deliver justice across our state."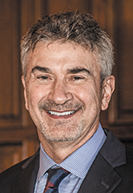 Public service commitment
Veering off the traditional course of the State of the Judiciary, Rush invited longtime colleague and friend Justice Steven David to give a portion of the 2022 address.
David, who is set to retire from the bench in the fall after nearly 30 years, received a standing ovation and thunderous applause for his service to the state's judiciary. Rush praised him for being "one of the most deeply committed public servants of our time" and someone whom every person should aspire to be like.
"This is a tremendous honor," David said as he stepped to the speaker's podium in the Indiana House chamber.
Taking the mic, David celebrated the modernization of technology within Indiana's courts, prompting cheers from the crowd as he acknowledged the state's accomplishment of maintaining a unified case management system in every county.
"All Hoosiers now have free, 24/7 access to court information," he said to applause.
He also recognized Indiana's commercial courts and specialized courts, stating that 21 additional specialized dockets are in the planning process. They include drug, family recovery, domestic violence, mental health and veterans treatment courts.
Turning to public safety, the court's longest-serving justice noted that 12 Indiana counties are certified as pretrial service agencies led by the courts, and 30 more counties are in the planning stages.
"Our goal is simple: to make sure that before trial, that the right people are in jail for the right reasons. Nothing more complicated than that," he said.
David also praised the Supreme Court's newly launched Commission on Equity and Access in the Court System. The 21-member commission serves as an additional avenue to improving Hoosiers' access to justice and public trust in the judiciary, he said, and represents all three branches of government, including educators, judges, prosecutors, public defenders, lawmakers and other professionals.
"Don't be afraid of it; we aren't," David said. "It is all about improving our systems. It is our way of doing a friendly audit of our own processes."
David gave a final remark to the crowd before giving the chief justice the reins, saying that public service is about doing what's right out of care for others.
"We are glad to be doubling down on our public service efforts — with you — in 2022," he said.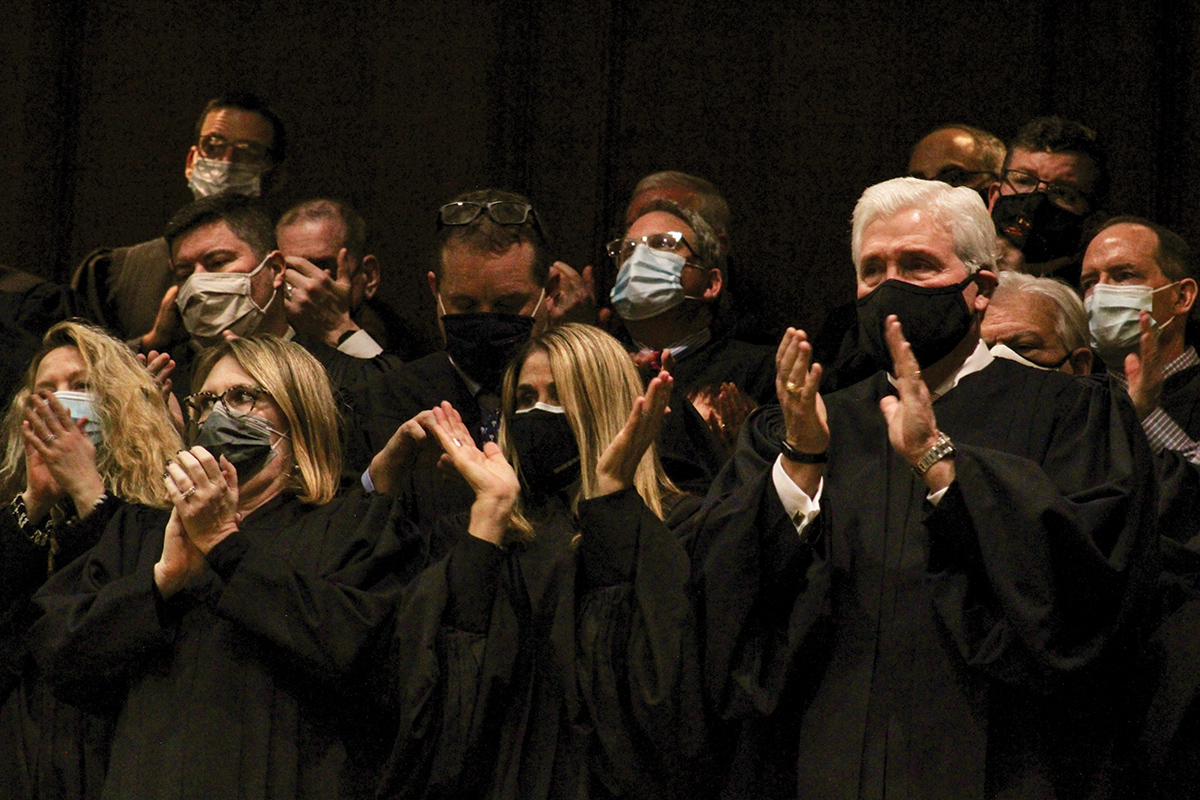 Looking to the future
Back at the podium, Rush highlighted the efforts currently underway to improve the state's courts in the year ahead, including work to create a centralized jail management system.
The new system would improve public safety by ensuring accurate criminal records, offering judges access to real-time incarceration status and alerting community agencies when a supervised person is arrested.
"Sharing offender information between jails, courts, community corrections, probation and all justice partners is vital to public safety," Rush said.
The chief justice also announced that in order to assist Hoosier families struggling both economically and emotionally, the judiciary is implementing a pathways program that will tailor the court experience to a family's needs.
As for remote access, Rush said the judiciary is piloting a new mobile court check-in program.
Some Hoosiers may not need to come to court at all, she said. A new online dispute resolution platform would allow court customers to resolve disputes at no cost and on their own time.
Putting a heavy emphasis on mental health, Rush urged unity among the public servants in the room to tackle the state's "broken" mental health system.
She cited a visit with Tippecanoe Circuit Judge Sean Persin, whose court is "overwhelmed" with serious mental health issues. Involuntary health commitments have tripled in recent years, according to Persin, and those who have been found incompetent to stand trial due to mental illness have to wait in jail twice as long for placement in a state hospital.
"This tremendous increase in both cases and delays is not limited to one county," Rush said. "It's occurring statewide. Today, mental illness permeates nearly every type of case that comes before our judges."
The chief noted the criminal justice system is now a primary referral source for Hoosiers to obtain mental health treatment. To address rising concerns, Rush announced the judiciary would be convening a statewide mental health summit in October, with teams from Indiana's 92 counties to develop "responsible, cost-effective solutions."
Looking back on the past year, Rush again declared that the state's judiciary embodies perseverance and has "a spirit of resilience that allows it to continue fulfilling its constitutional promises."
"I know you agree with me. A tenacious spirit runs deep in this state," Rush concluded. "We are proud to stand in service with you for all our fellow Hoosiers."•
Please enable JavaScript to view this content.